We are excited about the sudden surge in the number of food trucks in Delhi-NCR and their rising popularity for having an out-of-the-box approach towards food and dining. Now, picture this: a starry night, exquisite food and a mobile food truck taking you on a stroll around town. Doesn't it sound like a perfect dining experience? Apurv Goel, Rahul Goel and Anvit Paliwal are offering a new dining experience in Gurugram with their recently launched food truck called FoodRath where you can enjoy a meal under the sky and the changing scenery as the food truck moves around the city. The rooftop dining facility can accommodate around 12 people at once.Usman Siddique from Foodrath tells us, "Apurv Goel, Rahul Goel and Anvit Paliwal were studying in college when they conceptualized this idea of a food truck with rooftop dining. While the food truck market was still expanding, they thought of bringing a twist to it. We launched Foodrath in October 2016. It is a movable truck, so you can dine under the sky and enjoy the view as the truck moves around the city."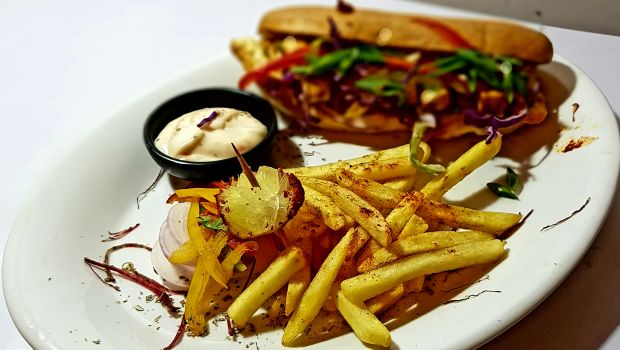 What's on the menu?
Painted in funky colours and decorated with quirky designs, Foodrath is the only food truck in Gurugram that serves a full meal and not just finger foods and light bites. Mr. Siddique, who manages the business operations, shares, "We serve Indian, Chinese and Continental food. Our signature dishes include Dal Makhani and Butter Chicken. We have a base kitchen in the city where most of our food is prepared and delivered to the truck's kitchen." Foodrath also has burgers, subs, Fish Tikkas, Golgappas, Dum Biryani and Mutton Rogan Josh on their menu. On being asked about their expansion plans, Usman tells us that they are planning to bring about more food trucks with rooftop dining in Gurugram, and also looking at launching one in Noida. Since there are no set regulations for food trucks in the country yet, they won't be able to install one in New Delhi.
We definitely find this new concept very interesting and hope it will revolutionise the food truck industry.
Where: Leisure Valley Parking, Sector-29, Gurugram
Cost for Two: 600-700 (approximately)
Contact: 18001218644