From the Fairtrade Natalie Bennett cocktail to the Tory just desserts, there's something for everyone determined to stay up as the 2015 results come in.However unpredictable the outcome, those hardy souls determined to see every shiver of the swingometers this evening will need some serious sustenance to push on through until the sun comes up. A Byron burger and Diet Coke won't cut it tonight, George – instead, push the boat out with this special election 2015 menu.
The welcome drink
Get the party started with Natalie Bennett: the cocktail. This feisty green concoction of one organic kiwi fruit (Australia, New Zealand – it's all antipodean), juiced and mixed with 50ml Fairtrade quinoa vodka and 15ml triple (marriage) sec, with just a dash of Nick Ferrari-related bitters, is guaranteed to lift the spirits, even if you have just voted for the one party that has categorically ruled out actually going into government.
The Celtic canapés
The Greens dispatched down the hatch, whet your appetite for the big beasts with a sharing platter of regional favourites. I suggest my homemade Glamorgan sausages to represent Plaid Cymru, pasties – battered pork patties from Northern Ireland – in homage to the DUP and, flying the saltire for the SNP, kipper pâté with oatcakes. (Kippers, of course, have a powerful pong quite disproportionate to their size, though God forbid anyone infers from this that there's anything fishy smelling about that party's economic calculations.)
The why-isn't-there-an-English-word-for-aperitif?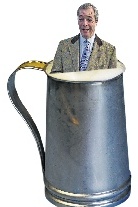 To drink, though Nigel Farage would no doubt hope for some real ale, I'm afraid beer's German influence disqualifies it from representing Ukip, so instead I've gone for mead, as favoured by those mythical indigenous Britons, but these days available from many delis and drinks specialists.
The elegantly European entrée
After a brief break to stare at shots of people in school halls, it's time to consider the starter, a course that should ideally be light on substance and easy to pair with whatever's to come – which seems as good a moment as any to introduce the Lib Dems to proceedings. A smooth, rich Brussels pâté paired with red-line-currant jelly fits the bill perfectly, and should you have had enough of the mead by this point, a chilled dessert wine would make a good drinks match (as well as sweetening the bitter pill of all those lost seats).
The hardworking main course
As the results start to come in for Labour strongholds such as the Vale of Clwyd and Kirkcaldy and Cowdenbeath, we move on to the main course. Tempting as it is to suggest a bacon sandwich, instead I'd like to pay tribute to the spirit of Labour old and new with a classic pairing of pie and polenta – for maximum authenticity, use a recipe from mad Miliband fan Delia Smith, and serve on a stone slab engraved with your personal pledges for the next five years, alongside mushy peas or petits pois, and a pint of mild or a hand-blown carafe of rustic Tuscan red, depending on how many kitchens you have in your home.
The nursery pudding
With seats falling thick and fast, it's time for some Tory just desserts, in the inevitable form of an Eton mess. If you've got the time to make your own meringues, you can colour them blue to really ram home the point; if not, a few blueberries should do the trick, though as a tribute to departing Richmond MP William Hague, I'll be using seasonal Yorkshire rhubarb instead. Serve with a magnum of vintage champagne, just because you live in Chipping Norton and you can.
The life-saving cheeseboard
A cheeseboard might sound excessive after such a feast, but believe me, while you're waiting to hear if Nigel Farage has won Thanet South (result expected around 6am), you'll need something to remind you there is still something to live for in this bleak new world.
Tories should nail their colours to the mast with a true-blue Stilton, Labour supporters may prefer Wallace's favourite Wensleydale and Lib Dems a soft and runny Brie, while those pinning their hopes on regional parties should plump for a suitably patriotic local cheese.
Greens probably won't be able to resist a slice of soya product on a hemp-seed cracker and kippers … well, you can't get any more English than Saint George's from Sussex, despite its suspicious resemblance to a camembert from the wrong side of the English Channel.
And if you've made it this far without passing out on the sofa, celebrate with whatever drink is going to get you through the last hour or so, whether that's strong spirits or even stronger coffee.
The so-glad-it's-over digestif
Planning any kind of victory breakfast for Friday morning might be premature, so once all the results are in, I'd recommend a cup of calming tea and some deep breathing exercises before falling into a slumber underneath your desk. And cheer up: with any luck, it will be another five years before we have to go through all this again.
Top photo: Food to suit all shades of politics. Photograph: Alamy