A thin layer of crisp bread, with a covering of flavourful tomato sauce, topped with veggies, meat, cheese, and baked to perfection is what makes us drool! If your mind is already guessing what we are talking about, then yes, it is the delicious pizza! Originated in Italy, pizza has been adapted to various techniques, recipes, and exciting combinations of local ingredients in various parts of the world. From classic firewood pizzas to thin crust, cheese burst, pizza mugs and even cones, you can almost add numerous flavours and twist a dish to make pizza as per your liking. But when it comes to indulging in a non-vegetarian pizza, we all know that nothing beats the succulent taste and texture of chicken toppings! So, if you too love a chicken pizza, then here we bring you five delicious chicken pizza recipes you can make at home. Find them below:
Chicken Pizza Recipes: Here Are 5 Chicken Pizza Recipes To Try
This one is the easiest of all recipes. All you need is some cooked chicken pieces, tomato sauce, spices and a pizza base. Then, simply combine all the ingredients on the base and bake to perfection. This classic chicken pizza will be ready in just 15 minutes.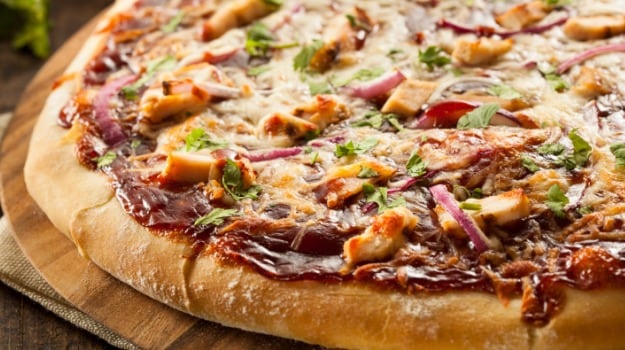 This dish can be made with leftover butter chicken from last night. All you have to do is put butter chicken, extra onion and capsicum, cream, and cheese on a slice of bread and toast it on the tawa. It's simple, and even an amateur chef can make it.
Tandoori chicken pizza combines pizza's cheesiness with tandoori chicken's spiciness. This recipe shows you how to make homemade tandoori chicken toppings. The rest of the pizza is made according to standard procedure, with a pizza base, pizza sauce and cheese.
Keeping up with the demand and popularity of barbeque chicken pizza, here we bring a delectable recipe so you can make the same at home. This pizza's spicy and smoky flavour will tempt your taste buds.
This is a simple pizza recipe with lots of cheese and juicy chicken that you can make at home. This pizza is a crowd-pleaser that both kids and adults will enjoy!
So, what are you waiting for? Try these delicious chicken pizza recipes, and let us know which one you liked the best!