In the south of France, people have a name for the scrubby vegetation that grows in forests and woodlands, generally on limestone soils. It is garrigue, and its wonderfully distinctive herbal aroma immediately tells you where you are.This telltale perfume, a savory Provençal signature that seems to encompass thyme, rosemary, sage, lavender, garlic and chives, is often a signature component of southern French red wines stretching from Languedoc to the southern Rhône Valley.For me, it's a gorgeous, evocative stamp conveying that these wines are born of the earth, from a specific place and nowhere else. In recent years, this scent has sadly been missing from many wines of the region. It was as if certain producers, in their pursuit of power and ultra-ripe fruitiness, had decided to breed out any suggestion in their wines that could be interpreted as herbal.At Wine School, we prize the idiosyncrasies that make wine such a fascinating and elusive subject. The seashell fragrance of Chablis, the tar and roses of Barolo, the garrigue of the southern Rhône: These are among the discernible emblems of terroir. To recognize them, and to savor them, is an essential component of the pleasures of wine.As a reminder, Wine School thrives on group participation. As you drink the recommended bottles, please take careful note of what you think and feel. And if you care to share your thoughts about the wines, nytimes.com/food eagerly awaits your comments.For the last few weeks, the subject has been Gigondas, a red wine from the southern Rhône often thought of as a diminutive (and cheaper) version of the majestic Châteauneuf-du-Pape. Like Châteauneuf, Gigondas is made largely of the grenache grape, supplemented by a variety of others. The grapes are grown at a higher elevation than Châteauneuf's, often in terraced vineyards threaded with limestone under the looming, saw-toothed Dentelles de Montmirail.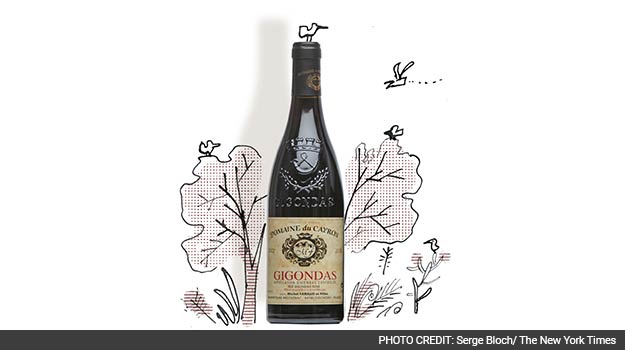 Many readers detected the scent as well. Ali of New York City, who was drinking the Cayron, described it as "forest, earth, wild herbs, something woodsy," along with "animal barn," which is something else entirely. John Fraser of Toronto, who drank a 2012 Paillère et Pied-Gû (not to be confused with the Pallières), described it as "mixed herbs."All three producers are particularly sensitive to the traditions and nuances of their terroir, and so their wines were excellent examples demonstrating the potential of Gigondas. Domaine du Cayron is an old favorite. The '12 was ripe and fruity, as is generally the case with grenache-based wines. It had almost a liqueur-like quality, interwoven with a savory, herbal, evergreen aroma. On the palate, the wine was earthy and mineral, well balanced with smooth tannins. With time, the herbal complexity grew and expanded. I thought it was lovely.Gigondas can be anywhere from 50 to 100 percent grenache. The Cayron was 70 percent, with equal parts cinsault and syrah and a pinch of mourvèdre. In the finest old-school tradition, the grapes were not destemmed. That is, whole bunches of grapes were fermented, stems and all, instead of passing through a destemming machine, as is the more modern custom. In my experience, including the stems in fermentation adds to the herbal complexity and savory quality of Rhône wines.Why was it the custom to include stems? In the old days, as a longtime producer once explained to me, destemming machines did not exist. And when they were introduced, he said, few producers wanted to pay for one.The 2012 Gour de Chaulé was likewise fermented with stems. It, too, had a flavor of ripe red and black fruits, along with licorice, a brisk herbal quality and fine minerality. Its tannins were firmer and more grippy than the Cayron, perhaps partly because it had a higher proportion of the fierce mourvèdre, 10 percent, along with at least 80 percent grenache and syrah.By contrast, the 2011 Pallières was partly destemmed and had a higher percentage of grenache, 90 percent, along with 5 percent mourvèdre and 5 percent clairette blanche, a white grape. Why a white grape? Kermit Lynch, the American wine importer, who is part owner of Pallières along with the Brunier family of the famed Châteauneuf estate Vieux Télégraphe, told me it has always been grown at Pallières and may be part of what distinguishes it from other Gigondas. It's not as odd as it sounds. White grapes are permitted in red Châteauneuf, too, though rarely used.It was certainly smoother and fruitier than the other two bottles, which I had attributed to the vintage variation, though the herbal quality was still evident, along with a licorice and stony mineral flavor. All in all, I thought each of these wines was superb.Most readers seemed to really enjoy their Gigondas, though nobody more so than Martin Schappeit of Amherst, Virginia, who drank a 2011 Valbelle from Château de St.-Cosme. "This is a really complex wine," he said. "One has to sit down and worship it." He said he was contemplating a purchase of the 2014 vintage of this wine to commemorate his daughter's birth year.I'd say our work was done.© 2015 New York Times News Service
It's an environment laced with the aroma of garrigue, and I was pleased to find it in each of the Gigondas I recommended: the 2012 Domaine du Cayron, the 2011 Domaine Les Pallières Terrasse du Diable and the 2012 Domaine du Gour de Chaulé Cuvée Tradition.