Dhanteras marks the first day of the festival of lights -
Diwali which will be celebrated on 19th October
, 2017, followed by
Govardhan Puja
and
Bhai Dooj
. On this day, devotees pray to goddess Lakshmi and Lord Kuber. Also known as Dhantrayadashi, Dhanteras is celebrated in the month of Kartik on the thirteenth day of Kartika Krishna Paksha. On this day, apart from worshipping goddess Lakshmi, people buy gold or silver jewellery and also purchase new utensils to welcome Goddess Lakshmi into their homes. Have you ever wondered how this tradition started and why we are told to buy utensils or gold and silverware on Dhanteras? We have some answers you could be looking for.
According to folklore, King Hima's daughter-in-law saved his son from the god of death Yamraj (who appeared in the form of a snake) by preventing him from entering the room by placing a heap of gold jewellery and silver coins along with lots of diyas at the door. The glittering jewellery and the bright diyas blinded him and he returned without the King's son who was predicted to die on the fourth day of his marriage. Therefore, it is believed that the act of buying of gold and silver jewellery or new utensils protects against ill will and bad omen and brings luck and prosperity to every member of the house. It is also believed that buying new things will ensure regular flow of wealth in the house throughout the year.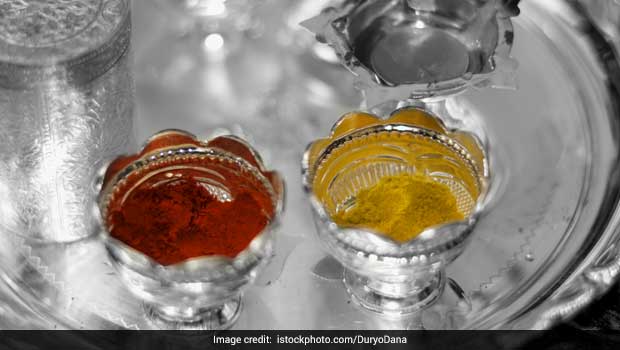 Happy Dhanteras 2017: Dhanteras is celebrated in the month of Kartik​
What shouldn't you buy on Dhanteras?
While buying gold, silver and brass utensils and also jewellery are all considered auspicious, you must avoid buying plastic and glass as they are believed to bring bad luck. Tools like sharp knives, scissors or any sharp objects should be avoided on this day. It is also believed that one shouldn't buy oil or ghee on Dhanteras.
Here's a list of essential utensils that you can buy today. (Link)
Dhanteras 2017: Timings to buy utensils on the auspicious day
Dhanteras Puja Muhurat- 7:19pm to 8:17pm
Pradosh Kaal - 5:45pm to 8:17pm
Vrishabha Kaal - 7:19pm to 9:14pm
Trayodashi Tithi Starts at 12:26am (midnight) on October 17
Trayodashi Tithi Ends at 12:08am (midnight) on October 18

Happy Dhanteras!