Hariyali Teej is one of the most popular festivals for women in Northern India. It is celebrated with much vigour and excitement across Uttar Pradesh, Madhya Pradesh, Rajasthan and Bihar. Women keep a day's fast and pray for marital bliss and the well-being of their spouse. Hariyali Teej falls on the third day of the first fortnight in the Hindu month of Shravan, which marks the beginning of monsoon. 'Hariyali' means greenery, which symbolises growth and prosperity. Thus, it is also a celebration of the renewal of the earth after a dry and hot summer. This year Hariyali Teej falls on 3rd August 2019.
On this occasion women adorn beautiful green coloured clothes, apply mehendi and enjoy dancing, singing, swinging and most importantly gorging on delectable sweets. Ghevar makes the most traditional and customary dessert on this day. A traditional disc-shaped dessert from Rajasthan, ghevar is made from all-purpose flour (maida), desi ghee, milk and sugar syrup and sprinkled with saffron, dry fruits and the silver 'varak'. This honeycombed sweet has various toppings on to make it tastier.
We list down some ghevar toppings that you would love to try this festival. Take a look.
1. Rabdi Ghevar
Rabdi is a sweet, condensed milk-based dessert and is used as a topping on ghevar. On the top of the rabdi topping, you can also sprinkle some pistachios and almonds to add to the flavour. The sweet dense dish tastes amazing with the not-so-sweet ghevar and makes for a perfect gifting option on this day.
2. Malai Ghevar
Malai Ghevar is the most popular dessert in Rajasthan and is used traditionally in various occasions in the state. To make this topping, all you need to is heat milk, sugar, cardamom powder and saffron till it reduces to half and let it cook till it thickens with time. And there, a yummy malai topping is made. Isn't it way too simple?
3. Mawa Ghewar
Mawa is a Hindi word that means 'Khoya'. A thick of layer of bhuna khoya is added to the ghevar. All you need to do is heat the khoya till it gets brown in colour and then add elaichi powder and granulated sugar to it.

4. Frosted Ghevar Topped with Fruits
You may have never heard of this topping, however, ghevar is nowadays topped with cake frosting and so it becomes a Ghevar Cake. Sugar is added to the heavy cream and whisked to make it fluffy and added on the ghevar. To add to the white colour, you can top it with fresh strawberries and pistachios.
5. Chocolate Spread Ghevar
Apart from the toppings that you usually eat on a ghevar, chocolate topping is the newest. Yes, you read that right. Chocolate ghevar is a thing and you can make it too. You can actually make this dream dessert at home. All you need to do is melt your favourite chocolate and add raisins, and let it cool. Pour the thick chocolate on the ghevar and voila, your chocolate ghevar is ready.
If you wish to make Ghevar at home, here's a recipe that you must try. Experiment with your favourite toppings and make the best ghevar for your family and friends.
Malai Ghevar
Recipe by Chef Ashish Deva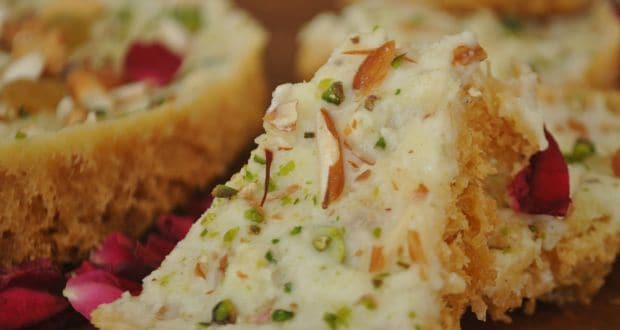 Ingredients
500 gm maida
150 gm ghee
1.5 liter water
1 liter milk
50 gm sugar
5 gm cardamom powder
1 gm saffron
50 gm dry fruit (chopped)
For Sugar Syrup:
500 gm sugar
250 ml water
1 pinch saffron
Ghee for frying
Method
Heat Ghee in a heavy bottom pan and cool by adding ice, by this all the impurities are left behind and pure ghee gets accumulated on the surface
Massage the ghee nicely till it is smooth and start incorporating the flour and water slowly till you get batter
Heat ghee in a heavy bottom pan ,place a circular mold and start pouring the batter in center, fry till it is golden brown
Make sugar syrup by heating water and sugar till the sugar dissolves completely
Add the fried Ghevar to the warm syrup and remove
To make malai heat milk, sugar ,cardamom powder and saffron and reduce to half, cool till it thickens
Top the malai on the ghevar and garnish with chopped nuts