Damian Magista tends to a rooftop hive in Portland, Ore. Credit: Copyright 2016 Bee Local
There's this moment that occurs when you've been working with bees for a while. Standing there, on top of a hotel in Portland, Oregon, preparing to approach a hive he had established to house more than 30,000 bees, Damian Magista realized he had no need to wear his bee suit. He had made a lot of mistakes with them in his half decade of hobby beekeeping, like opening the hive too often or accidentally squashing the queen."Less is more in beekeeping," Magista said. "You have to resist the temptation to over-manage your hives."
Listening to the hive
Magista had learned to really slow down, and listen to them, to decipher their buzzing, to hear changes in their music. He knew that if the scouts they sent out of the hive to greet him started ramming his body, he should back off. He knew when he was welcome."I can't see myself ever knowing everything about them," he said. "But I've gotten to the point where I can relax into it."These days Magista barely dons his bee suit, but he is doing the opposite of relaxing. As the founder of the innovative neighborhood-to-jar company Bee Local, he has taken his message that all truly exceptional honeys are local to the national stage by introducing the United States to the culinary ambrosia of locally sourced honey. In doing so, he is creating a network of hive systems that support hobby beekeepers and help protect against the colony collapse disorder that has been ravaging the species.Bee Local began as a hobby, until Magista had one of those pivotal entrepreneurial moments that turn hobbyists into entrepreneurs with a mission. Tasting honey sourced from neighborhoods throughout Portland, he noticed that bees that visited buckwheat produced a honey with dark, smoky, deep molasses overtones. Those that had traveled across Portland's farm regions made one containing deep blue and blackberry notes with a floral finish. Bees lucky enough to live in the Willamette Valley's vineyards, hops fields and berry farms made one robust and complex."The whole premise of Bee Local was discovering that hives in different locations produce different colors and taste profiles," Magista said. "Honey is a snapshot of time and place."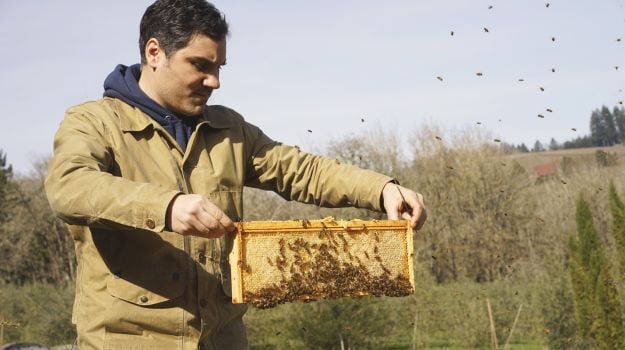 After several years working with his hives and learning how to read the bees based on their behaviors\and buzzing, Magista got to the point where he no longer felt like he had to wear the bee suit every time. Credit: Copyright 2016 Bee Local
Making artisanal honey
Magista's goal was to introduce the world to the beauty of the small artisanal honeys from the neighborhoods around Portland, harnessing what was unique about those geographies and allowing bees to express it in honey like wine captures terroir.But making these small-scale honeys was not going to help Bee Local change the world, nor could it survive as a business, so in August of 2014 Bee Local joined Jacobsen Salt Co., a producer of artisan salts sourced from the waters of the Pacific Northwest, which had already established a national retail operation through partnerships with companies such as Williams-Sonoma."What we were doing was not scalable," Magista said. "To take our business to the next level and truly make a wider impact we needed to merge."
Tackling colony collapse disorder
Now, from a space he shares with Jacobsen's in Portland's Eastside Industrial District, a growing home base for artisan makers of all stripe in the city's nascent food industry, Bee Local is launching an expansion that ties its business prospects on taking on one of the most pressing environmental crises of our time: colony collapse disorder.First documented in 1869 and named in 2006, the disorder describes the situation in which entire colonies of commercial bees disappear abruptly due to factors such as adverse weather, too many bees in one area, infection, virus, overuse of pesticides or mite infestation. Although most who study it believe it has always existed in bee populations at some degree, CCD has been happening in dramatically higher wavers, sending out ripples for commercial agriculture and affecting food systems around the world. In some cases, beekeepers have lost up to 90 percent of their colonies.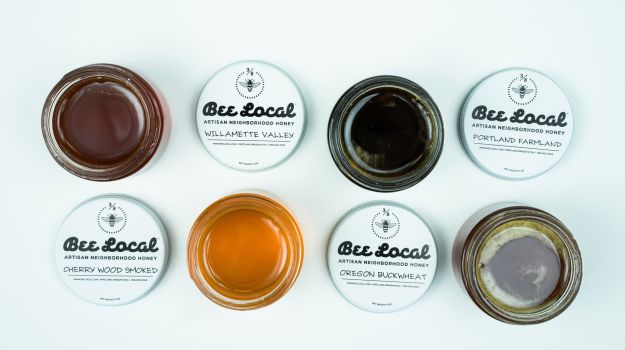 The company's place-based honeys, from light amber to rich, dark caramel, harness the setting where they are created, places such as the Willamette Valley, the city of Portland, hops farms and vineyards. Credit: Copyright 2016 Ryan LeBrun
Placing hives throughout Oregon
But tackling colony collapse disorder is a bigger-picture project. In the meantime, Bee Local is developing relationships with business owners throughout the Willamette Valley and finding distinct places to place its hives. Over the next year, it will add 150 more hives in places such as Amity Vineyards and the top of the new Renata restaurant, although most of them are located in places inaccessible to the public.Even as it makes its foothold in Oregon stronger, Bee Local is reaching out to hobby beekeeps in Austin, Texas, and Brooklyn, N.Y. -- markets that embrace unconventional products and where many of its partner chefs reside -- to launch its national expansion. What's good for business, it turns out, will be good for the bees."Beekeeping as an art is dying out," Magista said. "Not enough young beekeepers are coming up to take the place of older generations."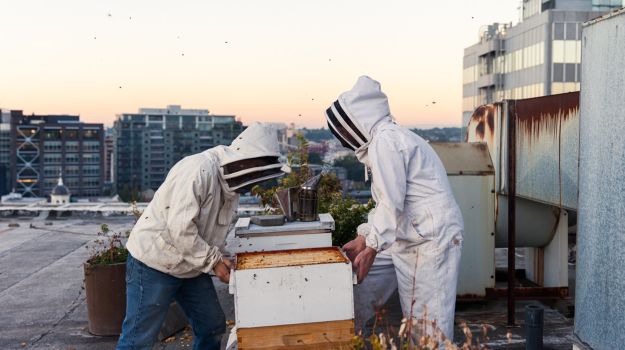 Credit: Zester Daily
Culture of beekeeping
The loss of the art of beekeeping comes at great cost to both the culture of beekeeping and the global environment, which has wrestled in the past decade with colony collapse disorder, which happens in commercial beekeeping and big agriculture. When hives die because of environmental factors -- for example if they are placed in monocrops, they are moved around too much, or they encounter pesticides -- entire hive populations can be wiped out."When you remove bees from this environment, they remain healthy," Magista said. "It's so simple -- treat an organism with respect and it thrives, abuse it and it dies."Bee Local works exclusively with hobby beekeepers and places its hives in diverse environments where no pesticides are being sprayed.We don't engage in commercial beekeeping," Magista said. "We don't use chemicals in our hives, we generally don't move them around."The result are honeys that restaurants and food purveyors and ordering by the gallon and artisanal food lovers recognize as very different from your garden-variety honey in a honey bear bottle."What the bees come up with themselves is what's really exciting," Magista said. "I can control some variables, but the result is up to nature."
Copyright 2016 Emily Grosvenor via Zester Daily and Reuters Media Express(This story has not been edited by NDTV staff and is auto-generated from a syndicated feed.)