The festival of colours is here! This year, Holi will be celebrated on the 13th of March, and like every year kids and adults are all ready with fancy water guns while the markets are filled with
a range of colours
. Preparations for the traditional
Holi sweets
and snacks have kick-started and so has the planning for get-togethers to catch up with relatives and friends. But did you know that the festival we associate with so much love and happiness originated from a grim tale? According to Hindu Mythology Holika Dahan which we celebrate as the 'Choti Holi' with a bonfire is the symbolic representation of the immolation of Holika who was the sister of a ruthless king Hiranyakshyap as mentioned in the ancient Hindu Scriptures.According to a Hindu Legend, Hiranyakshyap was a powerful king who despised Lord Vishnu and saw himself above the Lord. To his dismay, his own son Prahlad turned out to be an ardent devotee of Lord Vishnu. To kill little Prahlad, Hiranyakshyap and Holika schemed a vicious plan. Holika who had a boon of entering into the fire and come out unharmed, entered the fire with little Prahlad. While Hiranyakshyap and Holika were confident of their game plan, fate had other plans. Prahlad for his pious devotion came out of the fire unscathed while Holika was burnt into ashes for her evil motives. This legend is of pivotal importance in Hindu mythology as it preaches the power of devotion, faith and victory of good over evil. (Also read:
10 Best Holi Recipes
)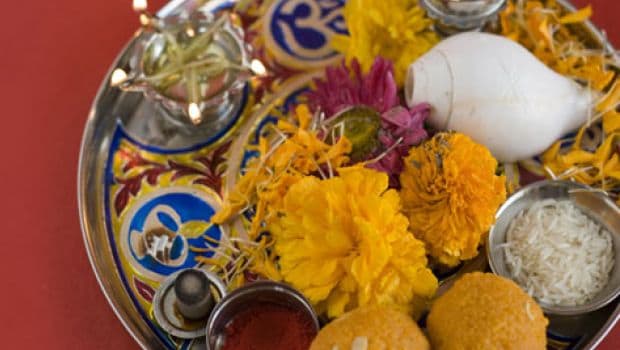 Here's a guide to the Holi Pooja, Muhurat Timings, Pooja Samagri and Vidhi:1. Holika Dahan Muhurata:
Holika Dahan falls on 12th March (Sunday) this year. The Holika Dahan Muhurta starts from 6:23 pm and stretches till 8:23 pm, the duration of the dahan is for 2 hours.Bhadra Punchha is from 4:11 pm to 5:23 pm.
Bhadra Mukha is from 5:23 pm to 7:23 pm.
Rang Panchami (festival of colours) will be celebrated on 13th March 2017.
2. Holika Sthapan:
A very important part of Holika Dahan is the Holika Sthapana or the arrangement of the grand Holi Bonfire. The legend of Prahlad and Holika is recreated with cow dung. The place where Holika is to be placed is rinsed with cow dung and water from the holy river Ganges. In the centre of the site, a wooden pole is placed which is surrounded with beads, garlands and little toys made of cow dung. At the top of this heap, you place idols of Prahlada and Holika also made with cow dung. After the Holika pile is set up, the dahan (burning) starts. Once the Dahan starts, the idol of Prahlad is taken out, while the idol of Holika keeps burning, thus marking the symbolic recreation of the legend. Four beads of cow dung are kept away from the bonfire, one is kept safe as a token of gratitude for our great ancestors, the second one in name of Lord Hanuman, third for Goddess Sheetala, and fourth one in the name of family.
3. Holi Pooja Vidhi:
People offer some customary food to the Holika Pile before the bonfire starts. After the Holika is put to fire, people take seven rounds around the fire (Parikrama). Once the fire is over, it is considered auspicious to bring home the ashes. Applying some of this ash on to the body is believed to keep the evil powers at bay
4. Holi Pooja Samagri:
Like most religious celebration, Holi Pooja also has a special thali decorated to please the deities. The typical Holi Pooja Thali contains beads made of cow dung, unbroken rice or Akshat as it is called in Sanskrit, unbroken lentils of
Moong Dal
, Batasha,
coconut
, Roli, three to four Agarbattis (incensed sticks) and Dhoop, flowers, raw cotton thread, a bowl of water and some
Gulaal.
5. Narsimha Mantra:
Some people chant this Narsimha Mantra to please lord Vishnu's (Half lion-half human) incarnation Narsimha
Ugram Veeram Maha Vishnum Jwalantam Sarvato Mukham
Nrisimham Bheeshanam Bhadram Mritoymrityum Namamyaham