The festival time is in full swing in India and there is not a single day that goes without sweets, savories, and every kind of palatable food item you can imagine! All this food can make it difficult for anyone to resist the temptation of eating, especially when you are at home with family or partying with friends. But what this can also do is send you on an overeating spree - knowingly or unknowingly. What do you do in such circumstances - more so if you have an underlying health condition? Saying no would sound impolite - because hey, it is festival time! And eating everything on offer can be detrimental over time. Worry not! We bring you some tips that you can follow to avoid overeating without compromising on that festive mood.
Here Are Some Tips To Avoid Overeating During Festivals:
1. Do not go out on an empty stomach
Yes, this is advice we would have often heard from our mothers as children. Make sure to eat something at home, even if it is a healthy snack before you head out. This will ensure that you are not too hungry to binge on everything that is available. This is also a particularly important tip for people with health conditions such as diabetes.
2. Avoid hanging around the food counter for too long
All of us love dinnertime conversations. However, amidst all that talk, you just might end up overeating and not be mindless of what is going on. Once you finish eating, make sure to wash up and move to another room. This will ensure that you are not tempted to take another serving when you should be finishing up.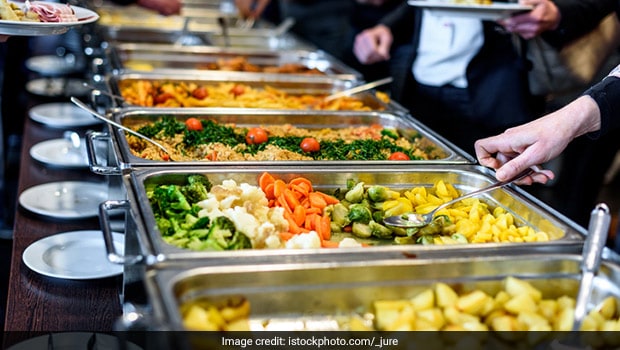 3. Snack healthy
Apart from the delectable main course, there are several options that are served which can substitute for the binge and fill up your stomach in a healthy way. For instance, salads, grilled or roasted vegetables, and even soups are all options that you can consider before starting the main course. What these will do is control your craving and hunger pangs, thereby preventing overeating.
4. Take smaller portions
Avoid putting everything on the plate. If you do wish to try out all the items listed, then ensure that you serve only smaller portions. If possible, take a smaller plate instead to fit in lesser food.


(Also Read: 9 Super Ingredients For This Festive Season)
5. The one-sweet rule
All of us have a sweet tooth - yes, even those who claim otherwise! This is where when you are outside at a party, you must follow the one-sweet rule. Put away the sweet box after this and move to another side of the room to avoid any temptation.
6. Bow out of social pressure
When at a party, the word "No" is the master. Learn to refuse if you are eating only as a social obligation. Even with drinks, make sure to keep one in hand and keep sipping it from time to time.
7. Eat slowly
Mindful eating is the best. To avoid the temptation of loading up your plate more, eat as slowly as you can. Relish every bite and chew it well. By the time you finish, you will feel satiated and there will be no scope for binging.
In conclusion
Remember that while we may end up overeating in all that festive glory, it can often become the cause of indigestion, acid refluxes, and other issues. This is more so in case you already have some underlying health issue. Mindfulness is key to enjoying the festivities in a healthier way.


About Author: Swati Jain is Food Technology Lead at Lil' Goodness.


Disclaimer: This content including advice provides generic information only. It is in no way a substitute for qualified medical opinion. Always consult a specialist or your own doctor for more information. NDTV does not claim responsibility for this information.