Felicity Cloake's perfect blondie. Photograph: Felicity Cloake.
It may not enjoy the fame of its younger cousin, the brownie, but this dense, fudgy, butterscotch treat is every bit as rich and delicious.
Almost as delicious as Debbie Harry, and easier to pull off than green hair and a leopard-print jumpsuit, the blondie has never enjoyed the same chart-topping success as its darker cousin, despite predating it by at least 10 years. The first brownie recipes popped up in the late 19th century, but chocolate didn't make an appearance until 1906 – until that point, the brownie was the dense, fudgy, butterscotch-flavoured bar known to modern cake cognoscenti as the blondie.
Although the lesser-known blondie is similar to its more famous younger sibling in texture, the principal flavour is brown sugar, rather than chocolate – rather like a classic chocolate-chip cookie minus the chips. Or sometimes with the chips – the blondie, like Harry herself, resists definition, but never, ever disappoints.
Flour versus oats
Like brownies and most other cakes, blondies are generally made with flour. In Kitchen, however, Nigella Lawson also uses oats, creating a kind of blondie/flapjack hybrid which, while delicious, feels far foo chewy and wholesome here. The blondie is not a slow-release carb kind of treat.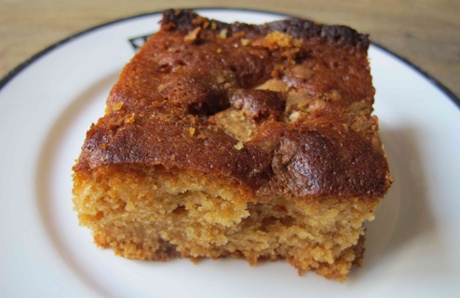 Raising agent
Lawson is also the only one to use bicarbonate of soda in her brownies, at least on its own; the US magazine Cooks Illustrated and Annie Bell's Baking Bible use baking powder, while American blogger Deb Perelman and American domestic goddess Martha Stewart eschew raising agents altogether.
Cooks Illustrated, which has conducted extensive research on this point, observes that the majority of blondie recipes fall into two camps – "light and cakey" and "dense and buttery" – and that "tasters preferred [the] latter". This chimes with my own experience; the fluffier blondies of Bell and Lawson proved less popular than flatter, more gooey versions, but some ingrates complained – while eating them – that the latter were "a bit rich". This suggests adding a little baking powder, enough to allow a little rise, is a good idea.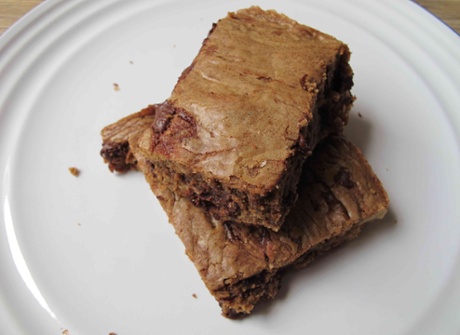 Sugar
Sugar is the predominant flavour here and, as such, of paramount importance. Everyone uses a brown variety of some kind to maximise the butterscotch factor, with Perelman going as far as the treacly dark brown sort in her most recent recipe. Lawson mixes soft light brown sugar with condensed milk; Stewart cuts it with granulated sugar, which gives her blondies a pleasingly grainy texture; and Bell goes for a gloriously gooey combination of soft light brown sugar, golden syrup and honey "for an even stickier cake". However, although this is generally desirable, it is not actually what most testers want in a blondie. The same goes for Perelman's dark muscovado, which tastes a little too bitter and sophisticated for what is, in essence, the love child of two very simple treats: the chocolate-chip cookie and the brownie. The white chocolate flavour of Lawson's condensed milk, meanwhile, seems better savoured for the chips. On this basis, caramelly light soft brown sugar and crunchy demerara seems the ideal combination.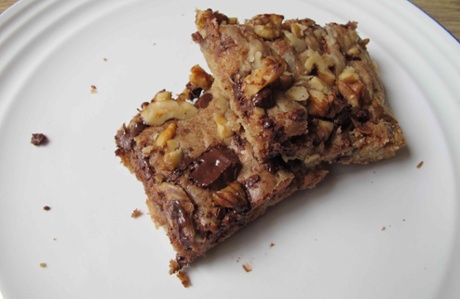 Butter
Melting the butter – rather than creaming it into the mixture, as with a conventional sponge cake – helps provide the satisfyingly dense texture. Browning it first, as Perelman suggests, is a stroke of genius, given that one of the few things to taste better than butter is nutty, toasted butter. That said, if you'd prefer to skip this step in order to get a blondie in your mouth five minutes sooner, they'll still be pretty delicious.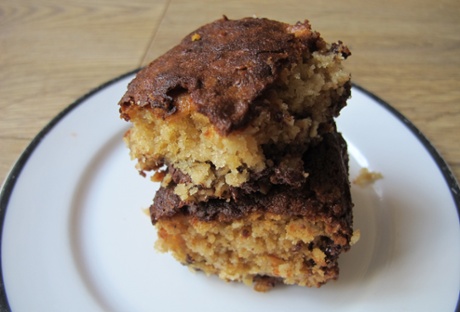 Extras
Blond or non-blond, this business demands chocolate of some sort, but the bitter cocoa of Stewart and Lawson's dark chocolate chips overwhelms the butterscotch flavour of the cake itself. Bell's white chocolate variety seems far more in the spirit of things. Nuts are another must, as much for the textural contrast between them and the soft, dense batter as for their lovely flavour. Stewart goes for the tannic walnut, which I also favour in brownies, but the sweeter flavour of pecans works better here. Regular readers annoyed by my one-woman campaign against the kneejerk use of vanilla in baked goods should be gratified to learn that it was made for this recipe – there is no better partner for butter and sugar. Finally, a good pinch of salt, although not quite as much as Stewart or Perelman suggest, helps balance the other flavours; I'd err on the side of caution and add a few flakes on top to finish.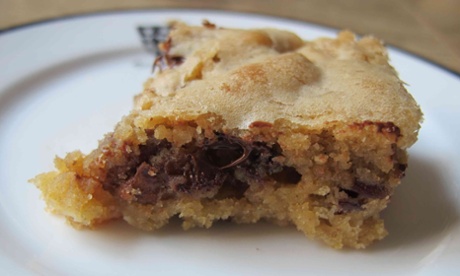 Baking
As with brownies, it is always better to undercook rather than overcook a blondie – I take Stewart's out halfway through their cooking time after reading comments online that 45 minutes at 180C left them "brick hard" (thank God for the internet). Half that time, as Cooks Illustrated suggests, seems more reasonable, but, as ever, keep an eye on them and trust your own judgment over the clock.
The perfect blondies
(Makes 1 x 20cm tray)
165g butter, cubed
75g pecans, roughly chopped
225g plain flour
1 tsp baking powder
½ tsp fine salt
175g light brown sugar
50g demerara sugar
2 eggs, beaten
1 tsp vanilla extract
170g white chocolate, roughly chopped
Sea salt flakes, to top (optional)
Melt the butter in a wide, light-coloured pan over a medium-low heat, swirling to help it along. Once the foam has died down, watch it like a hawk; as soon as the solids at the bottom turn from white to toasty brown and the butter smells almost nutty, tip into a bowl to cool until barely warm.
Toast the pecans in the same pan until they, too, smell nutty, then set aside.
Heat the oven to 200C/400F/gas mark six and grease a square baking tin roughly 20cm in size. Sift together the flour, baking powder and salt in a large mixing bowl, then stir the sugars into the cooled butter. Stir in the eggs and vanilla, then gently fold the wet ingredients into the flour, along with the white chocolate and nuts, until just combined, being careful not to overmix.
Pour into the tin and bake for 22-25 minutes, until set on top. Meanwhile, prepare a shallow sink of iced water; when the blondies are cooked, plunge in the tin, being careful not to drown the blondies, and allow to cool. Cut into squares and eat.
The blondie: the brownie's paler and less-interesting cousin, or its more subtle and sophisticated older sister? Do you like yours dense and fudgy or light and fluffy – and what else do you put in them?