If there's one cuisine which rings close to home, it has to be Mexican. The food uses wheat or rice as the staple grain, peppering it with assorted spices and lots of chilli. Furthermore, there is ample use of fresh vegetables and some amount of dairy too! Mexican dishes such as tacos, burritos, quesadillas, tortillas and even nachos are a hit with people across all age groups. Mango Tostada is also one super delicious Mexican dish which makes for a great evening snack or even a complete meal by itself.


Derived from a Spanish word for 'toasted', a Tostada is basically the Mexican food version of an open sandwich. In place of bread in sandwich, a round roasted corn tortilla is used as the base for making a Tostada. This corn bread is then topped with chopped vegetables, spicy sauces and any other toppings of choice. Thus, in its essence, the Mango Tostada is pretty much similar to the constitution of a Mexican taco - the only difference being that a Taco is folded up and a Tostada is not.


(Also Read: How To Make Restaurant-Style Veg Tacos - An Easy-to-Make Mexican Delight)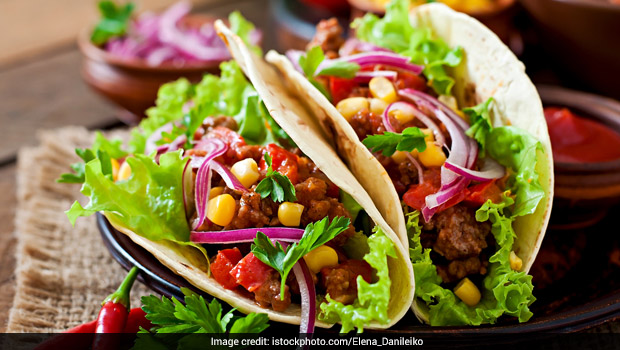 Tacos and Tostada's are very similar in their constitution.
This Mango Tostada recipe is quite simple to make with a few ingredients that are easily available at home. First, start with the corn tortilla which is lightly toasted on a hot frying pan. Then, simply start topping it with vegetables such as lettuce, cherry tomatoes and whatever other fresh toppings you like. Freshly cut red chilli can also be used to give the dish a spicy edge. Dips such as fresh, homemade salsa and mango sauce can also be used on the Tostada. Lastly, top the open Tostada with freshly chopped mango and roasted almonds to give a sweet flavour and some crunchiness to the dish.


Try this delicious Mango Tostada recipe to impress your family with your cooking prowess! Click the button in the video link above, or watch it below.


About Aditi AhujaAditi loves talking to and meeting like-minded foodies (especially the kind who like veg momos). Plus points if you get her bad jokes and sitcom references, or if you recommend a new place to eat at.