Smokey, reddish rice with tangy taste of tomato and onion,
spiced to perfection
with just the right amount of chilli pepper, garnished with fresh parsley and served with baked beans, Mexican rice is the star attraction of
Mexican cuisine
even though it's not the country's traditional dish.
Mexican rice is also widely referred to as Spanish rice, but just like French fries, which is not the creation of France, Spanish rice (Mexican Rice) was never cooked in Spain. The Spanish Invasion in Mexico probably lent to its name as it brought about the diversification of the country's cuisine and culture.
Every ingredient has a story to tell, and rice - the humble grain - travelled seven seas to come to Mexico. Rice was introduced to the Mexicans by the Asian nations in 1500's. It is believed that rice was transported to a Mexican city called Acapulco through a well renowned Spanish trading ship Galeon de Manila, also called "Nao de China." The Spaniards found the lush tropical climate of Veracruz region to be perfect for the growth of rice and hence it grew to culinary prominence.
A Glimpse into Mexican Cuisine
Mexican cuisine is a distinctive and complex cuisine. As compared to other world class cuisines of France, India and China, Mexican cuisine has a lot to offer from its wide varieties of native ingredients as well as the influences from Spanish conquistadors.
Chilli pepper and corn are considered as Mexican staples while tomatoes, squashes, avocados, cocoa and vanilla are used extensively to boost flavour. It is frequently debated how much of Mexican food is indigenous and how much of it is European. It is said that the European influences brought in cattle, pork, chicken, beef, cheese, herbs and spices along with tropical fruits like mangoes, bananas, pineapple, prickly pear and custard apple. The basic diet originally included corn and beans, seasoned with chilli pepper.(Buy organic rice and other staples from SmartCooky today!)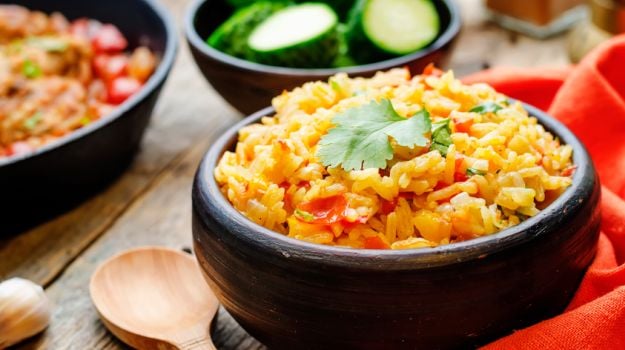 How to Make Mexican Rice
Mexican Rice is made by first browning the rice along with onions and garlic. Tomatoes and chicken broth are added while the rice simmers. Parsley is tipped in at the end to add some zing and colour. Vegetables like corn, chillies, peas or carrot are also tossed in during the cooking process to make a wholesome one-pot dish.
"The best known rice in Mexico is known as Morelos. It is a short-grain rice, which is abundant in starch. It is prepared in different forms, the best dish being the Mexican rice. While the traditional Mexican rice is white, the red version has become more popular over the years and is usually reserved for festivities or special occasions," says Neetu Goel, Owner of Mexican restaurant La Bodega.
If Mexican rice has impressed you, give it a try. Follow this quick and easy recipe given by the Executive Chef Mauro Mendez of La Bodega -
Ingredients:
500 gm rice
500 ml vegetable oil
50 gm white onion, chopped
10 gm garlic, minced
A handful of fresh cilantro, chopped
2-3 green chillies
1 1/2 litres chicken or vegetable broth
Method:
1. The rice should be washed with cold water and drained. Then soak in warm water for 10 minutes. Drain the rice again trying to remove all the water.
2. In a blender, grind 500 ml of broth, chopped onion and garlic, strain and reserve.
3. In a deep saucepan or casserole, heat the oil and once the oil is hot, add drained rice and fry over low heat. Once the rice acquires a golden colour, remove from heat and strain to remove excess oil.
4. Return to the flame and add the onion, garlic and broth mixture.
5. Cook until the water dries up, and then add the remaining broth, salt to taste, chillies and cilantro.
6. Boil for about 2 minutes and cook the rice for 30 minutes on a low flame.
7. Let it stand for 15 minutes once you remove from the flame. Serve hot
Disclaimer:
The opinions expressed within this article are the personal opinions of the author. NDTV is not responsible for the accuracy, completeness, suitability, or validity of any information on this article. All information is provided on an as-is basis. The information, facts or opinions appearing in the article do not reflect the views of NDTV and NDTV does not assume any responsibility or liability for the same.