What is the first image that flashes into our minds when I say the word 'Mexico'? If you are anything like me, it will be an image of Mexican food, and more than likely, the food will include a variety of tacos. If you have been to Mexico, you may imagine a taco-vending street stall, a taqueria; closer home, in Mumbai, you may think of Taco Bell. Hard shell, soft shell, fish, beef, pork, whichever - the taco is indelibly embedded into our psyches as 'authentic Mexican food'.(10 Most Cooked Mexican Recipes)And yet, is it 'authentic'? When did it all begin? Jeffrey Pilcher, Professor of History at the University of Minnesota and author of Planet Taco: A Global History of Mexican Food, tells us that the origins of the taco have been lost to history, but the first mention of the word came around the 1800s, and it was a reference to the dynamite charges used to excavate silver from the Mexican mines. One can only assume that it was a reference to some of the explosively spicy taco sauces. So the taco is really not all that old, and according to Pilcher, not terribly 'authentic' either. It was probably born of a net of globalising influences, all the way back to Christopher Columbus and the Spanish conquest of the Aztec empire.
Pilcher writes, "Traditionally, every region in Mexico had its own distinctive
snack
foods, made of corn dough, formed in countless ingenious shapes, and given a wide variety of local names. The now ubiquitous 'taco' label is a modern usage, probably deriving from a Spanish root, in contrast to such
dishes
as tamales and pozole, that have a clear lineage to indigenous languages."
(7 Famous Dishes of Delhi That You Must Try)
Types of Tacos
Even a basic Google search will throw up a mind-boggling variety of tacos, everything from the carne asada (grilled meat in a soft taco shell) to the tacos arabes (shawarma tacos, made by Lebanese immigrants to Mexico). There are fish tacos, shrimp or prawn tacos, vegetable tacos, even grasshopper tacos (yes!). The lush cabeza (beef head tacos); juicy suadero (meat from around the udder); sesos (brain brains); lengua (tongue); and crisp oreja (deep-fried pig's ear) are some of the traditional, deeply delicious tacos that you'll find in Mexico.In America, where the taco is now wildly popular, the traditional filling of offal is now being replaced by hamburger
meat
etc, with Cheddar cheese, sour cream, lettuce etc. Breakfast tacos are now a thing, in the USA.Tacos can be either soft shell or hard shell, with a variety of meat fillings that are braised, fried, or made on a griddle. A bouquet of coriander, some sliced radish, perhaps a crescent of lime and a variety of vegetable-based salsas (mostly red or green) are all the accompaniments a taco needs.
(7 Amazing Coriander Seeds Benefits: From Tackling Diabetes to Improving the Skin)
How to make a taco shell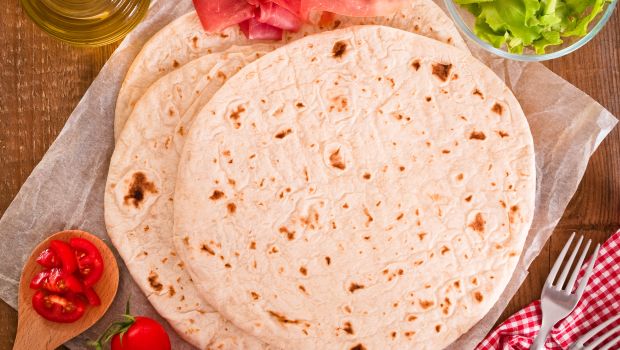 Here is a recipe I use at home to make the tortilla for the taco. I cannot claim any authenticity for it, since we do not get the corn masa flour in India. Instead, here is a recipe for flour tortillas, something that may remind you a little of our very own phulka. I have swapped the original lard for butter.Ingredients:All purpose flour 300 grams
Salt 3 tsp
Butter 70 grams (or coconut oil)
1/2 cup warm waterMethod:Mix the flour and salt together, then work in the butter with your hands, until it is all mixed and looks like crumbs. Add in the warm water, little by little, mashing everything together until perfectly blended. Make this dough into a smooth ball, and let it rest for about half an hour, ten minutes at the minimum.
Just as you would for chapati or phulka, divide the dough into about 11-12 balls and roll them out, again just as you would your regular roti. Use a little extra flour to dust, if necessary and make them as thin as you can, without breaking. Cook each tortilla on a hot dosa pan, or a skillet, until it puffs up and browns. Then turn over. Each one should take about a minute.The Belly of the BeastNow you have the wrapping of the taco. But what will it cloak? A very quick recipe I put together sometimes is this chicken one, but you can do your own thing and stuff it with whatever you like.(10 Best Chicken Fillet Recipes)Quick Chicken Taco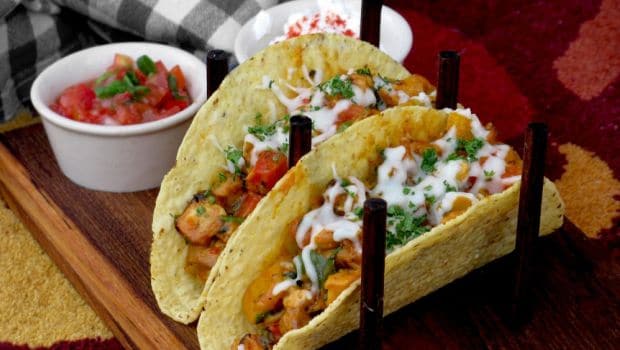 Ingredients:Garlic cloves 5, chopped
Chicken 500 grams, cooked and shredded
Ground cumin 1 tbsp
Salt, to taste
Oregano 1/2 tbsp
Spring onions, coriander, lime and jalapenos, to taste
Oil, to cookMethod:Heat the oil on a non-stick frying pan, and lightly fry the garlic, until golden. Then toss in the shredded chicken, cumin, salt and oregano and cook for about five minutes. Then assemble on to your hot tortillas, together with the onions, coriander, jalapenos and a squeeze of lime. Drizzle some salsa on top and you're good to go.Salsa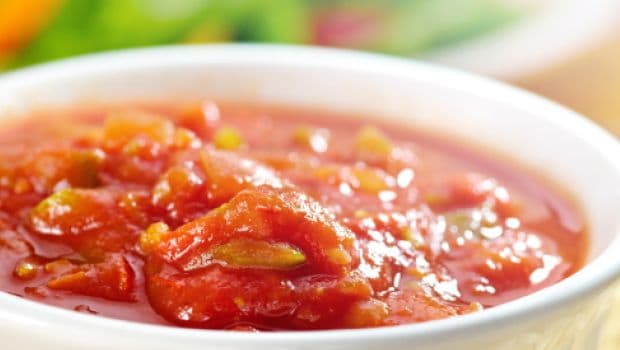 And since I have not yet given a salsa recipe, here you go - a red tomato version, that is quick to throw together and much tastier than anything bought in a store.Ingredients:Tomatoes 500 grams chopped
Garlic cloves, 5
Onion, 1
Coriander 1/3 cup
Salt, to taste
Jalapeno, 1
Lime juice, to tasteMethod:Lightly cook the tomatoes on a tawa until they char a little - this should add a little depth of flavour to your salsa, although it will up the preparation time a little. Chop the tomatoes, and peel the garlic and onion. Chop the garlic, onion and jalapeno as finely as you can or if you have a food processor, use that. If not, blend in a mixer. Add in the coriander and lime, season and serve.About the Author: Meher Mirza is an independent writer and editor, with a focus on food and travel. Formerly with BBC Good Food India, she loves anime, animals and artsy things but also comics, technology and death metal.Disclaimer: The opinions expressed within this article are the personal opinions of the author. NDTV is not responsible for the accuracy, completeness, suitability, or validity of any information on this article. All information is provided on an as-is basis. The information, facts or opinions appearing in the article do not reflect the views of NDTV and NDTV does not assume any responsibility or liability for the same.