How to win a cookery show by Masterchef Gary Mehigan
IANS | Updated: May 23, 2014 12:04 IST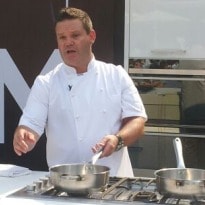 The most common mistake made by cookery show contestants is that they choose complicated dishes over simple ones to impress the judges, says celebrity chef Gary Mehigan who loves to gorge on south Indian cuisine whenever he is in the country.

Key to victory in a cookery show is to keep the dishes simple, he feels.

"They try to be too fancy and too quick. They want to impress us. They bite off a little more than what they can chew. They should be simple in the beginning of the competition," Mehigan told IANS in a telephonic interview from Mumbai, during his trip to India.

He judges "MasterChef Australia".

"Just because something looks fancy...it might not taste that good. The more complicated the dish is, the more problems you open yourself up for," said the Britsh-Australian restaurateur, who moved to Melbourne after being trained as a chef in London.

Mehigan judges the show along with celebrity chef's George Calombaris and food critic Matt Preston.

Both the chefs often give tips to the contestants.

"George and I often give them cues by asking them questions. They don't tend to pick up on the cues, which we lead them to. It takes them a little time to understand them," he said.

So far, he has judged five successful seasons of "MasterChef Australia", but maintains that the first season was close to his heart.

"We really bonded emotionally with the journey and experience of the contestants. We never thought that 'MasterChef...' will be as big as it has become now," he said. The USP of the show is that everything is that is realistic.

"There is a lot of reality in it. It does not put people down or in any kind of awkward positions. There is a positive and constructive feedback. There is no swearing and it is a good family show," he said.

The chef promises to bring in season six with newer elements and said: "We are being very careful about not telling anyone about what will happen in the sixth series."

As a part of tasks on the show, contestants often go for outdoor assignments and cook local food of the places they visit.

Mehigan would love to bring them to India too, but says it depends upon the sponsors.

"From the competition perspective, the contestants would love this experience. When you visit India for the first time, it is overwhelming. From the practicality purpose, it takes a lot of money to bring people here. It is all about having the right sponsors in place," he said.

A big fan of Indian food, he loves his trips to the country.

"I love Indian food. This is my third trip now. This time we went up to Jodhpur (Rajasthan), Chennai (Tamil Nadu) and even Mumbai. It has been very diverse kind of a trip in terms of food. In Rajasthan, there's lot of lentils, paneer, cheese and it is very spicy," he said.

Of the different cuisines available in India, his favourite is south Indian food.

"There are lots of fresh vegetables, mango, turmeric, coconut, and lots of fish...I do like that. I find that really interesting," he said.