One of the most popular south Indian foods, sambar is one stellar accompaniment that is widely paired with delights like idlis, vadas, dosas, rice, uthappams, etc. A piping hot bowlful of sambar translates comfort food that can make your day in just no time. What actually lends sambar its quintessential south Indian flavour is the powder that adds in a burst of flavours. The dry-roasted sambhar powder makes the whole culinary experience quite enticing. In most Indian household kitchens, sambar is prepared using store-bought sambar powders. However, it is always best to steer clear of market-bought ones as they may contain artificial preservatives that may do harm to your health in the long run.


(Also Read: MDH Sambar Masala Fails US FDA Test, Three Lots Recalled: Make Everyday Masalas At Home (Recipes Inside))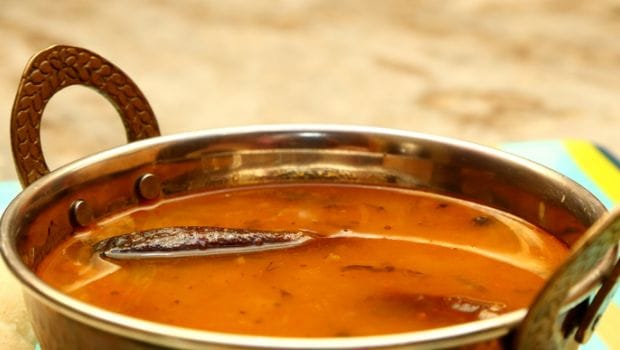 Hence, we bring to you an easy way to make sambar masala at home that is devoid of any preservatives. This aromatic powder involves use of multiple herbs and spices that have potent health benefiting properties as well. The sambar powder recipe that we have shared below will give you a restaurant-like flavour. You can adjust the consistency of the sambar as per your liking; just ensure that you're adding in the sambar powder proportionately.
So let's get started by first assembling together ingredients for sambar powder:
1 tbsp mustard seeds
1 tbsp turmeric powder
8-10 curry leaves (dry)
1 1/2 tbsp cumin seeds
2 tsp pepper corns
1 cup sabut lal mirch (optional)
1 tbsp turmeric powder
8-10 curry leaves (dry)
1/2 cup coriander seeds
1 tbsp fenugreek seeds
1 tbsp dhuli urad dal
1 tbsp chana dal
1 tbsp arhar dal
1 tbsp asafoetida

How To Make Sambar Powder At Home:
To begin with, take a pan and dry-roast all the ingredients, except turmeric. Use of whole red chillies is completely optional, depending upon your palate.
Once it is done, bring the pan off the heat and allow the dry-roasted ingredients to cool down.
Now, grind all the ingredients together and later add in turmeric powder.
Note: You can store this powder in an air-tight container and use it as and when required.



So, the next time you plan to prepare a south Indian meal at home, try making sambar at home using this homemade sambar powder recipe and watch out for the difference in taste as well as the texture. If you're struggling to make sambar at home, here's how you can.
About Deeksha SarinAn eccentric foodie and a die-hard falooda lover, Deeksha loves riding scooty in search of good street food! A piping hot cup of adrak wali chai can make her day bright and shiny!