New Delhi, the capital of India, is often touted as the culinary capital of India by food experts. With its bevy of local street food delicacies, the day does not seem far for it to be crowned as the street food capital of India as well. Sure, the category has tough competition from joints sprawling across the country in several different states, cities and towns. Yet, Delhi proves to be one of the toughest contenders, for the multiple old and legendary eateries in town. Eateries that don't just plate their dish, but also plate their legacy around it.
One such old renowned street food joint is Anil Kachori Wale in Cannaught place, also often referred to as the Hanuman Mandir Kachori Wale. One need not explain North India's love for kachoris. The crispy golden treat made with aromatic masalas, and served with signature subzi and chutney, is a favourite snack to munch on. One look at this modest street food joint near Hanuman Mandir is enough to portray the lengths at which Delhites can go to have their share of the fried delight.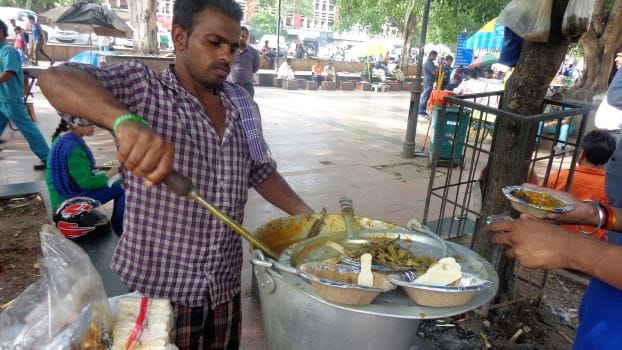 Tucked away in the lane next to the iconic Hanuman Mandir, and the famous Mehendi Walas (henna impressionists and artists), Anil Kachori Wale has carved a distinguished identity of its own. Running for over 40 years, the kachoris are a hit amongst the several hundred devotees who visit the ancient temple to pay their respects to their Lord. And then there are some loyalist who pour in for their sheer love of the fried delicacies and add to the ever-bustling customer queue.
The lip-smacking kachoris are cooked till golden brown, stuffed with a spiced dal filling, and served with an even spicier Aloo Sabzi, coriander chutney, and topped with chopped onions and masala. The speed at which he arranges a plate is a pure sight of expertise, the credit of which has largely got to do with the never-ending crowd around the joint. Served piping hot, you can have the whole kachori, or crush and smear in the sabzi, chutney and onion. Our vote is for the latter, the tiny crumbles of kachoris are an explosion of flavours and spices.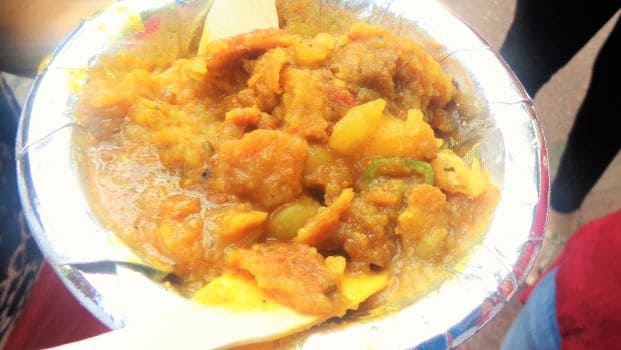 A plate costs INR 35, which consists of two kachoris, crushed or whole. One can have a single kachori for INR 18, with no bar on the 'subzi' (curry). They also sell samosas at the same rate, and customers can be seen relishing crushed samosas in the same 'kachori wali aloo ki sabzi'. This best of both world experience is quite possible at Anil Kachori Wale.
Hanuman Mandir kachoris has stood the test of time to emerge as the most sought-after kachori place in the capital. Head to Anil Kachori Wale to have the taste of these fried delicacies at the soonest!
Where : Anil Kachori Wale, Near Pracheen Hanuman Mandir, Baba Khadak Singh Marg, New Delhi-110001
Cost for 2: INR 75