It has been seven years since I moved to Delhi and trust me I don't miss my hometown half as much as I miss my mom's handmade food. It is still a matter of amazement for me to see the perfection that rests in her hands, which always leads to such delighting flavours. Among my all time favourites shall always be a traditional preparation- without which I think, no Indian household would have ever enjoyed their festive occasions- Kachori.


Round, fluffy kachoris! Full of heart melting masalas, made crisp and perfect golden brown. How well they go with aloo tamatar sabzi or for that matter, just a little pickle with it suffices. Similar to the variety that our country encompasses, kachori also comes wrapped in different shapes, embracing different flavours. This special food preparation is said to have taken birth in the busy streets of north-northwest India. It is also relished delightfully in our neighbouring countries like Pakistan.


An extremely simple preparation, it gives you ample scope to play around with its form. Stuff it with peas, onions, potatoes, lentils or just masalas. Served during all major festivities, from Holi to Diwali. A regular hit at parties, easily packed into everyday lunchbox. Fry them deep for a Sunday lunch or pack them along when on a picnic or a trip.
We understand India's love for a couple of things that are so inherent to it- variety and food! Combining both together, we bring your one of the most loved foods of this country in five exciting avatars. Our best kachori recipes.


Recipe by Bengali Sweet House, Bengali Market, New Delhi


Introducing the most royal form of kachoris! King sized kachoris full of chaat, pomegranate, chic peas and sprouts, crowned with coriander and tamarind chutney.
The traditional and the most widely loved version of kachoris. Maida dough made into small balls and filled with masala made of ginger-garlic paste, mint, coriander leaves and other hot spices. Rolled out into roundels, deep fried to a crispy perfection.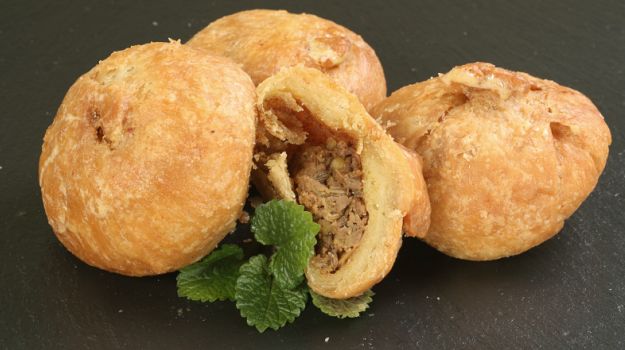 Recipe by Raana Waghu


This one comes with a twist! Boiled bananas mashed and mixed with rice flour, stuffed with masala oozing with lime juice, coconut, green chilli paste, groundnuts, white sesame, raisins, zeera, curry leaves and sugar. Don't miss out on this one.
Recipe by Gunjan Goela


For those who watch out for their calorie intake and would still not like to give up on their love for food. Simply skip deep frying these kachoris, rather bake them golden lovely. Kachoris made of wheat flour, mixed with sugar, yeast and water, packed with urad daal stuffing.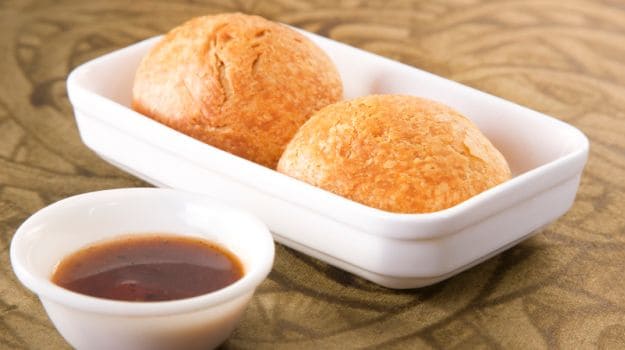 Recipe by Niru Gupta


One of my personal favourites. Here we have refined flour mixed with ghee and water to arrive at the dough which is further centered with a masala made of black gram and a host of spices. Rolled out into pancakes, these are then deep fried and served with tamarind chutney.