Karwa Chauth is just around the corner and many Indian married women are gearing up to observe a nirjala fast to bless their husbands with a long and prosperous life. Karva Chauth will be celebrated on 4th November, 2020. On this day, women wake up early morning before sunrise to feast on their sargi received by their mothers-in-law and then keep a nirjala fast throughout the day. It has been observed that woman often break their fast with a grand feast and lots of delicious food. This may include heavy dishes, fried foods or caffeinated beverages to make up for a whole day of staying hungry. However, this practice should be avoided as it may not be good for your health.
On the day of Karwa Chauth women generally wake up before sunrise to load up on some energy boosting food that can help them sustain through a day of fasting. During the day, they cannot eat or drink anything till they see the moon and perform the puja. Once the moon is sighted, the husband gives her some water to drink in order to break the fast and it is a general practice to sip some tea or coffee to feel energized, followed by feasting on fried and heavy foods prepared to celebrate the festival.(Also read: What is Sargi? What all Foods to Eat Early in the Morning?)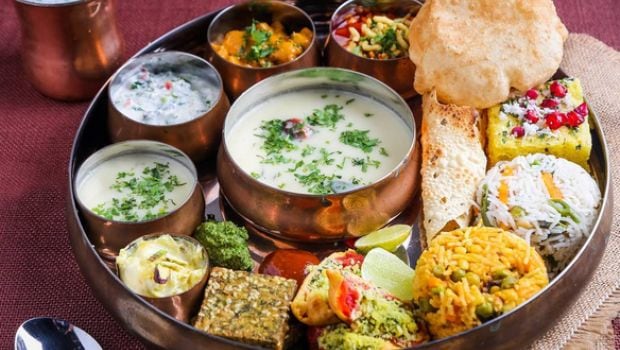 Karwa Chauth: Women feast on fried and heavy foods prepared to celebrate the festival
According to Nutritionist Dr. Simran Saini from Fortis Hospital in New Delhi, "After a long day of fasting, one must avoid binging on fried foods and caffeinated drinks. The digestive system was at rest for more than 12 hours of the day, and when it is loaded with heavy foods and drinks suddenly, it makes your system burdened. This can lead to an upset stomach and cause loose motions, gastric irritability or bloating. Ingesting heavy foods after a period of fasting may also slow down your metabolism, affecting your digestive system. So, it is best to eat foods that are light on your tummy to break your fast. You can opt for a light khichdi, plain dal-chawal, quinoa or South Indian fare like idli or upma."
(Also Read: Karwa Chauth: 5 Natural Ways to Help Darken Your Mehendi - Henna)
Further, she also shares that drinking tea or coffee immediately after you break your fast can cause acidity in the stomach. Therefore, it is imperative to eat healthier and lighter foods as you break the fast in order to make the most of your special day. Some of the light foods that you can include in your meal to break the Karwa Chauth fast may include fruits, yogurt, nuts, a light sweet dessert and drinks like juices and buttermilk.
Happy Karwa Chauth 2020!