Janmashtami is just around the corner and the air of divinity and festivities takes over the country again. From Lord Krishna's cradle, to baby Krishna's clothes to the characteristic Bhog and Prasad, the shops have lined themselves with all things festive and celebratory. Janmashtami is one of the most significant festivals for Hindus as it marks the birth anniversary of Lord Krishna, who is believed to be the eight avatar of Lord Vishnu. The day calls for worshiping the God and offering him specially made food items. Let us take a deeper look at the auspicious festival and its significance.

Considered to be one of the major festivals in the Indian calendar, Janmashtami is celebrated with fervour every year. It marks the birthday of Lord Krishna, who is also lovingly called Govinda, Balgopal, Jagadguru, Manmohan, Murlimanohar, among others. Hindus across different regions in the country consider this day to be auspicious (the eight day of Krishna Paksha of the month of Shravan) and follow various customs to show their devotion to their beloved God.





A Glimpse into Lord Krishna's Life





As the legend goes, in the kingdom of Mathura, Lord Krishna was born to Princess Devaki and her husband Vasudeva. The Princess' evil brother Kansa, the then king, was keeping Devaki and Vasudeva locked in the prison because of a prophecy which had stated that the eight son of Devaki would kill Kansa. To safeguard his life, he went on to mercilessly kill all the six children that Devaki had borne.





However, the seventh child who was informed to be miscarried was mystically transferred to the womb of Princess Rohini in Vrindavan who grew up to become Balram, the elder brother of Lord Krishna. During the birth of Krishna, Vasudeva was guided by the lord to carry the baby to Vrindavan to the house of Nanda and Yasoda, and return with their girl child born on the same day to present her to King Kansa in the hope that he wouldn't harm her because the prophecy had said that the eight 'son' would be the one to kill him. But the merciless Kansa held the child and tried to throw her against a rock when she rose to the air taking the form of Goddess Durga and warning him about his death.





Lord Krishna grew up in Vrindavan under the loving care of Mother Yasoda. There are numerous stories that are recited till today about the many mischief of little Krishna and how he got to be known as the 'makhan chor', for his love for white butter. Through the course of his life he went on to kill many demons and safeguard the people, and eventually, as the prophecy had said, kill Kansa to regain his kingdom.





(Recipe: Beej ki Barfi)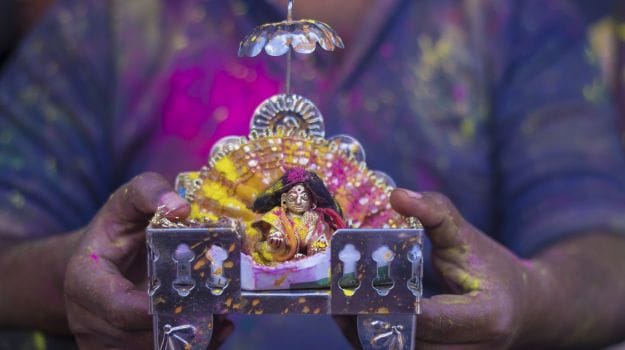 Janmashtami Celebrations - The Chappan Bhog
The devotees of Lord Krishna patiently wait for Janmashtami every year. Though different regions carry out the celebrations in their own ways, most people fast the entire day and stay up till midnight which is believed to be the time when Lord Krishna was born. As a common practice, after sundown, they recite hymns and sing bhagans in the name of the Lord and break their fast only after midnight. The following day, which is referred to as 'Nanda Utsav', people distribute gifts and sweets to near and dear ones.
As an offering to the Lord, they put together a list of 56 food items which is referred to as the Chappan Bhog, which is later distributed among the people after the fast. As legend goes, it constitutes Krishna's favourite dishes and usually includes cereals, fruits, dry fruits, sweets, drinks, namkeen and pickles in quantities of seven under each category.
There are also variations to this with some people offering 16 kinds of namkeen, 20 kinds of sweets and 20 kinds of dry fruits. Some of the common items which are found in the bhog are makhan mishri, kheer, rasgulla, jalebi, rabri, mathri, malpua, mohanbhog, chutney, murabba, saag, dahi, rice, dal, kadi, ghewar, chila, papad, moong dal ka halwa, pakoda, khichadi, brinjal ka sabji, lauki ka sabji, poori, badam milk, tikkis, cashews, almonds, pistachios, and elachi among others. The bhog also needs to be arranged in a particular sequence, starting with milk items, moving on the besan-based treats and salty food, and ending with dry fruits and elachi (cardamom).
Why 56 items?
If you are curious why the bhog includes 56 items specifically, here's the reason - to protect his people from the wrath of Lord Indra (the God of rain), Lord Krishna had lifted the Govardhan Parvat (mountain) and stood still by placing it at the tip of his little finger for seven days. The people were saved by standing under it. It is said that Lord Krishna used to have eight food items every day. But during this time, he didn't consume any food. So at the end of seven days, out of their gratitude for the Lord, the people made him a total of 56 dishes (eight dishes multiplied by 7) including his favourite dishes.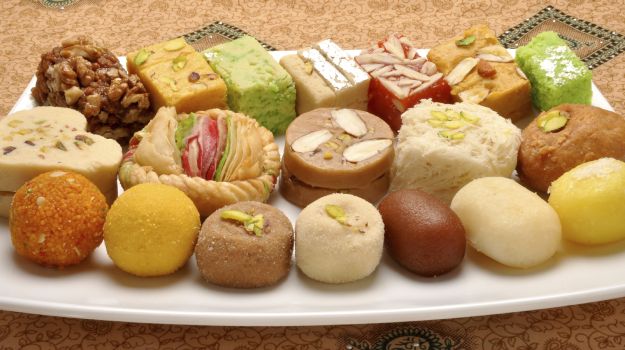 Other Celebrations
Mumbai celebrates Janmashtami in a grand manner where one gets to see the custom of forming human tower by a group of young boys to break a pot of fresh butter tied to a considerable height. Different groups have competitions amongst them for the prize money associated with it. In most other parts of India, young children are dressed as Lord Krishna with a peacock father as an adornment for the head, jewellery over the neck, and a flute in the hand.
People also gather together for kirtan (singing religious songs) and reading parts from The Bhagavad Gita. In certain regions, people also organise theatre enacting the Rasa Lila from the holy book, depicting the story of Lord Krishna.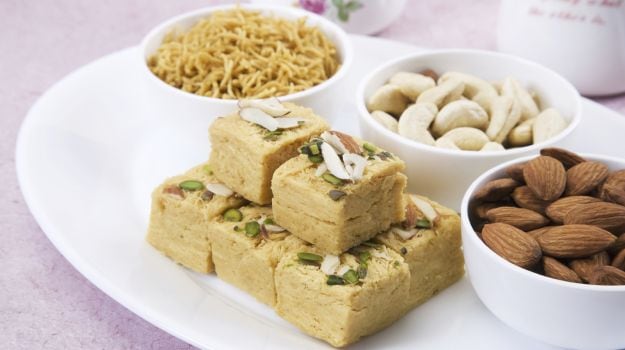 Across India, especially in the south, people decorate the entrance of their houses with kolams/ rangolis (beautifully patterns made with coloured powders or rice powder).They also make earnest efforts to clean the interiors of the house and place Krishna idols, incense sticks, garlands, etc.
Happy Janmashtami 2017!