Lohri is just around the corner and it's time to pay our gratitude to the Sun God, Surya, for gracing us with his presence once again. If you're anywhere in northern India, then you might get to experience the joys of community celebration on Lohri 2021. Traditionally, the festival of Lohri is celebrated the onset of the harvest season in Punjab region of India. There are a number of beautiful traditions related to the festival, including the lighting of the holy bonfire that is then offered ceremonial prayers and even food. On Lohri, people offer thanks to god for the precious crops before they begin harvesting them. It is also believed that the Lohri night is the longest night of the year known as the winter solstice. It marks the end of the coldest month of the year as the earth now starts to turn towards the sun. But for the uninitiated, below are the ritual and traditions around Lohri with food options that one can have on Lohri.
Rituals and Traditions around Lohri
The traditions around the festival are appropriate and soulful. You build a bonfire, preferably a community bonfire as everyone gathers around it. The bonfire symbolizes Agni, the God of Fire. People warm up to the sparkling flames, sing songs and throw in foods like gajak,chikki, puffed rice, popcorn, rewri, sesame seeds, jaggery, peanuts and sugarcane to pay homage to your roots, in a matter of speaking. These offerings are fed to the fire to appease the gods and to ask them to bless everybody with abundance and prosperity.
Lohri celebrates the harvest of rabi crops, those which are sown in the winter. It thus follows that winter foods like sarson (mustard leaves), sesame, whole wheat and spinach are an integral part of the festival. As part of the festivities, dinner is served after the bonfire ritual. The dinner typically includes 'Sarson ka Saag and Makki ki Roti', a Punjabi winter treat loved everywhere in the world.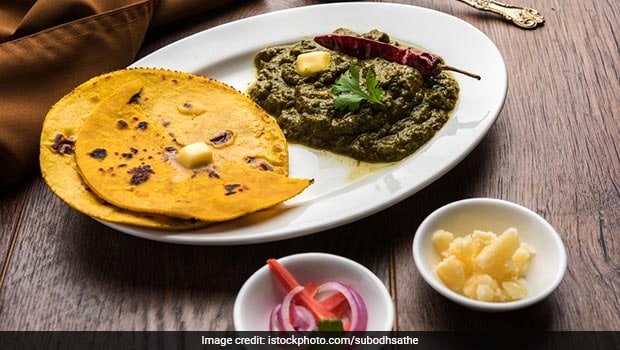 How Did Lohri Get Its Name?
Til and rorhi (jaggery) are eaten as traditional festive foods. The words til and rorhi together make 'tilorhi', which eventually got rechristened to Lohri. These belly-warming foods are known to cleanse our bodies and instil renewed vigour as we step into a seasonal change.According to folklore, the flames of the fire are known to carry messages to the sun which is why the day after Lohri is warm and sunny bringing an end to gloomy, winter days. The following day is celebrated as Makar Sankranti to mark the beginning of bright days ahead.
With winter almost giving North India a miss this year, we still welcome Lohri with open arms. This sputtering bonfire celebration is all about bonhomie and togetherness. A day to warm your hands, and your hearts.