Make Way for Batman's Sweet Mobile
Mid-day , Mumbai | Updated: April 15, 2013 13:52 IST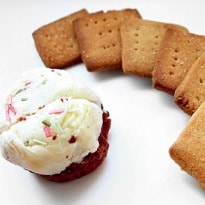 She's known as the Batman of baking and chooses to keep her identity a secret to save Mumbai from boring desserts. Newly-launched, moving pop-up dessert shop, Sweetish House Mafia has already gained fans with just two outings in one week.

This young investment banker aims to deliver sweetness to the city, hidden behind a mask with the help of a Tata Nano. Much like Gotham City's Bruce Wayne who runs Wayne Enterprises by day, Ms Sweetish (she asked us to call her thus) too has a day business, but has recently turned to a part-time baker with her enterprise, Sweetish House Mafia (SHM). (In Picture: Red Velvet Cupcake (Rs 60) and Cinnamon Graham Crackers (Rs 60). Pic/Dhara Vora)

"I like the group (DJ trio Swedish House Mafia), but the name just came up while my family was brainstorming for a name for the enterprise. I am not a trained baker or a chef; in fact, I have studied Finance. But my mother always cooked for house parties, and I took a keen interest and started baking early," she tells us. Later, her friends encouraged her to take up this hobby professionally; however, she wasn't keen to run a dessert shop full time and that's how the idea of a weekly, pop-up dessert shop emerged.

"There are so many dessert stores in the city, most of them don't run for long. Also, I wanted to cook for myself and not according to how many orders I get. Hence, I decided to work with small batches," she explains.

Spot this delivery car of Sweetish House Mafia in South Mumbai or Bandra for your pick of desserts
She decided to use her Nano as a delivery truck, and has created a buzz already through her Facebook and Twitter page. She believes she got lucky after a few famous Twitter friends of her friends tweeted about SHM to their long list of followers and after her first trial run at Horniman Circle, she had people waiting to buy her Nutella Cookies (R70 a piece) during the Carter Road stop on April 6.

She had just made a batch of 50 that were sold out in 20 minutes flat. "I don't go for delivery stops, but my driver had to remove the logo from the car to convince people that the cookies were over," she reveals, excitedly. Yesterday, her cookie stop was Breach Candy. Based on the popularity of her previous rounds visible on her social networking pages, she will disclose her next location and the next single-item menu. She plans to continue making different varieties of cookies, cupcakes and brownies for her once-a week-stops.

Follow her on @SweetishHMafia and www.facebook.com/SweetishHouseMafia


The Taste Test

Ms Sweetish sent us a parcel of a Red Velvet Cupcake and her Cinnamon Graham Crackers for our test drive. The Red Velvet was thankfully not overtly sweet and the butter-cream icing tasted light and delicious. The Crackers too seemed to follow the minimal route with a smooth cinnamon flavour slowly spreading in our mouth after a few munches. We aren't fans of cinnamon, but her crackers got our vote since it contained the right amount to compliment the crumbling, buttery taste of the crackers.