Have you ever dreamt of travelling the world, but couldn't because of various personal or professional commitments - be it finances or lack of time? Not many of us are able to achieve everything that we want to but this tea-seller will inspire you to chase your dreams and fulfill them. Nothing could stop Vijayan, a 67-year-old man and a resident of Kochi in Kerala from visiting his dream countries along with his wife, 65-year-old Mohana. The couple has visited around 17 countries and aspire to travel more. Sounds amazing, right? But nothing in life comes easy. A tea-seller by profession, Mr. Vijayan has been working for over 40 years. He has traveled to countries like Egypt, Austria, France, UAE and more. We all have dreams, but how many of us really work hard towards achieving those dreams? We connected with Mr. Vijayan and we could tell that old age or any kind of barrier could stop him from chasing his wanderlust. We'd like to share his fascinating story to inspire you. Mr. Vijayan can hardly speak in English, hence, he introduced me to his grand-daughter Amritha and Mr. Murli who helped us communicate with each other. Here's what he shared, "I was an avid traveler before I took over my father's tea stall after his sudden demise. He was my sole inspiration. He used to take me to different places when I was a little boy. The given circumstances couldn't stop me from doing what I believed in. When I got married to Mohana, I traveled to more and more countries, because what better way than sharing these experiences with someone special. I remember, the first country I visited was Egypt and after that there was no looking back."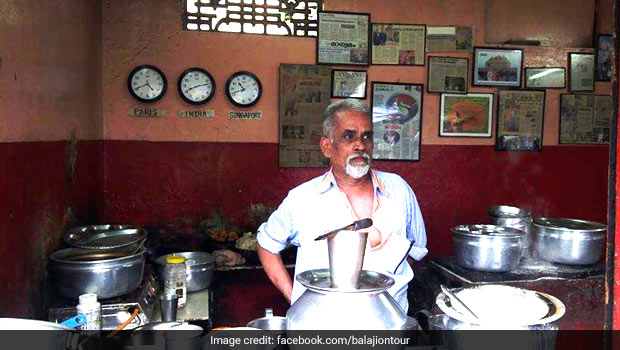 The only thing he got back from his foreign visits was a souvenir each time.
Travelling to a new country is an expensive affair and so, we were curious to know - how could he travel to so many countries, considering he had so many financial responsibilities and a family along with a tea stall to look after? He shares, "It wasn't easy, but if have the conviction to do something, everything falls in place. We take bank loans and travel to a specific country and repay the loan in the next three years and then take another loan and travel again. Every three years, we travel to a new place with new hopes.""Other than this, we get a lot of financial help from various people, especially celebrities like Bollywood actor Amitabh Bachchan, Anupam Kher, Indian politician Shashi Tharoor and many other people have helped us anonymously too. I am really grateful to them," he adds. If you are wondering how these people got to know about him, it was through a short film made on him and his journey called 'Invisible Wings', which was made in the year 2015. Considering they have a limited budget, they do not live or travel lavishly. The only thing they get back from their foreign visits is a souvenir from the respective country. I asked him about the next destination that they are planning to visit. Mr. Vijayan quickly replied,"I have been dreaming of visiting Chile in South America and we are working on it."I also asked him about the best-sellers at his nicely set-up tea-stall in Kochi. "Aloo bonda is the best among others here, " he answered. We closed our conversation by Mr. Vijayasn giving us a motivating advice. "Just follow your dreams," he says. The power of his dreams, his strong conviction and his passion has led him to fulfill his dreams. Mr. Vijayan and his wife are an inspiration for us.