Soups are comfort food, especially during monsoons. The nourishing nature of soups, cooked with the goodness of spices, herbs, vegetables and meats, acts as a shield against various infections. There are countless variations of soups that are a part of Indian culinary repertoire. However, India boasts of this 'English' yet Tamilian soup with an uncanny past - the Mulligatawny Soup. A hybrid of soup and rasam, it makes for a very popular starter in many fine dining restaurants across the country and around the world. Mulligatawny is a Tamil word that translates to 'pepper-water' or 'pepper-broth'. There are many stories connected to its origin. So let us take you through the mysterious yet interesting history of Mulligatawny soup.
What is Mulligatawny Soup?
Mulligatawny soup is an Anglo-Indian dish, which was originally prepared with peppers, hence the name. It is usually based on chicken stock (also mutton and vegetable stock) and curry, with pieces of chicken, cream, onion, celery, almonds and apples and is further garnished with rice. The cream in the versions earlier was nothing but coconut milk. Nowadays to make it healthy, people also add yogurt. The vegetarian version of this soup consists of lentils, tomatoes, apples, rice and fresh coconut.
Looking Back at the History of Mulligatawny Soup
Soups were never a part of Indian cuisine earlier. Mulligatawany soup is believed to have been savoured in Sri Lanka and reached Tamil Nadu during the British Raj around 1800s. It is also said that this soup was based on an Indian dish and was changed into soup to satiate the fussy British soldiers during the British Raj. The Britishers apparently loved the 'stew' that was served to them by their Tamilian servants. Britishers eventually asked them to add chicken and mutton to this stew and other ingredients to suit their taste and this is how many variations were tried during the Pre-Independence period.
Mulligatawny soup is nothing but a blend of British tastes, exotic foods and Indian spices that have made it a superstar in the soup category. Thanks to this interesting mix of East meets West that we are able to savour this delicious soup.
Here are two recipes of Mulligatawny Soup that you can make at home:
Mulligatawny Soup
Recipe by Chef Vicky Ratnani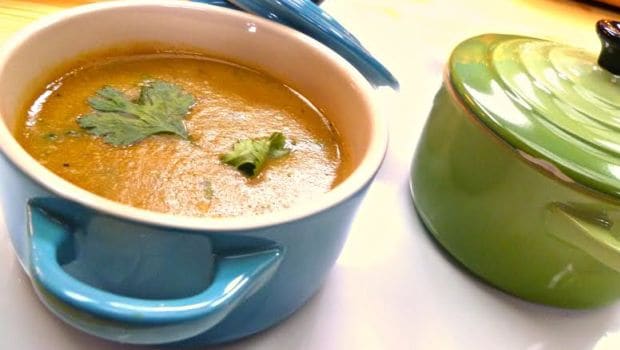 Ingredients
1 1/2 tsp vegetable oil
3-4 shallots, diced
10 gm ginger, minced
1 clove garlic, minced
1 green chili, minced
Few cardamom seeds
1 cinnamon stick
1/2 tsp turmeric powder
1 tsp cumin powder
1 1/2 tsp coriander powder
30-40 gms diced red bell peppers
1 bay leaf
5-6 black peppercorns
100 gm red lentils (masoor dal) soaked for an hour
1/2 cup coconut milk
Juice of 1/2 a lime
1 Tbsp tamarind pulp
1 1/2 liters vegetable stock
20 gm apples diced or grated
40 gm carrots diced or grated
1 medium potato diced or grated
Salt and pepper to season
2-3 sprigs fresh coriander leaves
Method
Heat pan with the vegetable oil, sweat the shallots, ginger, garlic, green chilies.
Add all the spices, whole & powdered, and cook for 3-4 minutes.
Add the soaked lentils, potato, apples, carrots and saute for 3 minutes.
Add the vegetable stock and tamarind pulp and simmer till all the vegetables and lentils are cooked.
Season to taste.
Blend the soup to a smooth puree.
Add the coconut milk, fresh coriander leaves and lime juice to finish the soup.
Chicken Mulligatawny Soup
Recipe by Chef Roopa Gulati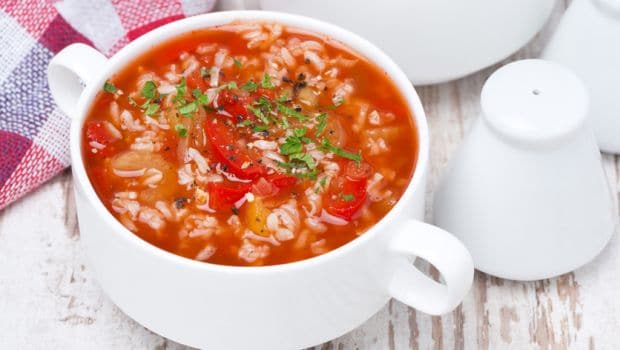 Ingredients
150 gm split red lentils
1 litre chicken stock
A pinch of turmeric
1 diced potato
1 Tbsp garlic paste
1 Tbsp ginger paste
200 gm boneless chicken breast
3 Tbsp oil
1 tsp cumin seeds
1 tsp coriander seeds
Chilli powder to taste
2 Tbsp lemon juice
Chopped coriander
Method
Simmer lentils in stock with turmeric for 30 minutes.
Add potato into the pan and simmer for 20 minutes.
Puree the soup and season well.
Sprinkle the diced chicken with salt and pepper.
Heat oil in a pan and add ginger paste, garlic paste, and coriander and chilli powder.
Add chicken and stir-fry for two minutes before adding the pureed soup.
Sharpen with lemon juice and garnish with coriander.