Now, a Device to Chill Your Drink in 30 Seconds
PTI | Updated: October 15, 2013 12:20 IST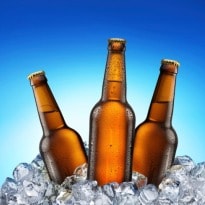 Move over refrigerators! A new portable device that cools beverages in just 30 to 60 seconds has been developed.

Using the basic principles of heat transfer, the Spin Chill device developed by a US startup can take a beer or soda and chill it in half a minute, manufacturers claim.

Setting a can or bottle in the freezer takes 20-30 minutes to become drinkable. Putting it in ice water take 10-20 minutes. Using the 'Chill Bit' device, it takes 30-60 seconds, the Florida-based company said.

By spinning the container, convection is introduced to both the inside and the outside of the container, thus increasing the rate of heat transfer and cooling the beverage down at a rate of at least 20 times faster.

"You can get your drink (beer or soda) down to zero degrees Celsius (freezing) and get ice crystals in your drink," the startup said on its website.

"We refined the idea by 3D printing multiple iterations of the design. In order to improve the clipping mechanism we simplified the device and created the Chill Bit which incorporates the same clip, but uses a power drill to spin the beer. Chill Bits were made by over-molding liquid plastic onto metal drill bits using 3D printed molds."