Picture this: sipping a cup of tea along with some authentic pahadi snacks in the whispers of the wind and amidst a beautiful landscape, we are sure you would never want to trade this experience for anything in this world. However, we cannot visit the mountains every time to enjoy this experience. Sometimes, our home balcony is enough to gobble on food while enjoying the perfect weather. Considering this, here we bring you some of the easy Pahadi recipes you can try making at home with a cup of 'kadak chai'. Take a look.


Also Read: Get The Pahadi Taste At Home With These 5 Delicious Pahadi Chicken Recipes
Here's A List Of 5 Pahadi Recipes To Pair With Your Evening Cuppa
Pahadi Kebab: Our Recommendation
What we have here is the recipe for one of the easiest kebabs to make at home - it is juicy, tender, has a lip-smacking taste to it and takes not more than a couple of minutes to be ready. Find the complete recipe for Pahadi kebab here.
Aloo Ke Gutke
Aloo Ke Gutke is a popular dish in Uttarakhand. Besides, having it as an evening meal, you can also try it as breakfast. The dish is traditionally made by tossing diced potatoes in a pool of spices and whole red chillies. Find the recipe of aloo ke gutke here.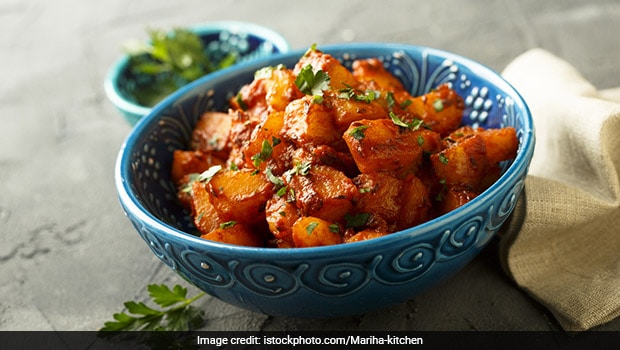 Siddu
Most popular in the regions of Kullu, Manali, Shimla, Mandi and Rohru, Himachali siddu is essentially a local steamed bun with different sweet and savoury fillings. Here's a simple siddu recipe that can help you put together a delicious hot and comforting meal (along with a cup of kadak chai) in this nippy monsoon weather.
Kumaoni Badeel
Next up is this Kumaoni badeel recipe basically made with local masoor dal, ginger, garlic, garam masala et al. It is deep-fried, crunchy and makes for a great breakfast food or evening snack when paired with chutney and a cup of chai. Click here for the recipe of paneer dal kebab or Kumaoni badeel.
Shakuli (Himachali Papad)
Papads are one of our favourite things to munch on with tea, dal rice or just anything. The crisp, crunch and taste, set everything right! Here we bring you a Himachali-style papad recipe. Take a look. Click here for the recipe of Shakuli.
So, what are you waiting for? Try out these recipes and let us know which one turned out to be your favourite one in the comment section below.


Happy Snacking!