Want healthy, happy looking and rejuvenated skin? Look no further than your fruit basket. A pineapple is all you need for youthful skin. Packed with wholesome goodness, the fruit can do wonders for both the body and skin. Besides, it can also satiate your sweet cravings to the fullest, that too without any guilt. The juicy fruit is rich in Vitamin B and C and makes for an ideal ingredient for your at-home beauty regime. In addition to the vitamins, it is also packed with manganese, copper, potassium, beta-carotene, folic acid and dietary fibres that can boost the production of collagen and quicken the regeneration of skin cells. It also helps flush out the toxins and purify the blood, further leading to supple skin.


Considering this, we bring you five simple recipes that you can whip up in a jiffy at home for a healthy and glowing skin. Read on.


Also Read: How To Peel Pineapple? Quick And Simple Tips To Follow
Pineapple Kale Smoothie:


Pineapple is a highly hydrating ingredient that keeps the skin supplied with the necessary nutrients and antioxidants. Kale is rich in vitamins C, E, and K - all of which help in making the skin look younger and healthier. Combine the two and you get all the goodness you need. The pineapple kale smoothie is the perfect fusion of the two ingredients. You can follow the recipe here.


Hawaiian Papaya Salad:


If you love your salads, then pineapple is your best friend. The fruit has anti-ageing properties and helps to nourish the skin from within, keeping it firm and elastic. That's not all. Here's a pineapple-based salad recipe that also includes papayas, which may help achieve healthy-looking skin. For the unversed, papaya contains an enzyme called papain that carries the ability to get rid of skin impurities. Moreover, both fruits are rich in antioxidants, as well. Take a look at the recipe.
Pineapple, Orange And Bottle Gourd Juice:


For those who want a healthy body as well as glowing skin, this juice is the recipe you were looking for. Pineapple is popular for its astringent properties. Astringent agents can help tighten up tissues and tone the body. Therefore, it prevents and helps handle issues such as tooth loss, hair loss, and muscle weakness or skin loosening. Orange, meanwhile, is rich in Vitamin C and defers signs of ageing. Bottle gourd, too, is full of vitamin C and zinc, thereby a good option for an anti-ageing agent. Mix it all together in a juice and say hello to youthful skin. The recipe is right here.


Pineapple Raita:


It's summer, so we need to have a cooling option. Pineapple Raita is an effortless way to incorporate the fruit into your diet. Yoghurt, like pineapple, has astringent properties. So this combo is a win-win for you. Try it. Click here for recipe.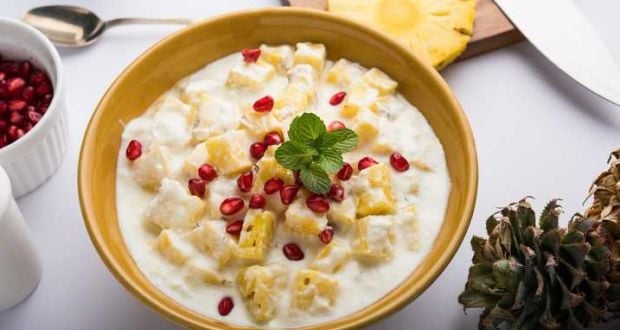 Pineapple, Cheese And Ham Salad:


For all you non-vegetarians out there, we also have a special recipe. Besides pineapple this recipe also includes cheese and ham. Alongside adding some healthy nutrients to your diet, this dish can amp up your meal in no time. Take a look at the recipe here.


Try these recipes and let us know which one you liked the most.