The beautiful tropical fruit pineapple is not only tasty and juicy but also offers a lot of health benefits. It comes packed with numerous vitamins, enzymes and antioxidants that help boost our immune system, improves bone health and aid indigestion. Moreover, despite its excessive sweetness, it is low in calories. According to the book Healing Foods by DK Publishing, "thirst quenching and cooling, pineapple is a good source of manganese, which can boost men's health, and contains significant amount of vitamin C. The core contains the proteolytic enzyme bromelain, a powerful anti-inflammatory used to treat bowel and joint problems." While it makes for an amazingly healthy fruit, it's a tough task to peel a pineapple, which is why most people avoid taking whole fruit home and cut it fresh. If you have gone through the same problem, then don't worry as we will tell you how to peel a pineapple with simple steps, but first, here are some useful tips to buy a fresh pineapple.
Tips To Buy And Store Pineapple
Select fresh looking pineapples that are heavy in size and have a sweet, tropical aroma at the stem end. Deep green crown leaves generally indicate freshness.
Do not pick a pineapple with wrinkled skin; it's a sign that the fruit has passed its prime and is too old to be bought.
If the skin is spongy and soft, it's better you don't pick it up. It has already begun to deteriorate.
This should go without saying, never bring home a pineapple that has any signs of mold on it.
Pick a bigger pineapple because when we cut the fruit, most of the exterior part is discarded. Therefore, a thick and large pineapple will yield more fruit to eat.
Old and withered leaves will automatically tell you the age of the fruit; therefore, look out for fresh leaves.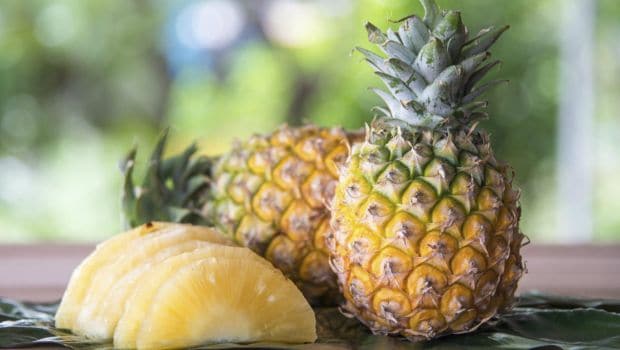 How To Peel Pineapple?
Now, that you have bought the pineapples, it's time to pee them. Here are some steps you need to follow to get there:
Step 1: Lay the pineapple on the table top and with a help of a serrated knife, chop off its top and bottom part. Now, it has two flat bases.


Step 2: Place the fruit on its flat bottom and cut off the sides lengthwise from top to bottom. The peel is about one to two inches thick; so be careful while you are peeling the fruit. Try not to chop off the yellow flesh with the peel.


Step 3: Work your way around the whole fruit using sawing motion. Make sure only the eyes (black spots on the fruit) remain.
Step 4: No, cut the eyes or spots from the pineapple, but make sure you are not cutting a major chunk of the fruit.


Step 5: Once the black spots are removed, you are ready to cut the pineapple in whichever way you'd like to eat it.


Now, that you have learnt how to peel pineapple, we give you some amazing recipes you could use to prepare at home:


This magical combination of sweet pineapple chunks and hot Thai spice is one delicacy you do not want to miss.


Serve these sweet and tangy grilled pineapple rings with grilled chicken to make your party nights even better!


3. Chilled Pineapple Cheesecakes


Want to prepare something sweet and creamy? Well, this chilled pineapple cheesecake recipe is everything you'd want to satisfy your sweet tooth.
(Also Read: 10 Best Pineapple Recipes)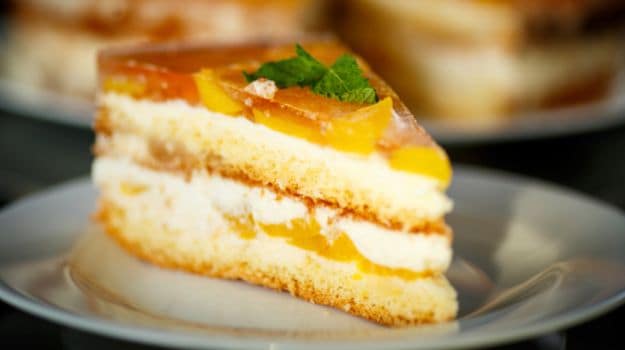 4. Pineapple, Cheese And Ham Salad


A light but filling cold salad dressed with vinegar, it's bound to make you fall in love. If you are a vegetarian, opt the ham out and choose a veggie instead.


5. Vietnamese Lamb And Pineapple Soup


Lamb, pineapple bits, fish sauce, stock and a melange of spices come together in a soupy delight and how.


There we see you slurping already! Now you know how to peel pineapple, so treat your friends with these delightful recipes. Also Read: Top Sweet And Savoury Ways To Eat Pineapple