Suzanne Anderegg's raspberry dressing spruces up a mixed salad of avocado and rocket. Photograph: Jill Mead for the GuardianRaspberries, peanut butter and miso are just a few of your secret ingredients for sprucing up a summer salad this week...I'm pleased to say that this week's theme has dragged me from my recent rut of sad desk lunches. After this selection of fruity concoctions and spicy Asian-inspired sauces, a splash of balsamic and a drizzle of olive oil will no longer cut it. And, as a result of this week's testing, I'm also much more amenable to salad for dinner, too.
The rhubarb and rosemary dressing from TwinnyDip gave a sweet and aromatic contrast to a feta, avocado and lamb's lettuce salad, and I'm thinking any leftover rhubarb syrup would be a wise addition to a gin or vodka-based cocktail.
The Mexican-inspired flavours of Zoe Guttenplan's punchy cumin and lime dressing were the perfect match for a chicken, tomato and black bean lunchbox, while TheWholeIngredient's peanut miso dressing turned a cold bean sprout, carrot and cucumber noodle bowl into a substantial show-off dish.
Angela Kim's green coconut dressing was also great on noodles, as she suggested, and will enliven a bowl of rice and steamed white fish or salmon for a quick after‑work dinner. Jodiehodgson's offering was akin to a caesar or ranch dressing, only with a much more spritely edge. Lots of fresh herbs, garlic and yoghurt suit it to romaine or round lettuces, topped with soft-boiled eggs and chunky croutons.
In the end though, it was a raspberry dressing from Suzanne Anderegg that got my vote. Taking less than a minute to make, this tangy, sweet and beautifully pink dressing turned everything from simple green salads to a pea, broad bean and goat's cheese dish into something much more visually striking. It also managed to keep people guessing a little and will keep in the fridge for a week.
The winning recipe: Raspberry dressing
This is my favourite salad dressing for sunny days and can be used on just about everything.
Suzanne Anderegg, Milton Keynes
Serves 4-6
100g fresh or defrosted raspberries
2 tbsp balsamic vinegar
2 tbsp extra virgin olive oil
1 Simply blend the ingredients together using a hand blender and pour over your salad.
Rhubarb and rosemary dressing
We love the distinctive taste of rhubarb. Made into a syrup, it can be drizzled over pancakes and shaken into cocktails, but better yet, made into this sweet, fragrant and tangy dressing and drizzled over salads.
TwinnyDip, via GuardianWitness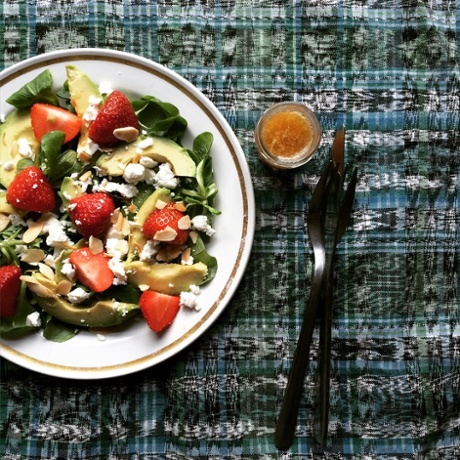 Serves 2-4
For the syrup
600g rhubarb, diced into 2cm pieces
2 sprigs of rosemary
200g sugar
200ml water

For the dressing
2 tbsp rhubarb syrup
2 tbsp white wine vinegar
3-4 tbsp olive oil
1 tsp dijon mustard
Zest of 1 lemon
Salt and black pepper, to taste
1 To make the syrup, put the ingredients into a saucepan and bring to the boil. Make sure the sugar has completely dissolved, then reduce the heat to medium-low and simmer for 20 minutes or so, stirring occasionally, until the rhubarb chunks are soft and the syrup has thickened.
2 Place a fine strainer over a large bowl. Pour the fruit syrup into the strainer and press with the back of a spoon to extract as much syrup as possible. Store the strained syrup in jars or bottles.
3 To make the dressing, simply whisk together the rhubarb syrup, vinegar, olive oil, mustard and lemon zest. Season with salt and pepper, to taste.
Green coconut dressing
Drizzle this fragrant dressing over vermicelli and julienned vegetable salad.
Angela Kim, via GuardianWitness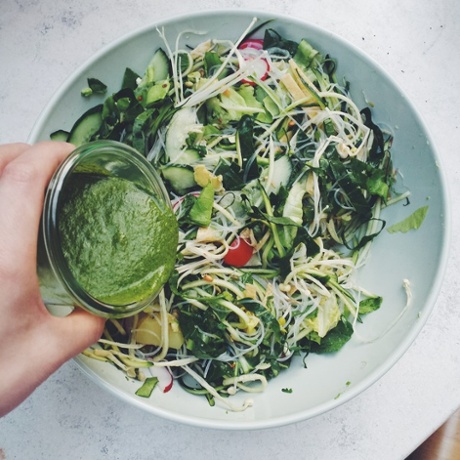 Serves 2-4
1 large spring onion, sliced finely
1 thumbnail-sized piece of ginger, chopped finely
2 garlic cloves
1 tbsp vegetable oil
A very large handful of a mixture of coriander, Thai basil and mint leaves
Juice of ½ lime
3½ tbsp coconut milk
2-3 dashes fish sauce
1-2 tsp soy sauce
½-1 medium hot green chilli
1 In a frying pan, cook the spring onion, ginger and garlic with the oil over a medium-high heat. Once they start to soften, transfer to a food processor.
2 Add the rest of the ingredients. Blend until smooth, then adjust the acidity and seasoning to your taste.

Cumin and lime dressing
This goes really well with a salad of black beans, avocado, mango, red onion and red or green pepper. Add quinoa for a more substantial meal.
Zoe Guttenplan, via GuardianWitness
Serves 2
Juice of 2 limes
1 tbsp vegetable oil
2 tsp cumin
1 garlic clove, crushed
½ tsp chilli powder
¼ tsp toasted coriander seeds, crushed
Salt and black pepper
1 Simply combine all the ingredients and mix well. Season to taste.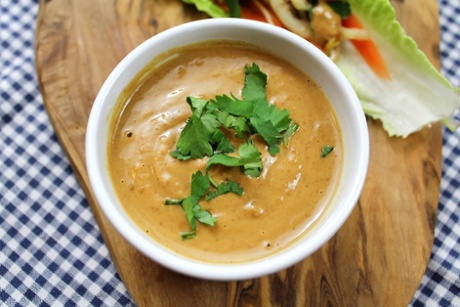 Peanut miso sauce
This peanut miso sauce takes any dish from simply tasty to full-on umami heaven. It's incredibly simple to make and is absolutely delicious on lettuce cups or noodles.
TheWholeIngredient, via GuardianWitness
Serves 2
2 tsp crunchy peanut butter
2 tsp dark miso
Juice of ½ a lime
3 tbsp water
1 Combine all the ingredients in a bowl and give it a good stir.
Ceres – avocado and yoghurt dip and dressing
What I love about this recipe is that it works as both a dressing and a dip. Serve with raw vegetables and tortilla chips in its thicker form, or thin it out with a few generous glugs of olive oil to transform it into a dressing that practically begs to be tossed with romaine.
Jodiehodgson, via GuardianWitness
Makes around 250ml
1 large avocado, chopped
2 small garlic cloves, chopped
2 spring onions, chopped
120ml white wine vinegar
1½ tbsp lemon juice
60ml Greek yoghurt
7g fresh basil leaves, chopped
1 tbsp parsley, chopped
Extra virgin olive oil (optional)
A pinch of chilli powder (optional)

1. Put all the ingredients into a blender or food processor and pulse in bursts until you have a smooth liquid (this should take about 30-60 seconds). The dressing will keep for a week in a jar in the fridge.