It's time to dive into spring cooking with two seasonal treats that look almost as good as they taste.
Now that May is upon us, tomatoes from the Isle of Wight are looking great, early strawberries are appearing and the first shoots of asparagus are popping up. I'll be buying all three for weeks, and eating them every which way just about every day. Meanwhile, the crabs have started winking at me from the fish stalls at my local market. Subtly flavoured, sweet and succulent, British crab is so much more of a treat for me than lobster, and these days fishmongers and good supermarkets will do all the messy preparation for you.
Mexican crab mayonnaise
Think prawn cocktail and avocado pear, only with crab instead of prawns, and bound in a piquant, smoky chipotle mayo. This recipe is rich and healthy, punchy and delicate, kitsch and modern - I love it. Serves four.
2 chipotle chillies
2 egg yolks
1 tsp Dijon mustard
Salt and freshly ground black pepper
400ml mild olive oil
Juice of 1 lime, plus extra to taste
1.5 tbsp ketchup, plus extra to taste
1/2 tbsp Worcestershire sauce, plus extra to taste
250g fresh white crabmeat
For the salad
1 apple, peeled and finely sliced
1 fennel bulb, outer layer discarded, finely sliced
55g watercress
Juice of 1 lime
Extra-virgin olive oil
2 avocados, halved, stoned and peeled
Snip open the chillies and discard the stalk and seeds. Put a dry pan on a medium heat, then gently toast the chillies on both sides for a couple of minutes, until fragrant; take care not to burn them. Add boiling water to cover and simmer for 15 minutes, to soften. Meanwhile, prepare the salad ingredients (you can prep the fennel and apple an hour or so ahead, and keep crisp in a bowl of iced water with a touch of lemon juice).
Drain the chillies (keep the water) and transfer to a food processor. Puree, and add a dash of reserved water to loosen, if need be. Add the egg yolks, mustard and a pinch of salt, then, with the motor running, slowly add the oil until the mayonnaise starts to thicken and emulsify. Add the remaining oil in a thin, steady stream, stir in the lime juice, ketchup and Worcestershire sauce, and season to taste.
Stir together equal quantities of mayo and crab (excess mayo will keep in the fridge for at least a week), add lime, ketchup or Worcestershire to taste - it should be smoky and tangy, but the crab should still shine through.
Put the apple, fennel and watercress in a bowl, season with salt, pepper, a few squeezes of lime and some olive oil, and toss to coat. Transfer to plates, place half an avocado on top of each serving, spoon the crab mayonnaise over the top and serve at once.
Deep-fried duck egg and capers with asparagus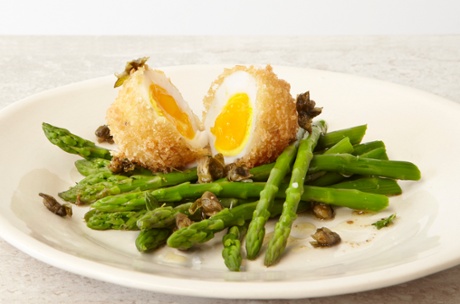 Deep-frying a coated boiled egg is surprisingly easy. Use a small saucepan and not that much oil, and it isn't even messy; just deliciously, delectably good - all crisp exterior and molten yolk that oozes over the asparagus. If you can't get hold of duck eggs, normal eggs are fine - they have just a little less body. Serves four.
4 duck eggs (or large hen eggs)
Salt and freshly ground black pepper
3 tbsp olive oil
6 anchovy fillets
1 small handful thyme sprig tops
Juice of 1/4 lemon
Vegetable oil, for frying
1 egg, beaten
4 tbsp panko breadcrumbs
1 tbsp plain flour, well seasoned
2 tbsp capers, rinsed and dried
400g asparagus, woody ends trimmed
Bring a large pan of water to a boil, cook the eggs for five minutes, then remove, run under the cold tap until cool, peel and set aside. Salt a pan of water and set aside for the asparagus.
Put the olive oil in a frying pan on a low heat, add the anchovies and fry gently, breaking them up with a spoon until dissolved into the oil. Turn the heat to medium-high, add the thyme and fry for a few seconds, until it crackles and crisps up. Add the lemon, season with a little pepper (it won't need salt) and set aside.
Fill a small wok or pan with 5cm vegetable oil and put on a medium heat. Bring up to 160C (ie, when a small cube of bread turns golden in 45 seconds). Put the beaten egg, panko and flour on separate plates. Roll the peeled eggs in the flour, then dip them in the egg and then the crumbs, to coat. (Double coat for a thicker crust, if you prefer.)
Bring the pan of water to a simmer, add the asparagus and cook for 10 minutes, until tender. Meanwhile, lower two eggs into the hot oil and deep-fry for 90 seconds, until golden and crisp. Remove, drain on kitchen paper and repeat with the other two eggs. Now deep-fry the capers until they open up like flowers - about 30 seconds - then drain the asparagus, arrange on plates and top with an egg. Sprinkle with a tiny touch of salt and a scattering of capers, warm the anchovy oil, spoon over and serve.
And for the rest of the week...
Always, always, always make the most of British asparagus, because the season will be over before you know it: have it steamed with beurre noire or beurre blanc, or chargrilled and tossed into salads, or sliced into spring soups. Make lots of the anchovy oil from that dish, too, because it's wonderful tossed in pasta with breadcrumbs and chilli, or as a dressing for broccoli or cauliflower, or just as a dip for fresh bread. And from the crab salad, make extra chipotle mayo to go in toasted baguettes stuffed with hot grilled chicken or skirt steak and masses of crisp lettuce; I also love it with hard-boiled eggs, as a kind of alternative to classic curried eggs, and as a dip for raw spring veg.
Thomasina Miers is co-owner of
the Wahaca group of Mexican restaurants
. Her latest book, Chilli Notes, is published by Hodder & Stoughton at £25. To order a copy for £20, go to
bookshop.theguardian.com