We cut up onions every day for almost every meal, shedding a tear or two, and hastily lobbing out the peels to get on to the next step of cooking. Nothing new here; except we now ask you to rewind a bit and save the peels, not toss them. If you happen to follow the latest food trends, you would know that a recipe for onion peels is breaking the internet. The viral recipe is onion peel powder (also called onion peel spice), which works as a great masala for our regular meals. More of that sweet and pungent onion flavour? Yes, please!


We are sure many of you must be wary of consuming something you've discarded all your life. But you won't need to worry after knowing the many benefits that this seemingly good-for-nothing thing offers.


(Also Read: Do You Know This Hack To Peel An Onion Without Hassle? Check Out Viral Video)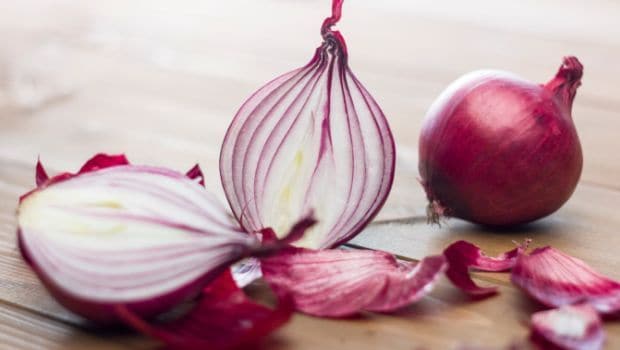 What are the health benefits of onion peel?
Onion Peel Builds Immunity:
According to a study published in 'ResearchGate,' onion peels are highly rich in polyphenol antioxidants, which help prevent harm from free radicals and fight off common as well as serious illnesses.
Onion Peels Protect Heart:
Dr Mehmet Cengiz Oz, cardiothoracic surgeon, and professor at Columbia University says, "Onion peel is rich in quercetin - a flavonol that can reduce blood pressure and prevent arterial plaque that can cause a stroke."
Onion Peels Are Loaded With Nutrients:
Nutritionist and Macrobiotic Health Coach, Shilpa Arora says, "Peels of most vegetables and fruits are rich in essential nutrients, and these include onion peels." Onion peels are packed with vitamins A, C, and E, and many important minerals.
Onion Peels Ease Digestion:
Onion peels provide a lot of fibre, which helps with smooth digestion. This can keep our digestive system healthy and may even help with weight loss.


(Also Read: Don't Throw Away Onion Peels; Here Are 5 Ways You Can Use Them In Your Foods)


Onion Peel Uses I What Can You Do With Onion Waste:
Surprisingly, onion peels can be put to good use in a lot of ways. You can use them to flavour soups, make onion peel tea or enhance your health with onion peel detox water. But we are jumping on the bandwagon of the latest trends and trying out the viral recipe of onion peel powder or onion peel spice. The simple recipe has been doing the rounds on the internet of late and is impressing everyone.
How To Make Viral Onion Peel Powder/Spice:
Start by soaking all the peels in water, then drain the water and let them dry. Bake them in an oven until crispy, and grind them to make powder. That's it. You can use this onion powder as a masala and sprinkle it on top of chaats, grilled snacks, sauteed veggies, sandwiches, pasta, Indian sabzis, and more.


Watch this video to see how to exactly do it:


Excited to make your own onion peel masala? Try it out and let us know how you liked it.