Asian cuisine is quite popular across the globe. It's a foodie paradise with numerous artful and indulgent dishes cooked with fresh vegetables and spices. From dumplings to sushi, one would find a large array of food items falling under this radar. Looks like fashion designer Seema Khan too is a fan of Asian food. How do we know? She shared a video on Instagram Stories from her visit to a Mumbai-based restaurant that specialises in this cuisine. Starting with comforting soups, her delicious spread had checked all the boxes.


In the video, we saw a yummy assortment of vegetables cooked in gravy. There were some delicious noodles cooked with chopped onions and spinach among other spices. We could also spot a variety of sushi rolls and delectable dumplings. Seema Khan tagged Neha Tham and wrote a cheeky caption alongside. She also tagged the restaurant saying, "Thank you Foo Mumbai. Loved all of it."


Take a look:
(Also read: Inside Manish Malhotra's Star-Studded Thursday Dinner With Karisma, Malaika And More)


Well, if Seema Khan's gastronomic adventures made you hungry, worry not. We have some interesting recipes that you can make at home.
Here's an easy-to-make recipe of Vietnamese dumplings that you try out at home. These steamed dumplings are stuffed with minced pork and black fungus. Don't forget to garnish them with shallots and cucumber sticks.
This recipe is surely going to interest you if you are a prawn lover. This recipe gives an amazing twist to the regular prawn curries.
Chicken happens to be a go-to option for all those who enjoy non-vegetarian food. This interesting recipe will surely make your chicken experience more satisfying. This salad with greens is a perfect balance of health and taste.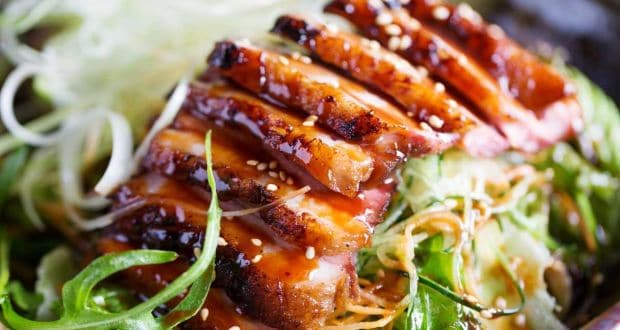 Asian sesame chicken tastes delicious
This is one delicious take on your regular style of cooking up noodles. It will hardly take 15 minutes from your time and leave you with a great result. Cook this up today itself and let us know how you liked it.
This dish can never go wrong. It will surely take your tastebuds for a ride.


(Also read: Malaika Arora And Seema Khan Enjoyed Sunday Lunch With This South Indian Food (See Pics))


We must agree, Asian food is indeed exotic and interesting.