The Washington Post | Updated: December 14, 2016 13:20 IST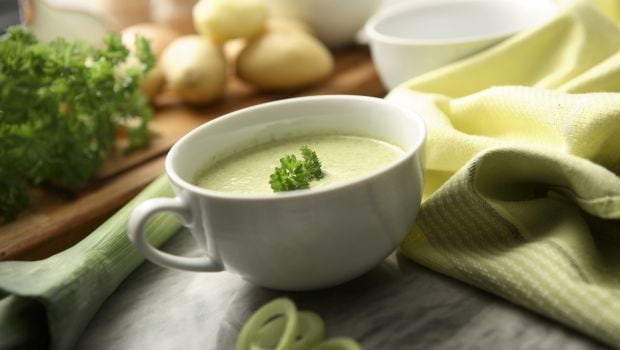 But instead of the alarming nutritional wake-up call that comes with the classic version, this recipe lets you dream on because it achieves those quintessential qualities in a healthful way.
The pivotal ingredient is a cup of cooked white beans. Neutral in flavor and color, the beans - when simmered and pureed with the broccoli and broth - give the soup a thick, creamy body.

They not only eliminate the need to add the traditional white flour and cream as thickeners but also impart a wealth of nutrients including protein, fiber, essential minerals and antioxidants.

Another strategy in this recipe is in the way the cheese is used for maximum effect. First, extra-sharp cheddar provides the biggest punch of flavor, so you don't need as much for the taste to burst through. Second, sprinkling some on top before serving makes for a delightfully melty first impression. It's just the thing for these short winter days when you want to have your comfort food and eat it, too.

Broccoli Cheddar Soup

4 servings (makes about 6 cups)
From nutritionist and cookbook author Ellie Krieger.
Ingredients

2 tablespoons olive oil
1 medium onion, diced
1 large head broccoli, florets and tender part of stems, chopped (about 6 cups)
3 cups no-salt-added chicken or vegetable broth
1 cup canned, no-salt-added Great Northern or cannellini beans, rinsed and drained
1/2 cup low-fat (1 percent) milk
1 cup shredded extra-sharp cheddar cheese (3 ounces)
1 teaspoon powdered mustard
1/2 teaspoon salt, plus more as needed

Steps

Heat the oil in a large saucepan over medium heat. Once the oil is shimmering, stir in the onion and cook for about 4 minutes, until tender but not browned.

Add the broccoli, broth and beans; increase the heat to high and bring to a boil, then reduce the heat to medium-low. Cover and cook for about 15 minutes, stirring occasionally.

Let the soup cool for 15 minutes, then puree it in a blender in three batches, until smooth. Wipe out the saucepan as needed.

Return the blended soup to the saucepan over medium heat. Once the soup is bubbling at the edges, reduce the heat to low. Stir in the milk, 3/4 cup of the cheese, the powdered mustard and 1/2 teaspoon of salt. Cook until just warmed through.

Taste and add more salt as needed. Divide among individual bowls or deep mugs, and garnish with portions using the remaining 1/4 cup of cheese. Serve hot.

Nutrition | Per serving (using vegetable broth and Great Northern beans): 290 calories, 14 g protein, 26 g carbohydrates, 16 g fat, 6 g saturated fat, 25 mg cholesterol, 520 mg sodium, 7 g dietary fiber, 9 g sugar




(This story has not been edited by NDTV staff and is auto-generated from a syndicated feed.)


This soup is a dream come true - if, like me, you dream about things like soup. It has all the attributes that made a warm bowl of broccoli cheddar soup a comfort food classic in the first place: a rich, velvety texture; a belly-filling quality that oozes melted cheese; and a home-style, unfussy preparation with simple, everyday ingredients.