You turned out your tins en masse for this week's eclectic selection – these recipes show that to our readers, beanz meanz... well, quite a few different things.
As a committed baked bean fan, I was thrilled and surprised in equal measure when this week's theme piqued so much interest. And there weren't just recipe ideas for the the well-known tomato variety, but for everything from black beans to borlottis to haricot and kidney, so I decided to try a handful of each.
I started with the ones in sauce, having more than a few tins in the cupboard. Marmaduke Scarlet's ingenious bean burgers went down well served in crusty rolls with a bit of ketchup and little gem. The Gujurati-style beans from Smita Patel Parkinson are almost as fast to heat up as a tin by itself, but added a little interest. Exactly what's required when your bog-standard beans on toast just seems too drab. For something more filling, the quick cassoulet from MizPepperpot was both convenient and impressive. As for the plain old beans in water, both
Fadime Tiskaya's Kurdish baked beans, richly spiced and fragrant, and Michele Garrigan's traditional American-style beans bolstered with ground beef, pork belly and barbecue sauce, were both quick and easy to make, letting the flavours meld together in the oven, resulting in a rich and hearty stews that reheat and freeze well – perfect for batch cooking.
The winner this week, though, ticked all the boxes I'd hoped for. Just like a tin of baked beans, it's comforting and ready in less than 30 minutes – and that's where the comparison with this delicious starter ends. No one will believe you when you tell them what's in it ...
The winning recipe: Hummus with hot mushrooms and beans
A combination of two popular hot hummus toppings in the Mediterranean: beans and mushrooms. For the hummus, you can either use the tinned chickpeas as suggested in the version below, or just buy it– as long as the hummus is freshly made and has never been refrigerated.
Ofer Guez, London
Serves 4 as a starter
For the turmeric dressing
3 tbsp olive oil
Juice of ½ lemon
½ tsp sumac
½ tsp turmeric
For the topping
2 tbsp olive oil
2 garlic cloves, sliced
¼ fresh red chilli, deseeded and chopped (optional)
A punnet of chestnut or portobello mushrooms, chopped
60ml white wine
10g dried porcini or wild mushrooms, soaked in 60ml boiling water
A handful of parsley, roughly chopped
200g baked beans
1 tsp smoked sweet paprika
For the quick hummus
180ml water
1 carrot
1 shallot
400g tin chickpeas, rinsed and drained
Salt
3 tbsp tahini
Juice of ½ lemon
1 First, make the hummus. Bring 200ml water to a boil in a small saucepan, then drop in the carrot and shallot. Add the chickpeas with a little salt, then cook until the liquid reduces by a third. Remove the carrot and shallot, then tip into a food processor and blend until smooth, gradually adding the tahini, lemon juice and a little more salt.
2 Next, make the dressing; whisk all the ingredients together and set aside.
3 To make the topping heat the olive oil in a frying pan then add the garlic and chilli (if using) and cook until aromatic.
4 Add the fresh mushrooms and salt, then cook 2-3 minutes over a high heat until the mushrooms start to brown.
5 Add the white wine, then finely chop the soaked porcini and add them with their soaking water to the pan. Add a little of the chopped parsley, reserving the rest to serve. Simmer, letting the liquids reduce, for around 5-10 minutes.
6 When the liquids start to thicken add the baked beans with their sauce. Stir in the smoked paprika, then cook until the sauce is thick and starts to cling to the mushrooms.
7 To serve, spread the hummus into the base of a deep dish, spreading around the edges. Fill the middle with the piping hot mushroom and bean stew, then drizzle over the dressing. Sprinkle more fresh parsley and serve.
Cheese-stuffed veggie burgers
Crisp on the outside and melted cheese on the inside. Seriously and gooey-ly heavenly!
Marmaduke Scarlet, via GuardianWitness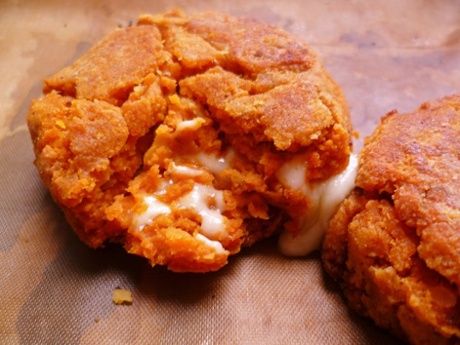 Makes 4
½ a tin of baked beans (with herbs if possible; if not add a handful of finely chopped herbs)
400g tin white beans
75-100g breadcrumbs
1 egg, beaten
Roughly 120g emmental cheese, cut into four cubes
Gram flour, seasoned, for dusting
Olive oil, for frying
1 Whizz the beans together in a food processor or with a hand blender, then tip into a bowl and add ¾ of the breadcrumbs. Leave for 5 minutes to see how much liquid is absorbed, then add a little more if needed; the mix should be quite dense. Add seasoning and the egg, then form the mixture into four balls and stuff each one with a lump of cheese. Put in the fridge for 30 minutes to firm up.
2 Preheat the oven to 180C/350F/gas mark 4. Flatten the balls to form burgers, roll in the flour, then fry in a little oil until crisp. Transfer to the oven for 10 minutes, then serve.
Gujarati-style baked beans
For Gujaratis, a quick way to spice up baked beans is just like the traditional way of making beans in tomato sauce from scratch. The former has been equally as popular for my family and many others I know. In fact I don't think I tried baked beans in their unadulterated form until I was at university, probably nursing a hangover and too lazy to do the following.
Smita Patel Parkinson, via GuardianWitness
Serves 2
1 tsp black mustard seeds
1 tbsp oil
A small handful of chopped onion, red or white
400g tin baked beans
A pinch of turmeric
A pinch of chilli powder
1 Heat a small saucepan with the oil. Wait until it's really hot and starting to smoke, then add the mustard seeds and cover immediately so they don't pop in your face. Take the pan off the heat once all the seeds have popped. Allow the seeds to infuse with the oil.
2 Add the onion and return to a medium heat. Cook for 1-2 minutes, then put the baked beans into the pan. Add the turmeric and chilli powder, lower the heat then cook until the beans are bubbling. These curried beans are amazing on their own, on top of toast, or my favourite: ladled onto a jacket potato topped with lots of cheese, even more (raw) chopped onion, some sweet corn and black pepper.
Old settler baked beans
This was a favourite recipe when I was growing up in the US. I've been happily introducing friends this side of the pond to these deeply flavoured, rich and meaty American-style baked beans. Serve with a pan of cornbread and honey-chipotle butter!
Michele Garrigan, via GuardianWitness
Serves 6
225g smoked bacon, chopped
225g minced beef
1 large onion, chopped
2-3 garlic cloves, crushed
3 tbsp maple syrup
3 tbsp dark brown/muscovado sugar
2 tbsp molasses/black treacle
3 tbsp ketchup
3 tbsp barbecue sauce
2 tbsp Dijon mustard
1 tsp instant coffee granules
1 tsp mild chilli powder
½ tsp salt
½ tsp ground black pepper
3-4 tbsp dark rum
400g tin baked beans with sauce
3 x400g tins of beans, such as black beans, kidney beans, or borlotti
1 Preheat the oven to 180C/350F/gas mark 4. In a large, heavy oven-proof casserole, brown the bacon, mince and onion.
2 Add the garlic, but don't brown it. Remove from the heat, then mix in all other ingredients. Cover and bake in the oven for 1 hour, removing the lid for last 15 minutes, then serve.
Quick cassoulet
I say 'quick', but what I really mean is quicker than the usual cassoulet, a kind of cheat's version. Nevertheless, it is an easy dish that can be thrown together but impress. The wine and herbs are not optional as they really do elevate this casserole.
MizPepperpot, via GuardianWitness
Serves 4
2 duck or chicken legs, skin on
Salt and black pepper
4 thick, herby sausages, sliced
200g diced belly pork or smoked bacon lardons
1 large onion, chopped
1 carrot, chopped
1 celery stick, chopped
2 garlic cloves, crushed
1 sprig of thyme
200ml dry white wine
200ml chicken stock
1 tin baked beans in tomato sauce
A handful of parsley, chopped
1 Preheat the oven to 190/375F/gas mark 5. Season the duck or chicken well with salt and pepper.
2 Prick the duck/chicken leg on the skin side, then put in a hot, nonstick frying pan, skin-side down, to brown and render the fat. If using chicken, add a little olive oil or duck fat to get the meat sizzling. Cook for 5 minutes each side.
3 Add the sausages and belly pork or bacon to the pan. Brown and cook for a further 5 minutes.
4 Spoon the meat into a casserole dish, leaving the oil/fat in the pan. Over a low heat, add the onions, carrot, celery and garlic to the fat and sweat for 10-15 minutes. Season with salt and pepper, then add the thyme, wine, stock and beans. Bring to the boil then pour this over the meat in the casserole dish.
5 Cover the casserole with a lid or foil and place in the oven for 1 hour. Remove the lid after 30 minutes and ensure the duck/chicken is on top of the beans, allowing the skin to brown further. To serve, sprinkle with chopped, fresh parsley and shred the duck/chicken into the dish.
Kurdish style baked beans
Beans are cooked in almost all kitchens in the world, using different flavours and local ingredients. Kurds usually enjoy theirs with lots of spices over a bulgur pilaff made with lots of butter and served with onions on the side. This is my version.
Fadime Tiskaya, via GuardianWitness
Serves 4
2 tbsp butter
1 onion, peeled and finely chopped
2 celery sticks, finely chopped (with leaves)
1 medium carrot, finely chopped
Salt and black pepper
2 garlic cloves
1 tsp ground coriander
1 tsp ground cumin
¼ tsp ground cinnamon
2 whole dried chillies or ¼ tsp chilli flakes
50g sundried tomatoes, chopped
400g tin chopped tomatoes
250ml boiling water
400g tin white beans
Parsley, finely chopped, to serve
1 Preheat the oven to 180C/350F/gas mark 4. Melt the butter in a saucepan, or preferably an ovenproof casserole dish, then add the onion, celery, and carrot with salt and pepper and saute them for about 5 minutes, stirring every now and then.
2 Add the garlic with the coriander, cumin, cinnamon and chillies and fry them for another 2 minutes. Add the tomatoes, bring to a boil, then add the water and let it simmer for 10 minutes.
3 Mix in the beans and transfer to the oven, uncovered, and then bake for about 20 minutes. Let it rest for 10 minutes before serving.