Winter is fast paving the way for the spring to take-over, and we are a bundle of mixed-feelings. On one hand, we are glad that the heavy sheath of fog and the mind-numbing temperatures are slowly giving way for a much pleasant weather. Whereas, on the other hand, the thought of parting with our favourite winter exclusive delicacies has got us a little gloomy. Come winters, and Delhi transforms into a foodie paradise. From piping hot kachoris, to indulgent niharis and the ever-so-delightful gajar ka halwa- there is no dearth of food or foodies on the streets of Delhi. So just for the love of winters and Delhi food, here are 5 winter foods one must try before the season ends.
1. Daulat Ki Chaat Daulat ki Chaat could be dubbed as a close cousin of Malaiyo ofVaranasi. Daulat ki Chaat is a creamy wonder which is prepared exclusively during cold wintry months. Milk is whisked for hours, until it gets a soft and velvety consistency. It is then topped with chunky pistachios, khoya and powdered sugar. Daulat ki chaat is one culinary gem you must not mis. With only a few days left for the season to close, it becomes all the more necessary to head to the cramped lanes of Old Delhi as soon as possible.
Where: Gali Prathe Wali Naughara, Jain Temple Kinari Bazar, Old Delhi, Delhi 110006
2. Gur Ka HalwaWinter and gur (jaggery) is one winner combination that goes back 1000 years in time. Prized in Ayurveda for its ability to fight col, flu and giving strength, gur is an indispensable part of every North Indian household in the winter months. Made with oodles of ghee, semolina and jaggery; gur ka halwa is topped with cardamom powder, saffron, green pista, almonds and served piping hot.
Where: Chaina Ram, Sindhi confectioners, 6499, Fathepuri Chowk, Chandni Chowk, New Delhi

3. Gajar Ka Halwa
You saw this coming, didn't you? One bowl of the warming winter treat can turn around the worst of days. Doused in
ghee
, milk,
khoya
and oodles of sugar, this grated carrot dessert has travelled the confines of the subcontinent and has registered itself as a global phenomenon. Waiting ardently for winters and the perfect batch of carrots to whip this dessert is a common ritual in Delhi. Such is the fan following of
gajar ka halwa
. You can catch it till it is still in the season in various sweetmeat shops across the city.
Where: Giani Di Hatti, 651/52, Church Mission Road, Fatehpuri, Chandni Chowk

4. NihariThere is a reason why Old Delhi is also unofficially called the culinary capital of the nation. The many generations of the Mughal rulers, the Jain and Kyastha trader community and the Punjabi refugee settlements have left their dominant imprint over the food of Old Delhi too. Nihari is a product of the rich Mughal legacy. The meaty and buttery breakfast staple is said to have been developed in Delhi in 17th or 18th century. The word 'Nihari' originates from the Arabic word "Nahar" which means "morning". Traditionally, Nihari was prepared overnight for 6-8 hours, in large pots for working class labourers, who were involved in construction of Mughal forts and palaces. It was served to labourers the first thing in the morning, for free. You can find Nihari across the city, but people still throng Old Delhi for the perfect Nihari.
Where: Haji Shabrati Nihariwale and Kallu Nihariwale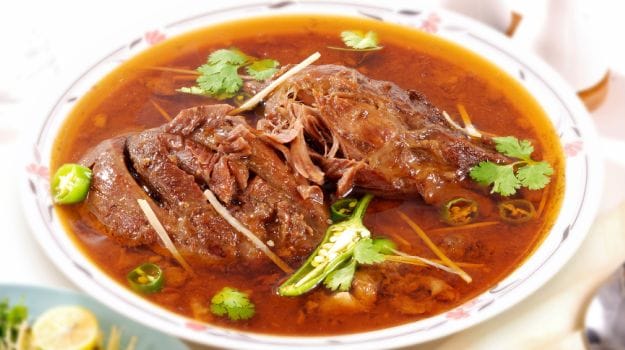 5. Gond Ke Laddoo
Gondh
in Hindi means edible gum.
Gondh ka laddoo
is a common winter staple made extensively in North Indian households with much fervour.
Gond ke laddoos
are made with fried gum crystals, dry coconut, dry fruits and jaggery. They are also fed to nursing mothers for lactation purposes. The wholesome and indulgent
laddoos
are packed with nutrients that can keep the cold and flu at bay.
Where: Kaleva Sweets (multiple outlets)
So what are you waiting for? Gather your friends and head out to the make the most of season-end!