After a very poignant, letter-stretched 'whaaaat' and a very audible, six-minute gasp, I've come to realize that those crispy bits of heaven served at McDonanld's contain not three, not four but 19 ingredients! Cue grumble. So what on earth are we eating?
These are the ingredients used to make French fries in McDonalds's, United States -
Potatoes, Vegetable Oil (Canola Oil, Soybean Oil, Hydrogenated Soybean Oil, Natural Beef Flavor [Wheat and Milk Derivatives]*, Citric Acid [Preservative], Dextrose, Sodium Acid Pyrophosphate (Maintain Color), Salt. Prepared in Vegetable Oil: Canola Oil, Corn Oil, Soybean Oil, Hydrogenated Soybean Oil with TBHQ and Citric Acid added to preserve freshness. Dimethylpolysiloxane added as an antifoaming agent. Contains: Wheat and Milk. *Natural beef flavor contains hydrolyzed wheat and hydrolyzed milk as starting ingredients.
McDonald's explains these ingredients on their website as part of their 'Our Food, Your Questions' initiative. Some of these are -
Dextrose is a natural form of sugar that helps give the fries their perfect golden color.
Sodium acid pyrophosphate is added to keep the potatoes from turning gray after freezing and before they are cooked at the restaurant.
Citric acid is added to preserve the freshness of the oil.
Dimethylpolysiloxane is also added to reduce foaming and oil splattering.
TBHQ is an antioxidant that acts as a preservative, allowing the oil to remain fresh from the supplier all the way to the restaurant.
McDonald's uploaded an official video to explain all of these ingredients.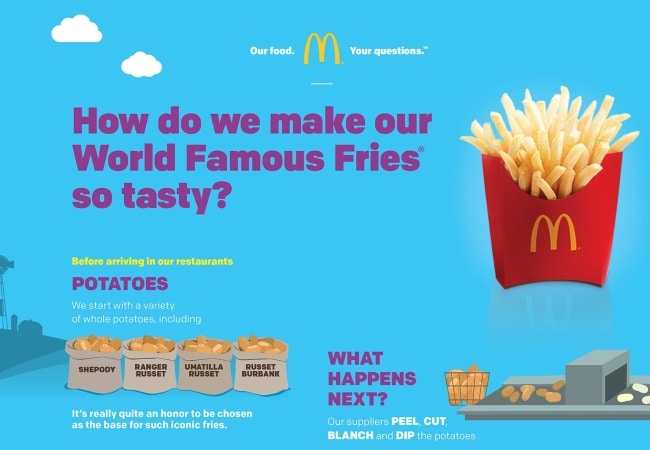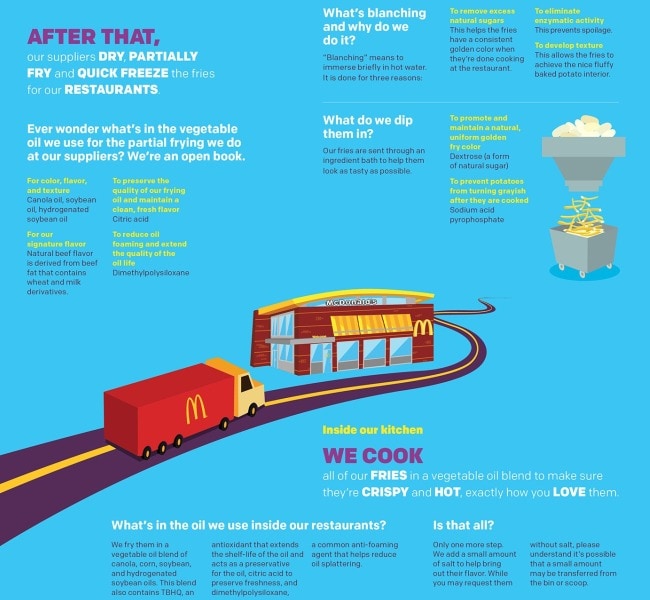 I reckon a lot of people are going to stick to homemade fries for a bit.













We've reached out to McDonald's India for a comment and to know if they use the same amount of ingredients. Mr. Sriram Venkateswaran, Director - Supply Chain & Quality Assurance, says -





"In India, our fries are made from whole, real potatoes that are grown locally in Deesa & Kheda in Gujarat and manufactured in a plant in Mehsana in Gujarat.





The other ingredients include 100 percent vegetarian RBD Palmolein oil, salt and a small amount of sugar dextrose to give the golden colour in the fries. We do not use any beef flavouring in India.





Dimethylpolysiloxane (DMPS), an approved food additive is added as an antifoaming agent to prevent oil from splattering and citric acid is also added to preserve the freshness of the oil. This is common across the food service industry and both are used within permissible limits as approved by the regulations in India.



McDonald's India understands and respects the cultural, traditional and religious sentiments of each of its customers. In line with its respect for local culture, India is the first country in the world where McDonald's does not offer any beef or pork items. McDonald's has also re-engineered its operations to address the special requirements of vegetarians. This includes the French fries and all other veggie burgers/finger foods that are a part of our menu."



Top Photo Credit: Associated Press





All Other Information: McDonald's/United States