Story Progress
Back to home
Sweet Potato Fries with Amla Aioli Recipe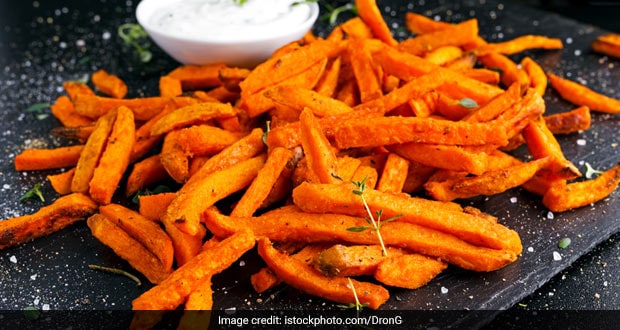 How to make Sweet Potato Fries with Amla Aioli
About Sweet Potato Fries with Amla Aioli Recipe: Dipped in a luscious batter, thinly sliced sweet fries are fried crisp and served with a zingy dip.

Ingredients of Sweet Potato Fries with Amla Aioli
1 Medium Sweet potato
For the Batter:
2 tbsp Rice flour
2 tbsp Corn flour
30-40 ml Club soda
1 tsp Mexican chilli powder/ or any chilli powder
Few Oregano leaves
1 tsp Salt
For the Dip:
2-3 tbsp Egg less mayonnaise
1/2 Garlic (squeezed), roasted
1 tbsp Shallots, finely chopped
3-4 Jalapenos (pickled)
2-3 Fresh basil leaves
1 tbsp Amla
To season Salt and pepper
Few sprigs Thyme
1 1/2 tsp Jalapeno juice
1.
Wash the sweet potato to get rid of any soil.
2.
Slice fairly thin into a bowl of chilled water.
3.
In a stainless steel or glass bowl, whisk all the ingredients for the batter.
4.
Set aside some of the rice and corn flour mixed with salt, pepper, Mexican chilli powder and oregano to dredge the sweet potatoes.
5.
Drain the sweet potato and pat dry.
6.
Dredge them with the flour mix, dip in the batter and deep fry in hot oil.
7.
Blend all the ingredients for the dip together in a bowl.
8.
Chill and serve with the chips.