Tomatoes, Corn and Zucchini: Ripe for the Cooking
David Tanis, The New York Times | Updated: July 18, 2017 12:55 IST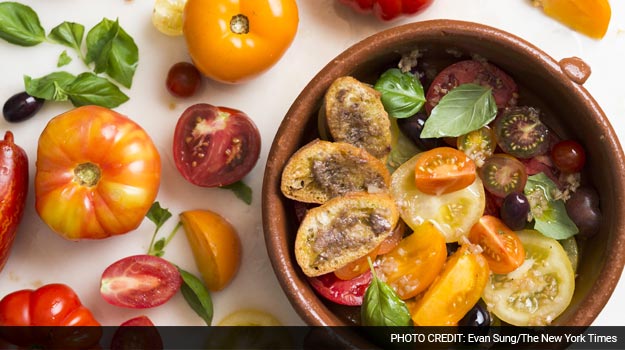 Tomatoes, corn and zucchini define summer eating for me. It no doubt has something to do with my memories of childhood summers in the Midwest. That's when we had fresh vegetables; the rest of the year, they came neatly frozen in their little paper boxes, just right for a family of four.

But in summer, we'd drive out to Mumma's farmstand on sultry mornings for fresh-picked produce. Big red beefsteak tomatoes and sweet corn were piled high in wooden bins, each deeply aromatic in its own way.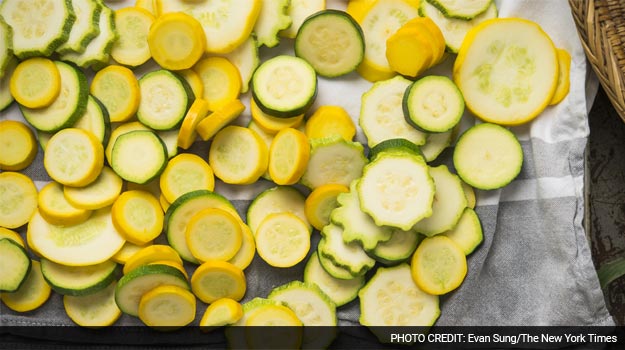 Zucchini, however, never came home with us. It was merely admired from afar. That was what other mothers cooked; it was not part of my mother's limited repertoire. Summer squash seemed exotic to me. I still remember my first taste of it at a neighbor's house; I became an immediate and lifelong fan.

Nostalgia aside, I would gladly eat this group of summer vegetables for supper every night when they are at their peak. And for lunch, too. For that matter, I love tomato salad for breakfast, on a plate or tucked into a roll. Nor am I opposed to corn cakes, topped with sizzled kernels. Or griddled zucchini with fried eggs. Now, at the height of summer, each of these vegetables can be sublime.

Tomatoes - It's all about waiting for the vigorous, sometimes-gnarly ones grown outdoors. Shun those impostors at the supermarket. Though there have been early outdoor cherry tomatoes to tease us, now we can really let loose.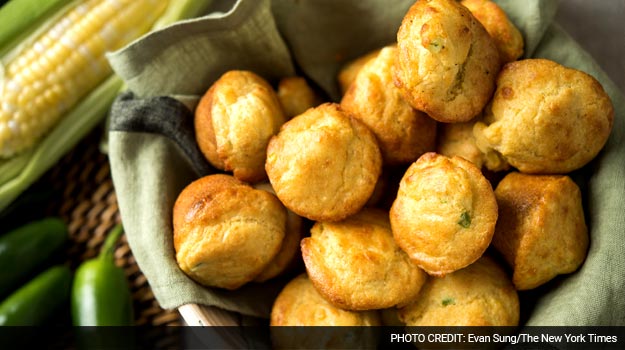 Here are some options: a fat red tomato eaten alfresco with a sprinkle of salt, the perfect lunch. A colorful crazy quilt of sliced heirloom varieties drizzled with vinaigrette. A tomato stuffed with bread crumbs and herbs, then baked briefly. (A ripe tomato eaten warm is a pleasure, too.) Chopped tomato bruschetta. Sliced tomatoes on a pizza. Or the ultimate tomato sandwich, made the way you like it.
Corn - You may have eaten corn on the cob for the Fourth of July, but now is the time to get your fill. Joining the ranks at the corn stand and rummaging for the best ears (heavy and green, with fresh-looking husks and silk) is a summer ritual. The reward for waiting is blissfully sweet corn, the kind that induces a certain euphoria.

One of my favorite ways to eat it: on the cob, absolutely, with good butter and salt. But try it, too, with lime juice, salt and hot chili powder, or slathered with fruity olive oil or basil pesto. Sauté off-the-cob kernels with chopped jalapeño and stir them into the batter for cornbread or muffins. Or add mushrooms to the corn in the pan, along with a dab of crème fraîche. Make a quick Indian-spiced corn soup to eat hot or cold with a dollop of yogurt.

Zucchini - If you have a vegetable garden, you know the drill. A zucchini plant is prolific. Yesterday's tiny squash has grown to medium-size seemingly overnight. And there are always a few giants lurking, like big fish that got away. But, if I may say, there is nothing like an unblemished, shiny, just-picked zucchini, whatever the size (well, perhaps not those great, great big ones).

Expand your zucchini expertise. Try them simmered in salted water with a pat of butter and a little chopped dill - dead easy but divine. Or gently grilled (or sliced paper-thin and dressed raw) with a squeeze of lemon, olive oil and salt. Maybe pan-fried, showered with pecorino, hot pepper and gremolata, served hot or cold. What about a savory zucchini flan, rather like a quiche with no crust?

My advice, fellow eaters and cooks, is to make hay while the sun shines, or whatever the corresponding vegetable adage would be. Stick to simple preparations and enjoy the abundance. Summer is fleeting.

Tomatoes Worth the Wait

With tomatoes, it's all about waiting for the vigorous, sometimes-gnarly ones grown outdoors. Shun those impostors at the supermarket. Though there have been early outdoor cherry tomatoes to tease us, now we can really let loose.

Here are some options: a fat red tomato eaten alfresco with a sprinkle of salt, the perfect lunch. A colorful crazy quilt of sliced heirloom varieties drizzled with vinaigrette. A tomato stuffed with bread crumbs and herbs, then baked briefly. (A ripe tomato eaten warm is a pleasure, too.) Chopped tomato bruschetta. Sliced tomatoes on a pizza. Or the ultimate tomato sandwich, made the way you like it.

Tomates Farcies (Stuffed tomatoes)
A simple mixture of bread crumbs and herbs is all you need to make these Provençal baked stuffed tomatoes. Serve them with nearly any summer meal, even for breakfast, alongside fried eggs.
Time: 1 hour
Yield: 8 servings

Ingredients:
8 medium tomatoes
Salt
Ground black pepper
1 cup rough bread crumbs from a rustic loaf
2 garlic cloves, smashed to a paste with a little salt
2 tablespoons chopped parsley
2 tablespoons chopped basil
1 teaspoon chopped thyme
1 ounce of grated Parmesan or pecorino cheese
Pinch of crushed red pepper, optional

1. Heat oven to 375 degrees. With a paring knife, core tomatoes. Use a teaspoon to scoop out the center of each tomato. Season tomatoes with salt and pepper and place in a baking dish.
2. Mix together bread crumbs, garlic, parsley, basil, thyme, cheese and red pepper, if using. Put 2 to 3 tablespoons of bread-crumb mixture in the hollow of each tomato.
3. Bake 30 minutes, until bread-crumb mixture is nicely browned and tomatoes are soft. Let cool slightly before serving.

Tomato Salad With Anchovy Toasts
Tomato salads are the ultimate in summertime food. Ripe and sweet, tomatoes need little more than a good vinaigrette dressing. This salad has a niçoise bent, with anchovy toasts and black olives.
Time: 20 minutes
Yield: 6 servings

Ingredients:

FOR THE VINAIGRETTE:
1 large shallot, finely diced
2 small garlic cloves, minced
2 tablespoons red wine vinegar
Pinch of salt
Pinch of ground black pepper
1/4 cup extra-virgin olive oil

FOR THE ANCHOVY TOASTS:
1 small garlic clove
Salt
3 or 4 anchovy fillets, rinsed
2 tablespoons olive oil
12 baguette slices, toasted

FOR THE SALAD:
3 pounds ripe summer tomatoes of different colors and shapes, sliced
Salt
Ground black pepper
Handful of black olives, niçoise or other
Basil leaves for garnish
1. Make the vinaigrette: Put the shallot and garlic in a small bowl. Add red wine vinegar, a pinch of salt and a pinch of pepper and macerate 5 minutes. Whisk in the olive oil and set aside.
2. Make the anchovy toasts: Pound garlic to a paste with a little salt, then mash anchovy fillets into the paste. Stir in olive oil. Paint toasts lightly with anchovy mixture and set aside.
3. Arrange tomatoes on a platter or in a low wide bowl. Season tomatoes with salt and pepper. Scatter olives over tomatoes. Whisk vinaigrette and spoon evenly over tomatoes. Garnish with basil leaves and anchovy toast.

Zucchini Two Ways

If you have a vegetable garden, you know the drill. A zucchini plant is prolific. Yesterday's tiny squash has grown to medium-size seemingly overnight. And there are always a few giants lurking, like big fish that got away. But, if I may say, there is nothing like an unblemished, shiny, just-picked zucchini, whatever the size (well, perhaps not those great, great big ones).

Expand your zucchini expertise. Try them simmered in salted water with a pat of butter and a little chopped dill - dead easy but divine. Or gently grilled (or sliced paper-thin and dressed raw) with a squeeze of lemon, olive oil and salt. Maybe pan-fried, showered with pecorino, hot pepper and gremolata, served hot or cold. What about a savory zucchini flan, rather like a quiche with no crust?

Fried Zucchini With Pecorino and Hot Pepper
These shallow-fried zucchini rounds are delicious served as a snack with drinks, but they are equally good at room temperature as part of an antipasto.
Time: 30 minutes
Yield: 4 to 6 servings

Ingredients:
Vegetable oil for frying
1 cup all-purpose flour
Salt and pepper
Pinch of cayenne
1 egg, lightly beaten
1/4 cup milk
2 pounds zucchini, sliced
1/2 cup chopped parsley
1 small garlic clove, minced
1/2 teaspoon lemon zest
Grated pecorino cheese
Crushed red pepper flakes
1. Pour oil to a depth of 1 inch in a wide frying pan and heat to 375 degrees.
2. Put flour in a pie plate, season generously with salt and pepper and add a pinch of cayenne. Combine lightly beaten egg and milk. Working in batches, dip zucchini slices lightly in seasoned flour, then in egg mixture, then once more in flour. Carefully slip them into hot oil, without crowding. Cook for about 2 minutes on each side, until golden. Remove and drain on paper towels, then transfer to a warm platter. Salt lightly.
3. In a small bowl, mix together parsley, garlic and lemon zest. Sprinkle a little of the mixture over fried zucchini, then sprinkle lightly with grated cheese and red pepper to taste. Serve immediately.

Zucchini Flan
Zucchini flan makes a good choice for a brunch, lunch or light supper dish. For the best texture, be careful not to overbake; remove from the oven when the custard is still a little jiggly. This flan tastes best served at room temperature.
Time: 1 hour
Yield: 4 to 6 servings

Ingredients:
1 1/2 pounds zucchini, thinly sliced
Salt and pepper
4 eggs
2 1/2 cups milk or half-and-half
Pinch of grated nutmeg
1 teaspoon chopped thyme
A few torn basil leaves
2 tablespoons butter for greasing baking dish
4 ounces grated cheese, such as Gruyère or cheddar
1. Heat oven to 375. Bring a large pot of salted water to boil. Add zucchini and blanch for 1 minute. Drain and spread zucchini out to cool on a towel. Season lightly with salt and pepper.
2. Beat eggs and milk with 1/2 teaspoon salt, then add nutmeg, thyme and basil leaves.
3. Butter a 2-quart low-sided baking dish, and arrange blanched zucchini over bottom. Scatter cheese over zucchini, then pour in custard.
4. Bake for 30 minutes or until custard is still a bit jiggly, but an inserted knife comes out clean. Cool to room temperature before serving.

Beyond Corn on the Cob
You may have eaten corn on the cob for the Fourth of July, but now is the time to get your fill. Joining the ranks at the corn stand and rummaging for the best ears (heavy and green, with fresh-looking husks and silk) is a summer ritual. The reward for waiting is blissfully sweet corn, the kind that induces a certain euphoria.

One of my favorite ways to eat it: on the cob, absolutely, with good butter and salt. But try it, too, with lime juice, salt and hot chili powder, or slathered with fruity olive oil or basil pesto. Sauté off-the-cob kernels with chopped jalapeño and stir them into the batter for cornbread or muffins. Or add mushrooms to the corn in the pan, along with a dab of crème fraîche. Make a quick Indian-spiced corn soup to eat hot or cold with a dollop of yogurt.

Corn and Jalapeño Muffins
The flavor of these buttery, miniature muffins is amped up with sautéed corn kernels and jalapeño chilies. They are the perfect accompaniment to a pot of beans, but are tender and delicate enough to serve with an elegant chicken stew.
Ingredients:
6 tablespoons unsalted butter, plus more for buttering muffin tins
1 cup tender corn kernels
1 jalapeño chili, finely chopped
Kosher salt
Ground black pepper
1 cup/135 grams all-purpose flour
1 cup/145 grams white or yellow cornmeal
1 1/2 teaspoons baking powder
1 1/2 teaspoons baking soda
2 eggs, beaten
1 1/2 cups buttermilk
3 ounces/85 grams grated cheddar cheese

1. Heat oven to 400 degrees. Put 2 tablespoons butter in a skillet over medium heat. Add corn kernels and jalapeño and cook gently for 2 minutes. Season with salt and pepper and set aside. Melt 4 tablespoons butter in a separate pan.
2. Mix together flour, cornmeal, baking powder, baking soda and 1 teaspoon kosher salt. Beat in eggs and buttermilk to make a thick batter. Add corn kernels and jalapeño, as well as the melted butter from the separate pan, then stir in grated cheese.
3. Butter miniature muffin tins and fill with about 1 1/2 tablespoons batter per muffin. Bake for 10 minutes, until golden.

Note: For larger muffins, fill tins 3/4 full with batter. Increase baking time as necessary, testing for doneness with a wooden skewer.

Indian-Spiced Corn Soup With Yogurt
The sweetness of summer corn marries nicely with a pleasant burst of Indian spices and tangy thick yogurt. Serve this vegetarian soup hot or chilled.
Time: 1 hour
Yield: 4 to 6 servings

Ingredients:
4 tablespoons butter
1 medium onion, diced
2 garlic cloves, minced
1 tablespoon grated ginger
1/2 teaspoon turmeric
1/2 teaspoon cumin seeds
1/2 teaspoon black mustard seeds
Large pinch cayenne
3 cups corn kernels, from 4 ears
Salt and pepper
Whole milk plain yogurt, for garnish
1 tablespoon chopped chives, for garnish
A few cilantro sprigs, for garnish
Lime wedges, for garnish, optional
1. Put butter in a heavy-bottomed soup pot over medium heat. Add onion and cook until softened, about 10 minutes. Add garlic, ginger, turmeric, cumin, mustard seeds and cayenne and sizzle for a minute or so.
2. Add corn kernels and season generously with salt and pepper. Cook, stirring, for 2 minutes. Add 4 cups water and bring to a simmer. Simmer gently for 10 minutes. Purée soup in a blender. Check seasoning and adjust salt.
3. To serve, ladle into small bowls. Garnish each with 2 tablespoons thick yogurt. Sprinkle with chives and cilantro sprigs. Add a squeeze of lime.

© 2015 New York Times News Service