Warm Vietnamese Noodle Salad is a Quick Stir-Fry Dish
David Tanis , The New York Times | Updated: October 15, 2014 17:43 IST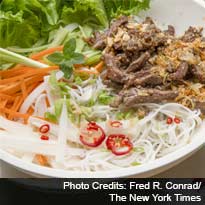 Hot from the wok, a fragrant, zesty stir-fry of beef is spooned over freshly cooked room-temperature rice noodles. Then come carrot, cucumber and radish slivers, and a sprinkling of crushed roasted peanuts and crispy fried shallots for good measure. A pile of sweet green herbs is at the ready. Now a generous splash of the traditional umami-laden dipping sauce called nuoc cham.

And there you have it: bun bo xao, a warm, made-to-order Vietnamese noodle salad, refreshing and satisfying for an easy lunch or supper. For the uninitiated, this dish makes an easy introduction to Vietnamese cooking. The standard ingredients are all there: fish sauce, lime juice, sugar, garlic and hot pepper. There's no complicated broth to make; just a quick marinade for the meat, chopping a few vegetables, washing some herbs.

But it is the nuoc cham dipping sauce that pulls it all together. The complex flavor of the sauce belies how simple it is to make. The most important element is amber-colored fish sauce, made from a long fermentation of salted anchovies.

Not all fish sauce is created equal. Connoisseurs agree that Vietnam makes fish sauce of the highest quality, and many swear by the Red Boat brand, which is an "extra virgin" first pressing from Phu Quoc island with a pure light flavor and no additives. Always read the label carefully when buying fish sauce. Cheaper brands often add fructose and other seasonings along with stabilizers or preservatives. The best fish sauce really doesn't taste fishy at all.
The ingredients list for our bun bo xao is a bit on the long side, but fear not. If you're organized and have everything ready when you begin to cook, all will be well, and the dish will come together in 10 minutes.
The majority of the work goes into the prep. It's OK to julienne the vegetables in advance, several hours ahead or the even the day before. But do try to find the freshest herb sprigs available. You'll want a mixture of tender cilantro, fragrant basils, mint, dill, sawtooth coriander and small perilla (shiso) leaves.

Savory rice noodles like these can become part of your salad repertory year-round. The flavors are clean, bright and restorative. You might think of Vietnamese food as summery fare, but I found myself craving it on a recent warm autumn day.Vietnamese Lemon-Grass Beef and

Noodle Salad
Time: 1 hour

FOR THE DIPPING SAUCE:
4 tablespoons Demerara or granulated light brown sugar
3 tablespoons rice vinegar
4 tablespoons lime juice, from 2 large limes
4 tablespoons best quality fish sauce, such as Red Boat
2 garlic cloves, minced
1 1-inch length ginger, peeled and minced
1 medium-hot red chili, such as Fresno, chopped
1 hot red or green bird chili, thinly sliced

FOR THE STIR-FRY:
12 ounces rice vermicelli noodles
1 pound beef skirt steak or sirloin, in thin 1/4-inch slices
2 tablespoons best quality fish sauce, such as Red Boat
1 tablespoon Demerara or granulated light brown sugar
3 garlic cloves, minced
3 tablespoons finely chopped lemon grass, tender centers only
1 head lettuce, such as butter lettuce or Little Gems, tender center leaves separated
2 tablespoons vegetable oil
4 scallions, slivered
1 medium carrot, cut in 3-inch lengths, julienned (about 1 cup)
1 small cucumber, 3-inch lengths, julienned (about 1 cup)
1 3-inch length daikon radish, julienned (about 1 cup)
Mixture of cilantro springs, mint leaves, basil leaves and small perilla (shiso) leaves, about 3 cups
4 tablespoons crushed roasted peanuts
4 tablespoons fried shallots, available in Asian groceries
Small handful bean sprouts or sunflower sprouts (optional)

1. Make the dipping sauce: In a small bowl combine sugar, rice vinegar and lime juice and stir to dissolve. Add fish sauce, garlic, ginger, chilies and 1/2 cup water and stir together. Let sit for 15 minutes for flavors to meld. (May be prepared a day ahead and refrigerated.)
2. Bring a large pot of water to the boil. Add rice noodles, stir and turn off heat. Let noodles soften (5 to 8 minutes, depending on brand), then drain and rinse with cold water. Leave in colander at room temperature.
3. Meanwhile, combine beef, fish sauce, sugar, garlic and lemon grass in a bowl. Massage seasoning into beef and let sit for 15 minutes.
4. Line a serving bowl or four individual large wide soup bowls with a few lettuce leaves and top with noodles.
5. Heat the oil in a wok over high heat. When wok is nearly smoking, add beef and quickly stir-fry until lightly browned and just cooked, about 2 minutes. Work in batches if necessary so meat browns and doesn't steam. (If you do not have a wok, you may use a cast-iron skillet and work in batches.)
6. Top noodles with cooked beef, scallions, carrot, cucumber and daikon. Sprinkle with herbs, crushed peanuts and fried shallots (add sprouts if using). Drizzle lightly with dipping sauce and pass remaining sauce at table.
Yield: 4 servings

© 2014 New York Times News Service