When Maggi Noodles hit our nearest stalls and markets again last November, happiness for many was redefined. There is no denying that for many across the country, a bowl full of classic Maggi noodles equaled some of the greatest pleasures of life. The sentiments took a hit when the instant noodle samples were found to contain excess of MSG (monosodium glutamate) as well as lead. For five tough months, Nestle India had to comply with trails of tests to finally get a clean chit from the apex court only to get back to serving its customers again. Though it remains difficult to assess the extent to which the marred sentiments were nursed back again by Nestle, what is evident is the fact that the instant noodle brand is not only facing a wave of aggressive competition but also divided sales in the past few months.
According to a PTI report, Nestle India claims a 55.5 per cent share in the instant noodle market, "However, financially it could take a few more quarters to fully overcome the Rs 500-crore hit it took because of the ban last year." With many rival brands like Patanjali and ITC pacing up their game, it seems Nestle India has finally devised a strategy to get back into the ring.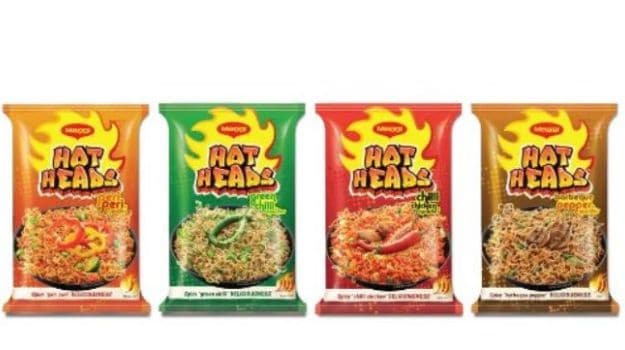 Nestle India has announced the launch of its new sub-brand of instant noodles available in four exciting flavours. Maggi 'Hot Heads' apparently aims to appeal to 'young adults'. Nestle chairman, Suresh Narayanan, also confirmed the same on a leading web portal. With the rollout of Maggi 'Hot Heads', Nestle's gamut of instant noodles has now grown to a total of 12 variants including the classic masala, tomato, chicken, atta noodles, oats noodles and the four new flavours - peri peri, barbeque pepper, chilli chicken and green chilli.
"We have weathered the storm, although we still have two cases pending in the court. Now it is the time to ride the wave. There are about 20-25 product launches, some of them have happened, some are happening and some will happen in four to six weeks' time. This is probably the single largest window of new product launches in a long time" Nestle India chairman Suresh Narayanan told PTI.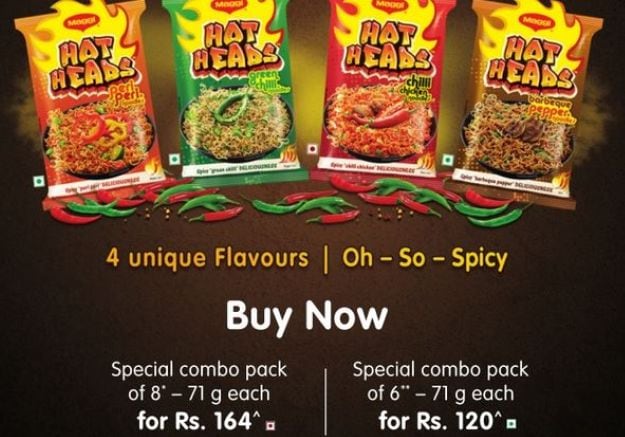 Besides its instant noodle variants, Nestle India plans to bring 25 new products in the market. "We are trying to look at product concepts that are differentiators. The launches are multi-targeted in terms of consumer base that we are looking at," said Mr. Narayanan.
Mr. Narayanan also commented on the ever changing demands and tastes of the urban Indian consumer. Keeping the same, he emphasised on the need to keep experimenting and bring different products in the market. "The script for the future will be written by redefining the rules of the past," he added. Before its withdrawal, Maggi Noodles enjoyed 77% share of the total instant noodle market which currently stands at 55.5%. ITC, Wai Wai and Patanjali have now emerged as the key players in the segment. "Our hope and effort is to get back to where we were," Mr. Narayanan noted.
Similar to their post-ban comeback plan, Nestle India tied up with the Indian e-commerce giant Snapdeal for the preliminary launch of Maggi 'Hot Heads'. The preliminary sale of Maggi 'Hot Heads' was made available in four flavours, each in a Snapdeal Combo Pack of 8 and 6 servings priced at 164 and 120 Rupees respectively.
Feel the heat. MAGGI Hot Heads are here: https://t.co/mv4VKU6zul#HotHeadsWithSnapdealpic.twitter.com/YcmHQ8vM3t

— Snapdeal (@snapdeal) June 24, 2016
The FMCG (Fast Moving Consumer Goods) giant Nestle India has also brought back cup noodles in two exciting flavours - 'Maggi Cuppa Chilly Chow' and 'Maggi Cuppa Masala' priced at Rs 40 for a 70 gm pack. Apart from the four fiery new noodle versions - priced between Rs 20 and Rs 22 - the company has also launched a special noodle pack for those who prefer their meals without onion and garlic. 'Maggi No Onion No Garlic Masala' is available at Rs 15 for the 70 gm pack. 'Maggi Hot Heads' will also be available in the cuppa variant priced at Rs 50 for a 70 gm pack.
When it comes to food, India's diversity and preferences differ with regional shifts. 'Maggi Hot Heads' have been brought into reality keeping in mind the country's undying love for spice.
"Maggi Hot Heads, Maggi Cuppa and Maggi No Onion No Garlic Masala are result of this passion and determination which we are pleased to offer," Mr. Suresh Narayanan, Chairman and Managing Director, Nestle India told IANS.
Nestle India has also partnered with the online marketplace Snapdeal for the online sale of all its products.

Inputs from PTIand IANS