There's nothing like noodle time! Come rain, come shine, digging into a bowl of noodles is the epitome of comfort food. The strings of happiness come in many forms and can be tossed in a number of ways with myriad ingredients to make spectacular treats. Noodles may have been introduced in India by the traders from China and South East Asia years ago, but it has become very much a part of India's culinary landscape now, where it is popularly known as chowmein and a star dish in the exclusive category of Indian Chinese Cuisine.

While most restaurants are found guilty of adding MSG (monosodium glutamate) while preparing noodles (which is also the reason that makes them so irresistible), the best way to enjoy a plate without added chemicals is to make it at home. This way, you can also play around with ingredients and sauces of your choice to make your perfect noodle dish.

The most commonly found noodles in the markets are the chowmein noodles, but you can also look out for other kinds like udon, soba, ramen, flat noodles (commonly used for pad Thai), glass noodles, rice noodles, etc to have some fun. While cooking noodles, time plays an important part because you don't want the noodles to be overdone and sticky. Follow the instructions on the pack and cook them for the mentioned time till al dente, and then run them under cold water. Drizzle a little oil and mix well to ensure that the noodles don't stick to each other.

Coming to the sauces and seasonings, there's no end to the options. For something healthy, make a wholesome soup or a light salad by tossing the noodles with fresh herbs and spices, or for some indulgence, load it up with meats and veggies and stir-fry with a drizzle of soy or oyster sauce. You can also fry them crisp and toss them in your bowl of veggies for some crunch, or make lip-smacking starters by wrapping them around prawns and chicken strips and deep-frying them till nice and golden. If you are still looking for some extraordinary noodle recipes to woo your family, we have the perfect list for you. Our top 10 noodle recipes have it all – from Thai soup and Laksa to Japanese soba noodles and all-time favourite chopsuey. Dig in!

1. Japanese Soba Noodles
Recipe by Plavaneeta Borah

Easy to make, these noodles taste delicious when stir-fried with teriyaki sauce. Throw in some veggies like mushrooms and carrots, caramalised pork strips (if you like) or just dunk them in dashi. For the recipe, click here.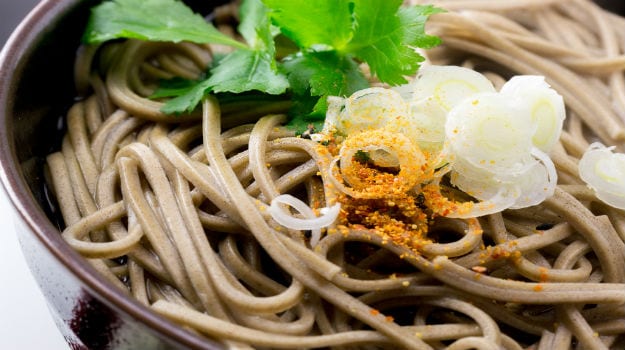 2. Thai Noodle Soup
Recipe by Chefs Nikhil & Natasha

Nikhil and Natasha cook up a variation of the classic Thai noodle soup. This soup is made with the goodness of chicken, peanuts, broccoli, rice vermicelli, coconut and fried garlic. For the recipe, click here.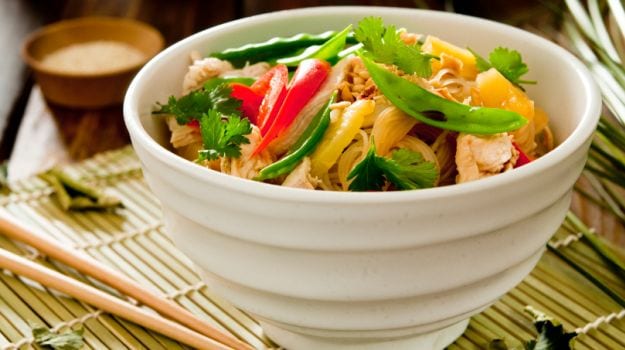 3. Glass Noodle Salad
Recipe by Chef Veena Arora, The Spice Route, The Imperial

If you love to start your meal with Yum Woon Sen Chae or the Glass Noodle Salad, this recipe will blow you away. It's made with gorgeous glass noodles, onions, lettuce, chilli, broccoli, baby corn and tomatoes. For the recipe, click here.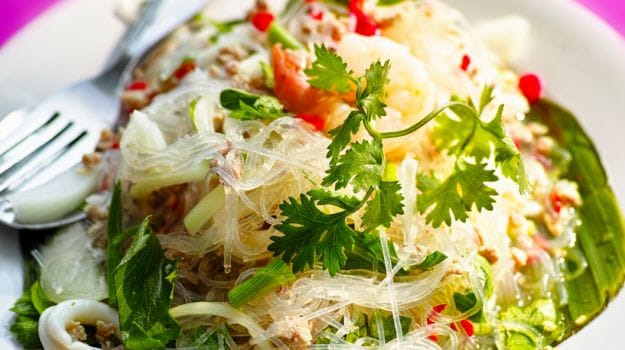 4. Rocky's Pad Thai
Recipe by Rocky Singh

TV celebrity Rocky Singh's favourite noodle dish is the Pad Thai. It is a fried noodle dish commonly served as a street food in Thailand and can be loaded up with veggies and meats. For the recipe, click here.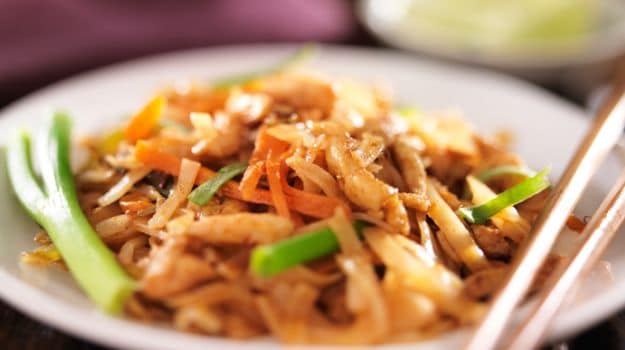 5. Stir Fry Udon Noodle with Black Pepper Sauce
Recipe by Chef Wang Yixuan, Yauatcha, Mumbai

Udon noodles are cooked with a blast of flavours. Bell peppers, mock duck and a host of other ingredients are tossed in to notch up the taste. For the recipe, click here.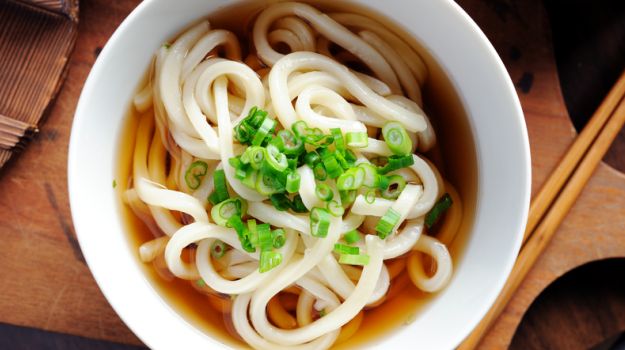 6. Prawns Wrapped in Noodles
Recipe by Chef Nikhil Chib

Chinese food is so delicious that you would keep coming back for more. This time chef Nikhil Chib cooks up an easy Chinese-inspired dish. Tiger prawns marinated in spices, then wrapped in noodles and finally fried golden. Delightful! For the recipe, click here.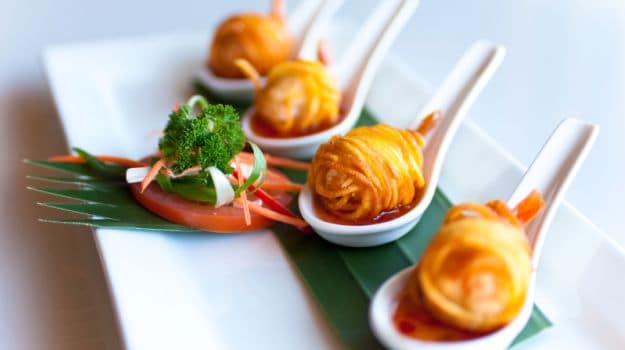 7. Chicken Chopsuey
Recipe by Chef Niru Gupta

An all-time favourite Chinese dish, here's the recipe of the sweet and tangy chopsuey with chicken and crunchy fried noodles. For the recipe, click here.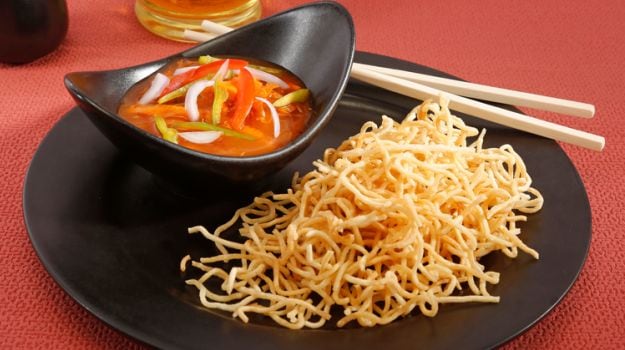 8.

LaksaRecipe by Chef Shivneet, ITC Maurya Sheraton


Laksa is spicy noodle soup popularly eaten in Singapore. This recipe shows you how to make fresh laksa paste at home. For the recipe, click here.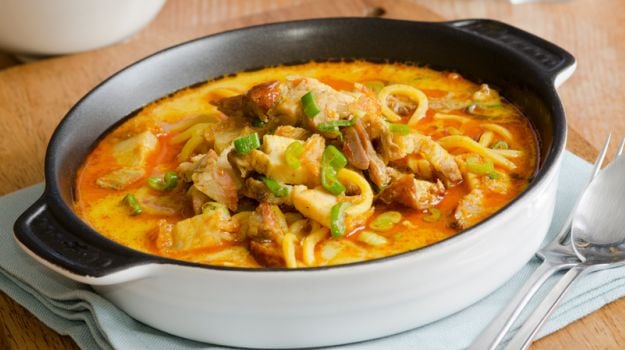 9. Quick Noodles with Mixed Meat
Recipe by Chef Roopa Gulati

A classic noodle recipe cooked with a mix of veggies and meat. You can also add in some seafood for some extra indulgence. For the recipe, click here.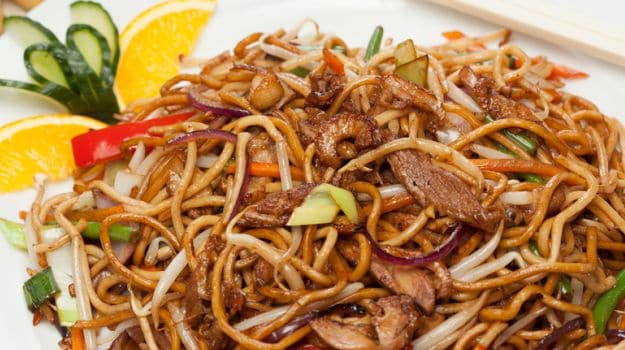 10. Rice Noodles with Stir Fried Chicken
Recipe by Chef Vicky Ratnani

Rice noodles tossed with stir-fried vegetables, chicken and calamari, and topped with toasted peanuts for that extra crunch. For the recipe, click here.