Pickle (or achaar) is one of the few food items that put Indian cuisine on the global map. The fermented dish works as both a flavour enhancer and a condiment. You'll find a string of different kinds of pickles stored in Indian kitchens. Even though all the pickles taste amazing, most of them have high amount of oil that acts as a preservative. If you wished your pickle was less oily, this recipe is just for you. This gajar mooli ka achaar contains just a couple of spoons of oil and lasts for up to one year!

Gajar (carrot) and mooli (radish), both are winter-special vegetables. So, while the fresh produce is still available till the end of the season, make this delicious and healthy pickle and enjoy its superb taste throughout the year. The gajar mooli side dish recipe was posted on the Facebook page 'Cooking With Reshu'.


(Also Read: Move Over, Traditional Pickles: Try These 4 Interesting Achaar Recipes At Home)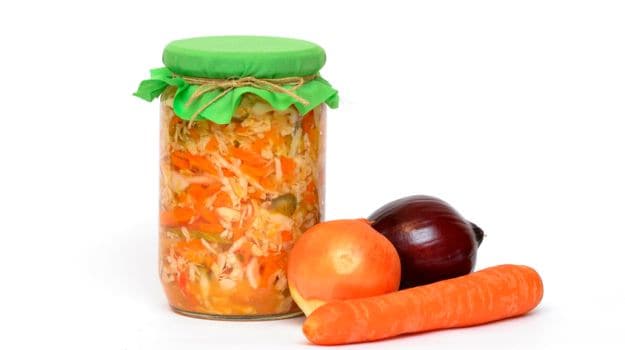 Follow these easy steps to make gajar mooli ka achaar at home:

Step 1 - Take equal quantities of carrot and radish. Wash, peel and cut them into strips.

Step 2 - Keep the carrot and radish out in the sun to dry for about 2 hours.

Step 3 - In a mixie jar, add fennel seeds, mustard seeds and roasted fenugreek seeds. Grind to make coarse powder.

Step 4 - Now, add red chilli powder, garam masala powder, salt and turmeric powder to the ground mixture.

Step 5 - Add some mustard oil to carrot and radish, and mix well. Also add the powdered spices.

Step 6 - Add slit green chillies and vinegar. Combine everything well.

Step 7 - Transfer it to a dry and clean air-tight container. Keep it out in the sun for 1-2 days.

Watch the full recipe video of gajar mooli ka achaar here:

(Also Read: 5 Different Mirch Ka Achaar (Chilli Pickle) Recipes To Spice Up Your Indian Meal)


(
About Neha GroverLove for reading roused her writing instincts. Neha is guilty of having a deep-set fixation with anything caffeinated. When she is not pouring out her nest of thoughts onto the screen, you can see her reading while sipping on coffee.