Following a strict healthy lifestyle can be a challenging task. We try to include nutritious, low-calorie foods, take detox drinks and follow diets. Keeping up with these things is helpful but also daunting. While you think of new ways to consume a proper meal, we have just a recipe for you that spells indulgence and health! It's an easy one to make and comes with the goodness of vegetables. Hailing from South Korea, this recipe is called bibimbap! The word bibimbap literally means "mixed rice," which gives you a pretty accurate description of what to expect in this dish. A hearty bowl of bibimbap is filled with rice at the bottom and topped with a variety of vegetables spread out on a bed of white rice. On top of the vegetables, you have meat or chicken pieces, but that's totally optional. Before serving, an egg is cracked on top and soy sauce, soybean paste, and red chilli Korean sauce are spread. One has to mix the hot ingredients, folding the sauces and the gooey egg before having this meal.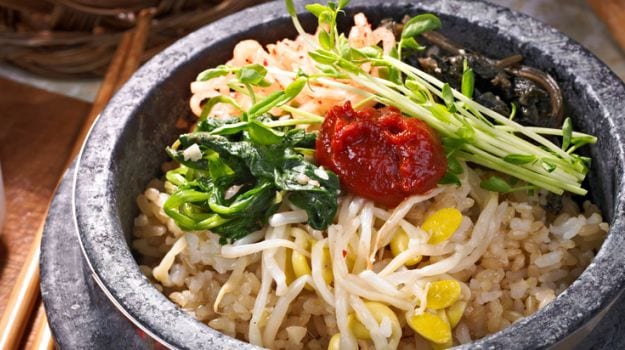 A healthy nutritious bowl


We know that eating vegetables has various health benefits. People who eat more vegetables and fruits as part of a healthy diet may develop fewer chronic diseases. Vegetables provide nutrients that are essential for your body's health and maintenance. They are known to be low in calories and high in nutrients. On your journey of maintaining a healthy diet and eating vegetables, bibimbap is the perfect dish.
Originally this dish is from Korea, but seeing the lack of ingredients and different taste preferences, we bring you an Indian version of bibimbap. It is nutritious and delicious!
Add your choice of vegetables as well


To make this, you would require cherry tomatoes, garlic, onion, Kashmiri chilli powder, soy sauce, sesame oil, salt, sugar, bean sprouts, mushroom, eggplant, chicken breast, green bean, zucchini, cucumber and cooked white rice.


Firstly cook your rice. As the rice cooks, in a separate saucepan boil your chicken. Side by side, prepare to marinate for chicken. For this, you would require soy sauce, chopped garlic and sesame oil. When your chicken is prepared, marinate it and keep it in the refrigerator for an hour. Till then, to prepare the sauce. For this, you would need cherry tomatoes, chopped garlic, salt, onion, chilli powder, soy sauce and chilli flakes. In a pan, sautee the onions and tomatoes until they turn soft, and then in a blender, mix all the ingredients to form a paste-like consistency.


Now, as your basics are ready, cut the vegetables into thin slices and blanch them. Make sure to squeeze out the extra water. Sautee the vegetables in sesame oil and season with salt and pepper according to your taste. To this, also add your marinated chicken and cook it on high heat with vegetables.


Lastly, in the rice bowl, add the vegetables and chicken from the top. Pour in the sauce you prepared and put a fried egg above the dish. Your Indian bibimbap is ready!


For the full recipe, click here.


Make this Indian version of bibimbap and let us know how you liked it!