Do you remember those huge
aloo paranthas
with dollops of white butter served to you by your mother? Or when she made
Makke di Roti
and
Sarso da Saag
which seemed incomplete without the creamy butter topping. Back in the day, white butter was used commonly in Punjabi households and perhaps it still is in most homes. Freshly made white butter has its own charm. It is also known as 'Loni' in Maharashtra where white butter is used on popular snacks like Thalipeeth. Its creamy texture offers an exceptionally satiating feeling to your palate. It is fuss-free and easy to make at home and can be used as a healthier alternative to processed yellow butter that you would pick up from superstores and more often than not, is loaded with sodium and preservatives.
"White butter is made with fresh milk and cream. The best part about it is that it is unsalted, unlike yellow butter that has a lot of salt," shares Consultant Nutritionist Dr. Rupali Dutta. Dr.Simran Saini also agrees, "White butter is natural and unprocessed and it is more nutritious than yellow butter. Another reason that makes white butter better is that it does not contain the harmful trans-fat which has been linked with various chronic ailments like heart disease, obesity and diabetes."(Also read: Ghee Versus Butter: Which One is Better?)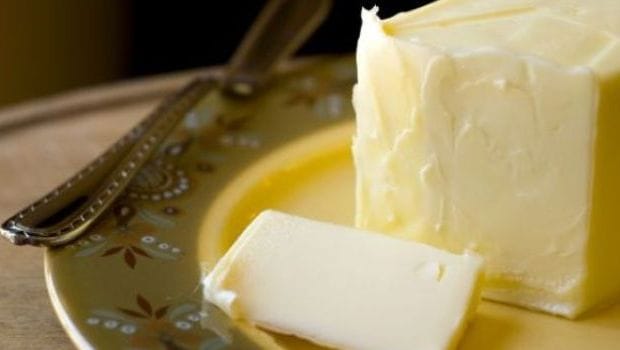 How is white butter made?
According to Pinky Dixit, Owner of Soam in Mumbai, "I have been eating white butter since I was a kid, like most of us. I have grown up watching my mother make white butter at home. It is a simple process. She used to remove cream from the milk, add some cold water to it and then churn it. During the churning process, the whey (water) gets separated and is kept in another bowl. The butter that was made during the churning process was then collected and patted dry so as to remove any excess moisture and then stored."
Here are some tips to make delicious white butter at home:
1. Once you have boiled milk, refrigerate it for at least 4-5 hours before using it to make white butter. This is because milk forms a layer of cream that you can use to make the butter. You wouldn't have to buy cream anymore and can rely on fresh and natural cream. Storing cream which is obtained from the milk is a continuous process. You should collect the malai for two-three days until you get enough to make butter out of it.
2. Once you have boiled the milk, refrain from disturbing the milk and just leave it to cool. If you churn it with a spoon continuously, it won't form the malai you want for making white butter.
3. During the churning process, make sure you remove the whey from it. Also, ensure that you squeeze out all the excess water from the butter using a cheesecloth. You don't want your butter to be soft and watery. The texture should remain creamy yet stiff.
4. Store the butter in a dry container and refrigerate it immediately. Try to consume it within 10-15 days. If you are freezing it, you can keep it for a month but not more. Try preparing a fresh batch whenever you can.
5. To churn white butter out of the cream, you should use a wooden ladle or the mathani. You need to stir it continuously in both directions in order to separate butter from cream.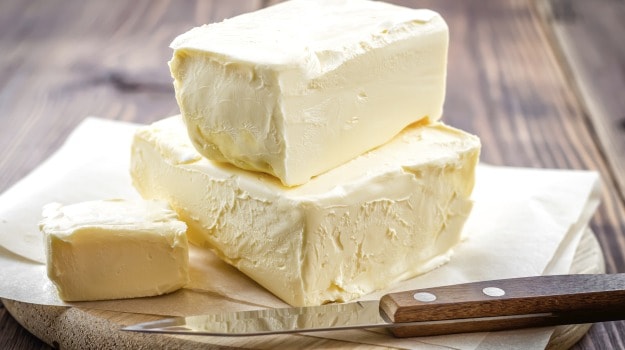 How to use white butter
Pinky Dixit suggests various ways in which white butter can be used, besides being a topping for parathas or making a tempering for dal.
1. To make ghee
You can use the white butter to make pure desi ghee at home. All you need to do is to take the white butter and heat it for a few hours until the ghee starts to separate itself from the residue and strain it once it cools down.
2. Used as a softening agent
You can use white butter as a softening agent in the dough you prepare for paranthas. Instead of putting refined oil, you can add a little bit of white butter in the dough. The paranthas end up softer and tastier.
3. Used to make flavoured butter
Yellow butter is salted and its taste overpowers anything that you add to it. On the contrary, white butter is unsalted and has a lovely subtle flavour. Hence, you can mix honey or saffron to spruce up the flavours and use it like regular butter in sandwiches or baked dishes. You can even add some fresh herbs or seasonings to it.
4. Buttermilk from leftover whey
Do not throw the leftover whey as it can be consumed as sweetened or spiced buttermilk. The drink is popularly enjoyed in South India. You can even use it to make soft cheese at home that can be used for dips or as a filling in sandwiches. The cheese made with buttermilk has a slight tang and goes well with lime, fresh herbs and cracked pepper.
Here's a recipe to make white butter at home.
White Butter
Recipe by Chef Niru Gupta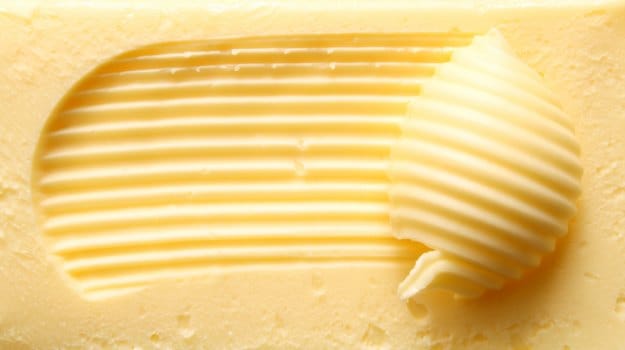 Ingredients
Cream or malai (Malai is the fat obtained from milk)
Ice cubes
Method
1. Take malai in a small bowl at room temperature.
2. Take a bigger bowl and add ice cubes to it. Place the small bowl with malai on top of these ice cubes.
3. Beat well till the butter floats on top.
4. Let it stand for 15-20 minutes. The butter will solidify.
5. Skim the butter and leave the liquid.
6. This butter is unsalted and usually white in color.