Why Raw Cow's Milk Is Better for Your Child
NDTV Cooks | Updated: February 23, 2018 12:11 IST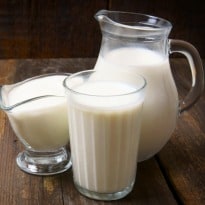 We've known about the nutrient-richness of milk for long, especially as a primary source of nutrition for infants. The early form of milk produced by the mammary glands is called colostrum and it carries the mother's antibodies to the baby which are known to reduce the risk of many diseases. A latest study that has appeared in the Journal of Allergy and Clinical Immunology, credits the consumption of fresh cow milk with similar health benefits.

Cow's milk forms the basis of most dairy products. It is a valuable source of calcium, riboflavin, vitamin B12, iodine, potassium and high-quality protein, but health experts are of the view that most of these nutrients may be lost while being processed and packaged. According to researchers, the primary reason for majority of children falling prey to several infections and allergies is the increasing scarcity of raw cow's milk.

The study shows that infants who are fed on fresh milk instead of the ultra-high temperature (UHT) processed cow's milk are less prone to respiratory infections, febrile illness and inflammation of the middle ear. "Among children who were fed on fresh, unprocessed cow's milk, the incidence of head colds and other respiratory infections, febrile and middle-ear inflammation was found to be significantly lower than in the group whose milk ration consisted of the commercially processed ultra-pasteurised product," said Georg Loss from Dr. Von Hauner Children's Hospital in Munich, Germany.

The study investigated 1,000 pregnant women who were asked to document their child's diet and state of health at weekly intervals during the first year of life. At the end of the first year, blood samples were obtained from the children enrolled in the study and tested for biochemical indicators of immunological function.
It was found that infants who were fed on unprocessed milk had lower levels of the C-reactive protein, which is a measure of the inflammation status. Moreover, consumption of raw farm milk reduced the risk of developing these conditions by up to 30 percent. The researchers also noted that conventionally pasteurised milk retained the ability to reduce the risk of febrile illness, while exposure to the higher temperatures used in ultra-high temperature processing (UHT) eliminated the effect altogether. These effects were diminished even when milk was heated at home before consumption.

"Other studies have shown that higher levels of inflammation are related to the subsequent emergence of chronic conditions such as asthma and obesity. Consumption of unprocessed milk may therefore reduce the risk of developing asthma," Loss said.

These results led them to conclude that certain compounds present in raw cow milk play a particularly important role in protection against several disease, but they may be sensitive to heating.

Another study which was recently published in the Canadian Medical Association Journal warns that children who consume alternatives to cow's milk like soy, coconut or goat's milk are twice as likely to suffer from vitamin D deficiency which can cause rickets and other bone-related deformities.

Since untreated cow's milk may contain certain pathogenic microorganisms which could pose a health risk, researchers recommend the use of alternative processing methods that will preserve the protective agents found in natural milk.

With inputs from IANS