There's something about winters that makes us feel hungry all the time. It is that time of the year when we indulge in decadent gajar ka halwa, butter-laden parathas, laddoo, revadi et al. But what we often ignore is the extra kilos we put on due to the bingeing spree. Does this mean we need to give up on our cravings? Absolutely not! Instead, one needs to look for healthier alternatives for guilt-free indulgence. One such amazing option is makhana. Also called fox nuts or gorgon nuts, these are basically lotus seeds that have been a part of a healthy diet since time immemorial. Makhana is a treasure trove of nutrients and makes for an ultimate food for the ones looking for options that are low in calorie and are protein-rich.


For the unversed, makhana is one such wholesome ingredient that can be used to whip up several sweet and savoury dishes. While adding it to milk can give you a humble bowl of makhana kheer, roasting it can make the makhanas a healthy and nutritious substitute for calorie-packed chips.


Keeping this in mind, we bring you an easy roasted chilli makhana recipe that includes foxnuts coated with a flavourful spice-mix including chilli flakes, olive oil, jeera and salt. You may also customise the spice-mix as per your choice. And the best part is this recipe takes just 5 to 7 minutes for preparation.
So, what are you waiting for? Prepare the dish today and make your winter munching a delightful affair!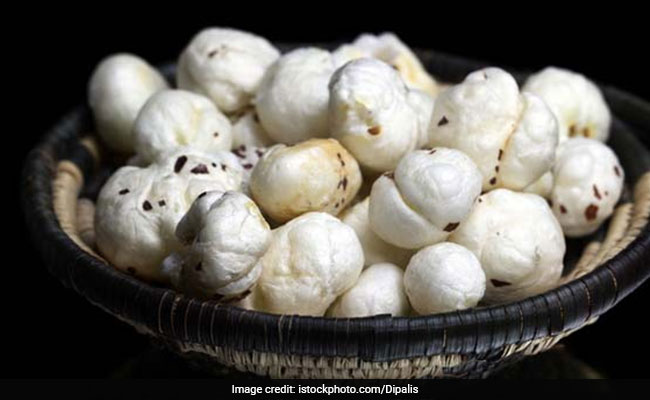 Here's The Recipe For Roasted Chilli Makhana:
Ingredients:
1 cup makhana


1 teaspoon olive oil/ghee


Half to 1 teaspoon chilli flakes/powder, as per taste


1 teaspoon Kashmiri red chilli powder, for colour


1 teaspoon roasted jeera powder


Black salt, as per taste
Method:
Step 1. Dry roast the makhanas till they turn crunchy. Transfer them to a mixing bowl.


Step 2. Dry mix the Kashmiri red chilli powder, chilli flakes, jeera powder and black salt and sprinkle on the makhanas.


Step 3. Drizzle ghee or olive oil and toss everything together until the spices coat the makhanas well.


Step 4. Serve hot.


You may also sprinkle some cheese powder on the makhanas to make it yet more scrumptious. And don't forget to let us know how you like it in the comment section below. Happy winters!


About Somdatta SahaExplorer- this is what Somdatta likes to call herself. Be it in terms of food, people or places, all she craves for is to know the unknown. A simple aglio olio pasta or daal-chawal and a good movie can make her day.