Beware! Belly Fat May Trigger High Blood Pressure
NDTV Cooks | Updated: September 03, 2014 14:57 IST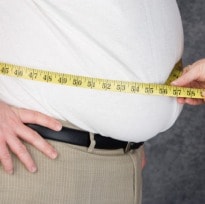 Recently, Public Health England stated for the first time that belly fat is the clearest sign of type 2 diabetes. It revealed that men who measure more than 40 inches around the middle were five times more likely to be diagnosed with type 2 diabetes while women who measure more than 35 inches were three times more prone to the risk of diabetes. (More on belly fat and the risk of diabetes)

A recent study that appeared in the Journal of the American College of Cardiology adds another reason to worry. Previous studies have explored how the concentration of fat in certain areas on an individual's body may increase the risk of developing chronic ailments. The latest study shows that people with abdominal fat (fat around the stomach) are at greater risk of developing hypertension or more commonly known as high blood pressure, when compared to those with similar body mass index (BMI) but fat concentrations elsewhere on the body.

To reach this conclusion, researchers examined 903 patients for an average of seven years to track the development of hypertension. When the abdominal fat content, overall fat content and lower body fat content were considered, it was found that only abdominal fat was independently linked with hypertension. Also, the relationship between abdominal fat and hypertension remained the same irrespective of the differences in gender, age or race.
High blood pressure is a medical condition where the arteries have elevated blood pressure. Blood pressure is the force of pushing the blood against the artery walls. Every time the heart beats, blood is pumped to the whole body through the arteries. The higher the blood pressure, the harder it becomes for the heart to pump blood.

An unhealthy combination of low physical activity and high-calorie diets has made abdominal obesity a serious lifestyle concern. When the calories consumed are not used or discarded, they remain stored as fat in different parts of the body. (More: Eat these foods to cut unwanted fat)

The findings showed that one in every four of the participants developed high blood pressure by the end of the study. "Generally speaking, visceral fat stores correlate with the 'apple shape' as opposed to the 'pear shape,' so having centrally located fat when you look in the mirror tends to correlate with higher levels of fat inside the abdomen," says senior author Dr. Aslan Turer.

It was also noted that the fat around the kidneys was possibly one of the main reasons of development of hypertension.

With inputs from IANS