Cameron Diaz's Healthy Tips to Get You in Shape
IANS , Los Angeles | Updated: February 03, 2015 13:04 IST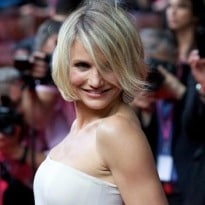 Hollywood actress Cameron Diaz keeps her diet real and doesn't believe in quick fixes. You can learn more about staying fit by flipping through pages of her book "The Body Book: The Law of Hunger, the Science of Strength, and Other Ways to Love Your Amazing Body".

People.com shares interesting tips from the star's book:

* Drink water when you wake up: Diaz fills a large glass bottle with water before bed and leaves it ready to go. In the morning, after she brushes her teeth, she finishes the whole bottle. "Once I drink the water, I feel it immediately. I go from being a wilted plant to one that has been rejuvenated by the rain," she writes.

* Eat a big breakfast: When she was growing up, Diaz says that her mother always encouraged her to eat a big breakfast to give her energy for the school day, and it's a habit that's stuck with her. But she doesn't reach for sweets. Instead, she tries creative combinations like oatmeal mixed with sauteed zucchini. "I'm always looking for new ways to build flavour and have fun with my carbohydratess," she writes.

* Love the lemon: Diaz adds the citrus fruit to salads (in place of fatty dressing), pastas, and her water bottle. Lemons help digestion and are believed to boost immunity; they also contain lots of essential nutrients such as vitamin C, calcium and magnesium.

* Exercise in sneaky ways: She suggests squeezing in movement whenever you can, whether it's doing butt squeezes while brushing your teeth, lunges while waiting for coffee to brew, or taking the stairs (preferably at a run!) rather than the elevator. She writes: "As long as you remember that part of being active is moving continuously through the day, you can become an active person right now. Just move."
Related Articles -

Want to lose weight? Change the colour of your crockery!

Eat these foods to cut out unwanted fat
13 tips to keep the extra bulge away
Popping dietary pills can harm the liver
A traditional diet can fight obesity
How to lose weight: 5 diets loved by celebrities
Some low fat recipes
For the latest food news and recipes, like us on Facebook or follow us on Twitter and get the NDTV Cooks app for Android or iOS.