Drink Up the Goodness of Orange Juice to Boost Brain Health
NDTV Food | Updated: May 19, 2015 14:08 IST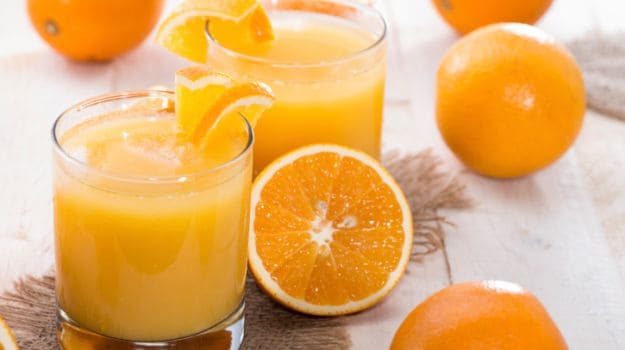 An original winter favourite and probably the most loved of all citrus fruits, orange is a powerhouse of nutrients. It is said that a single, medium-sized orange can fulfill 72% of your daily vitamin C requirement. Moreover, its antioxidant properties combined with flavonoids and phytochemicals, all contribute to boosting the immune system, eliminating free radicals and keeping the heart healthy. Going by the popular phrase that an apple a day keeps a doctor away, it wouldn't be wrong to include orange in the same genre.

The pulpy, bright orange slices with their sweet and tangy flavour are extremely refreshing and also lend well to the creation of a number of tempting dishes. According to Naturopathy, drinking orange juice regularly tends to bring a radiant glow to your skin and provides other benefits related to acne and pigmentation. The high source of vitamin C is the key ingredient for healthy production of collagen, which is the structural component of bones, tendons, ligaments and blood vessels.

Orange Juice is Healthier Than We Thought

A recent study has revealed that drinking orange juice could also help improve brain function in elderly people.

Daniel Lamport, co-author of a study from the University of Reading that was published in American Journal of Clinical Nutrition said, "the population is ageing rapidly across the world. Estimates suggest that the number of persons aged 60 or over could triple by 2,100. It's therefore imperative that we explore simple, cost-effective ways to improve cognitive function in old age."
The study saw a group of 37 healthy adults (mean age 67 years) consuming 500ml of orange juice daily over an eight week period. At the beginning and end of the eight weeks, their memory, reaction time and verbal fluency was measured.

These were then combined into one overall score known as 'global cognitive function'. The adults showed an eight percent overall improvement in global cognitive function after orange juice consumption compared to a control drink given during the study period.

An Orange a Day Can Keep Cancer Away

Orange juice is a major source of flavonoids - being particularly rich in a sub-class known as flavanones. Flavonoids are phytonutrients, which are known for their rich diversity of colour pigments such as the bright red of strawberries and the deep blue of blueberries. They are highly bioactive and play a vital role in anti-inflammation functions.

Recent studies have shown that flavonoids may improve memory through the activation of signalling pathways in the hippocampus, a part of the brain that is associated with learning and memory. This study is thought to be one of the first to show that regular consumption of orange juice with its flavanones could have a positive effect on older people's cognition.

"Small, easily administered changes to the daily diet, such as eating more flavonoid-rich fruits and vegetables, have the potential to substantially benefit brain health," Lamport said.

"This is an important discovery which strengthens the growing body of evidence that flavonoid rich foodstuffs could play a big role in tackling cognition decline in old age," he concluded.

Dr. Simran Saini, Nutritionist at Fortis Hospital, New Delhi says, "If we talk about orange juice, I would recommend fresh orange juice with no preservatives, no added sugar, fresh made at home, neither tinned nor boxed. This is a high energy and refreshing drink without any caffeine and saturated fats or artificial sugars, thus it will be boost up your brain with instant energy while nourishing your health."

"Folic acids in orange juice help boost brain, spinal cord and neural system health. In addition to that, regular consumption can improve your diastolic blood pressure," she added.

While the researchers are not recommending that people drink 500ml of orange juice every day, they believe these findings show that the constituents of orange juice could play an important role in providing brain-boosting nutrients as part of a healthy, balanced diet.

Inputs from IANS