With all the frenzy over mangoes and strawberries every year, a very humble little fruit often gets overlooked - the orange. An
orange
can adapt itself to many styles of cooking, whether baking, glazing, marinades, or essences; a squeeze of orange livens up stews, grills and gravies. But most of all, it lends itself to baking. An orange-y veneer sitting atop your plain sponge cake or a thread of citrus running through brightens and lightens it considerably, offering a taste of the summer sun. Depending on which recipe you choose, almost the entire orange can be used for baking; the juice, the zest, and even the entire orange (the skin and the flesh boiled with the skin of the segments and then pureed). In this story, I've offered two cake recipes, one more traditional, and one slightly lighter; a toss between a bread and a cake.(Also Read-
Orange Peel For Weight Loss: Here's Why You Can Use Orange Rind To Burn Fat)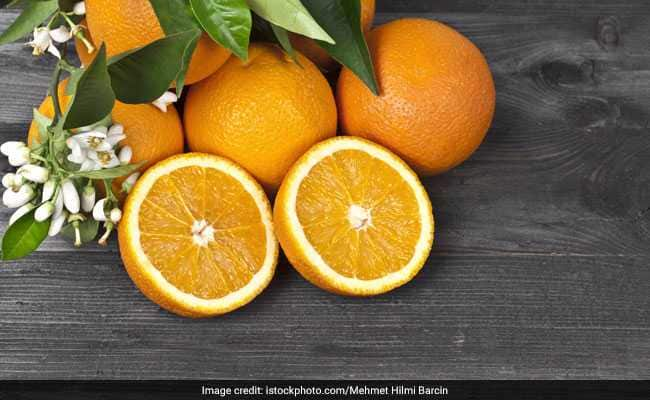 Orange offering a taste of the summer sun
Tips For Using Oranges In Baking
The truth is that oranges, although sharply flavourful when eaten raw, are a bit shy when used in baking. Their tongue-curling pucker recedes when cooked. But there are ways around this.
When juicing oranges for baking cakes, muffins and such, juice a lot more than you think you'll need, then boil that down to a syrup (of the required quantity) and use.
Often, after you bake your cake, it is a good idea to douse it in orange juice; this will deeply intensify the flavour and make the cake moist. Let the orange seep all the way through the cake, by stabbing it with a fork or skewer. You don't want to be disappointed by a dry base languishing at the bottom of your cake.
An orange glaze atop the cake will often lift the flavour as well, not just to moisten it but also to create a beautiful lacquered finish.
Orange zest can add volumes of flavour, but be careful to grate only the zest into your baked items and not the white pith, which can make everything rather bitter.
And here is my favourite, very easy way to liven up a plain, stodgy sponge cake; simply roast thin slices of orange with a little powdered sugar and cinnamon sprinkled on top of each, until they soften and char a little (about 20 minutes or so). Hint- these slices are delicious enough to serve on their own, with a dollop of whipped cream alongside.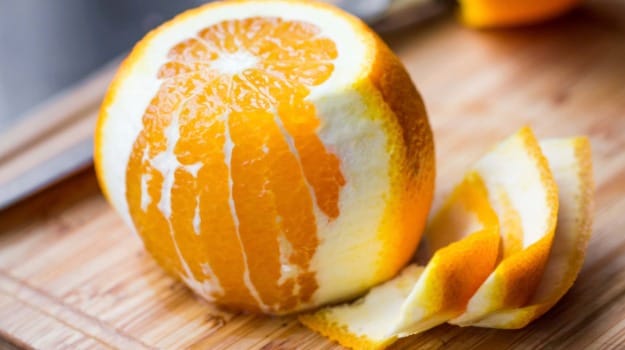 Oranges for Baking
Orange Bread
This is a lighter version of an orange cake, made decadent with a
chocolate
glaze and little twigs of chocolate laced through it.
Ingredients
:
Flour - 2 cups
Baking soda - 1/2 tsp
Butter - 2 tbsp
Sugar - 1 cup
Egg - 1
Baking powder - 1 tsp
Orange juice - 1 cup
Orange zest - 3 tbsp
Dark chocolate bar - 200 g
Method
:
Pre-heat your oven to 400 degrees F.
Cut the chocolate bar in half, and chop up 100 g into small, matchstick-sized pieces. Set aside.
Sift the flour, baking soda and baking powder into a bowl.
Cream the butter until it becomes fluffy and airy. This should take about three minutes. Gently fold in the sugar and then the egg, a little bit at a time. Finally, add the orange juice.
Use a cake beater/mixer with paddle attachments for this step. At a very low speed, mix together 1/4th of the dry mixture with the wet. Continue combining small quantities of both until they are fully blended together. Finally, gently fold in the chocolate twigs.
Prepare a baking pan by lining it with wax or butter paper. Pour in the prepared cake batter.
After placing it in the oven, reduce temperature to 350 degrees F. Bake until a skewer runs through the cake cleanly (approximately fifty minutes to an hour).
Meanwhile, for the glaze, melt your chocolate in a double boiler or the microwave, taking care not to burn it. When fully melted, drench your finished cake with it, and sprinkle the orange zest on top.
Orange Bread
Orange Cake
This cake is incredibly delicious and it's almost impossible to go wrong with it. It's also ridiculously simple and has the added benefit of being completely gluten-free.
Ingredients
:
Oranges - 4
Powdered sugar - 200g
Eggs - 6, medium sized
Almonds, ground coarsely into a powder - 250g
Almonds, flaked - 1/2 cup
Method
:
Drop the oranges into a pan, then fill it up with room temperature water. Boil them for at least an hour and a half, until they have softened.
Pluck them out of the water and allow them to cool. Then slice off the peel and remove the pips. Beat the eggs and keep aside.
Next, preheat your oven to 350 degrees F and keep a buttered baking tin ready.
Blitz the orange in a mixer or food processor, then pour in the eggs. Finally, fold in the sugar and almond powder gently until it becomes a thick batter, and gradually pour into your prepared baking tin. Bake for about 50 minutes, keeping your baking tin covered to avoid burning the top of your cake.
When the orange cake is done, leave to cool (although make sure to leave it in the tin while this is happening), then scatter the top with the flaked almonds.
Orange cake
So, what are you waiting for? Wear your chef's hat and experiment with your culinary skills. Bon appetit!