A glassful of orange juice may replenish your system, but did you know, it may do more than just that? The vitamin C-rich fruit delivers potassium, folate and natural citrus bioflavonoids, all of which are known to support your metabolism and heart health, further keeping you healthy and fit. Orange juice is said to help lower your blood pressure and keep your heart going. According to a study conducted by Cleveland Clinic, participants who drank two glasses of orange juice a day witnessed a significant drop in their blood pressure levels. At the end of the final two weeks of the study, most of the patients had blood pressure within the normal range. We tell you what makes orange juice an amazing drink to help manage hypertension or high blood pressure.
Health benefits of orange juice to manage hypertension or high blood pressure
Orange juice is one of the best sources of vitamin C. A freshly made juice provides 100 percent of your daily vitamin requirement. Many studies have gathered that vitamin C may help reduce blood pressure significantly.
The amount of sodium and potassium in your body affects your blood pressure. While sodium makes it go up, potassium tends to counterbalance sodium and keep your BP in check. Health experts suggest including potassium to reduce hypertension. Orange juice is said to contain good amount of the mineral, say about eight percent of your daily requirement.
Citrus fruits generally produce a group of phytochemicals known as citrus bioflavonoids. One of these bioflavonoids is hesperidin that is known to function as an antioxidant and may help lower blood pressure.
Orange juice comprises B vitamin folate, which is required by the body to synthesise DNA and metabolise amino acids, and avoid hypertension. As per a study published in the American Journal of Clinical Nutrition, men and women who consumed more folate beginning in their young adult years were at a lower risk for high blood pressure 20 years later. Fresh orange juice contains nearly 20 percent of the required folate.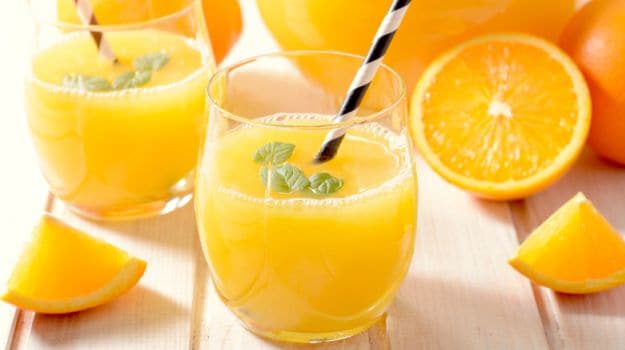 Orange juice comprises B vitamin folate, which is required by the body to synthesise DNA
How to make orange juice?
It is always good to ensure that you do not buy orange juice from outside; instead prepare a fresh glassful of juice at home to enjoy its maximum benefits. Here's how you can make it.
Peel the oranges, take the orange segments and remove the seeds manually. Add the segments in a blender.
Add a dash of lemon juice (optional).
Run the blender on low to medium speed for a few seconds till the mixture becomes pulpy. Avoid blending it too much.
Strain it in a glass. Try not removing the pulp as it is loaded with fibre that keeps your digestive system healthy.
Avoid adding sugar to it, pour immediately and drink it.
Orange juice is not a sure-shot cure to hypertension or high blood pressure. You would have to eat a balanced diet with less sodium and exercise to keep your heart healthy. Do consult a doctor before you switch to this home remedy.
Disclaimer: This content including advice provides generic information only. It is in no way a substitute for qualified medical opinion. Always consult a specialist or your own doctor for more information. NDTV does not claim responsibility for this information.